Jennifer Lopez, Whoopi Goldberg, More Among First Round of Oscars Presenters Announced for Hostless Ceremony
The Academy is moving forward with its hostless Oscars ceremony by announcing the first crop of stars selected as presenters for the upcoming affair. Fortunately, the stars up for task won't disappoint.
On Monday, Oscar producer Donna Gigliotti and co-producer/director Glenn Weiss announced the celebrities who have received the role of presenting the awards to this year's slate of winners. Awkwafina, Daniel Craig, Chris Evans, Tina Fey, Whoopi Goldberg, Brie Larson, Jennifer Lopez, Amy Poehler, Maya Rudolph, Amandla Stenberg, Charlize Theron, Tessa Thompson and Constance Wu were confirmed as this year's presenters.
"This is an important moment in Oscar history," Dawn Hudson, who is the Academy's CEO, said in a press release. "This year's show maintains Oscar traditions, and is also evolving to reflect our global audience."
As the announced names are only a portion of talent participating, the Academy will unveil more presenters in the weeks to come.
Late-night host Jimmy Kimmel held the position as Oscars host for two consecutive years. Actor Kevin Hart was confirmed to take over the role in December 2018, but he bowed out days later after old homophobic tweets he once shared were unearthed.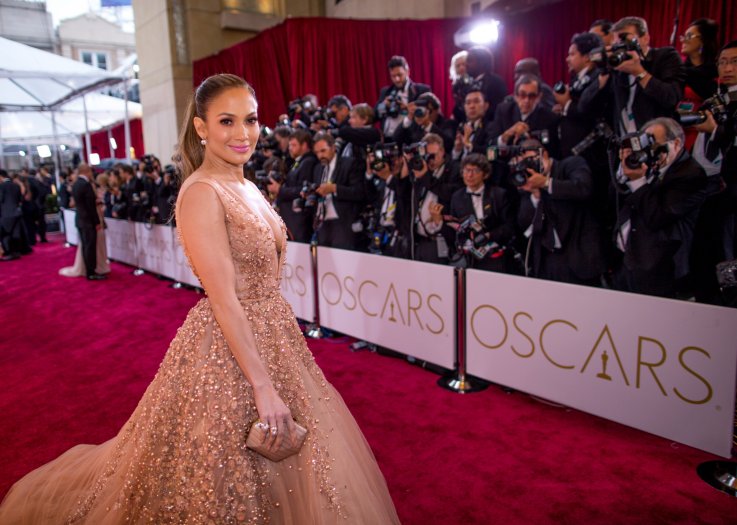 "I have made the choice to step down from hosting this year's Oscar's....this is because I do not want to be a distraction on a night that should be celebrated by so many amazing talented artists," Hart, 39, tweeted. "I sincerely apologize to the LGBTQ community for my insensitive words from my past."
Hart wrote in another tweet: "I'm sorry that I hurt people...I am evolving and want to continue to do so. My goal is to bring people together not tear us apart. Much love & appreciation to the Academy. I hope we can meet again."
The Academy has not announced a replacement for Hart. According to a December report by Variety, the Academy ran into issues trying to hire a new A-lister to host in his place. An unnamed top comedy agent informed the news outlet organizers were "freaking out" over what to do. In a January report from Variety, insiders suggested to the outlet "producers will select a crop of A-listers to introduce various segments instead of relying on one marquee name."
The Oscars last went hostless for the 61st Academy Awards in March 1989. However, this ceremony has often been regarded as one of the worst in Oscars history due to an opener that featured Rob Lowe singing and dancing with Snow White, who was being portrayed by Eileen Bowman.
Lowe considers participating in the performance to be "a huge mistake."
"I had always thought the Oscars were a bit of fun escapism for America, where we celebrate and honor the craft of making movies," Lowe, 54, told The New York Times. "What I didn't realize was the grand solemnity and profound seriousness, and the contribution to society at large that the evening represents to a lot of people—and that's on me. That's my bad."
The 91st Academy Awards will be broadcast live from Dolby Theatre on February 24 at 8 p.m. ET on ABC.
Jennifer Lopez, Whoopi Goldberg, More Among First Round of Oscars Presenters Announced for Hostless Ceremony | Culture