Here Are the Most Memorable Moments From the Oscars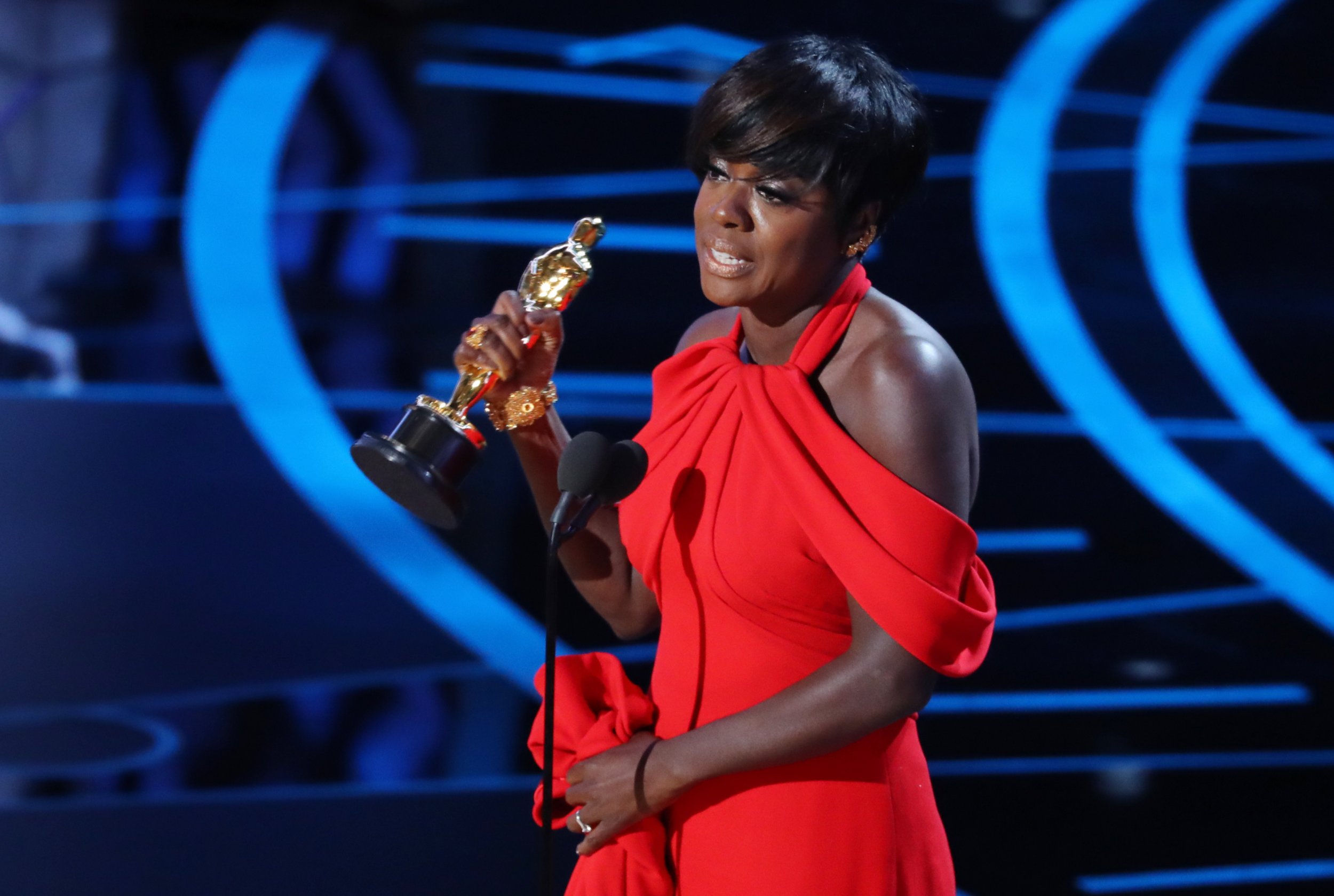 A three-hour live broadcast like the Academy Awards is bound to offer an assortment of memorable moments, most of which are quickly forgotten the next day. But a rare few of them are so good, so remarkable, or perhaps, so cringe-worthy, they live on for years to come. Here are some of the more memorable moments, for good or for bad, from the 2016 Academy Awards.
Viola Davis wins for Best Supporting Actress, and simultaneously breaks all of our hearts.
Davis, who finally won an Oscar on her third nomination—the most for an African-American woman—was widely expected. But the sheer emotion behind her acceptance speech conveys why she's so worthy of this win.
"I became an artist, and thank god I did, because we are the only profession that celebrates what it means to live a life. So here's to August Wilson, who exhumed and exalted the ordinary people."
Oh, and Oprah approved.
Presenter Gael Garcia Bernal goes off script to protest Trump's Mexican border wall and immigration policies, and receives a huge applause.
"A lot of actors are migrant workers. We travel all over the world, we construct stories, we build life but cannot be divided… As a Mexican, as a Latin American, as a migrant worker, as a human being I'm against any form of wall that wants to separate us."
Jimmy Kimmel paraded a bunch of unsuspecting Hollywood tourists in front of Oscar nominees, and you know what? It was charming as hell.
This had the potential to be cringe-worthy. But as the tourists made their way down to the front row to greet Nicole Kidman, Meryl Streep, Jennifer Aniston, and more, it actually turned into a surprisingly sweet moment.
What really solidified this moment was when Denzel Washington jumped up to informally marry two of the tourists whom had just gotten engaged. Cheesy, sure, but like, Denzel!
Asghar Farhadi's acceptance speech for Best Foreign Language film turned out to be a pretty memorable protest speech—and he wasn't even in the room.
Farhadi made headlines before the ceremony by refusing to attend the Oscars in protest of Trump's travel ban. But his absence didn't take away from the powerful statement Anousheh Ansari read for him.
"My absence is out of respect for the people of my country and those of other six nations who have been disrespected by the inhumane law that bans entry of immigrants to the U.S. Dividing the world into the 'us' and 'our enemies' categories creates fear—a deceitful justification for aggression and war. These wars prevent democracy and human rights in countries which have themselves been victims of aggression. Filmmakers can turn their cameras to capture shared human qualities and break stereotypes of various nationalities and religions. They create empathy between us and others. An empathy which we need today more than ever."
Jimmy Kimmel, sad that Donald Trump hadn't tweeted anything during the telecast, tweeted the President.
Kimmel tweeted "u up?" at the president, and got roughly 75k retweets in a minute. As of publishing, President Trump hasn't responded to Jimmy.
Moonlight' s Barry Jenkins and Tarrell Alvin McCraney's acceptance speeches for Best Adapted Screenplay was a battle cry for minorities.
Moonlight, a coming-of-age story about a gay black kid in a drug-infested neighborhood of Miami, was already a powerful statement for equality, inclusiveness and acceptance. It's fitting that their speeches represented the same themes.
Jenkins said, "All you people out there who feel like your life is not reflected, the Academy has your back, the ACLU has your back… For the next four years we will not leave you alone, we will not forget you."
McCraney said, "To all the black and brown boys and girls and non-gender-conforming individuals this is for you."
La La Land wins Best Picture… Wait, scratch that, Moonlight WINS!
Warren Beatty and Faye Dunaway first announced La La Land as Best Picture. Beatty, who looked genuinely confused, gave the card to Dunaway, who announced La La Land. The cast and crew exuberantly climbed to the stage to accept their awards. Mid-way through their speeches, they were informed it was a mistake.
"This is not a joke, Moonlight won Best Picture," a La La Land producer says, displaying the envelope. A shocked cast and crew of Moonlight walked on stage. Moonlight producer Adele Romanski says, "I don't know what to say… I'm still not sure this is real"
It is real, and by far the most memorable moment from the 2016 Academy Awards (and most any other Academy Awards, for that matter).