Academy of Country Music Awards‬: What Do ‪‪Chris Stapleton‬, ‪Thomas Rhett and Other Nominees Say About Gun Control?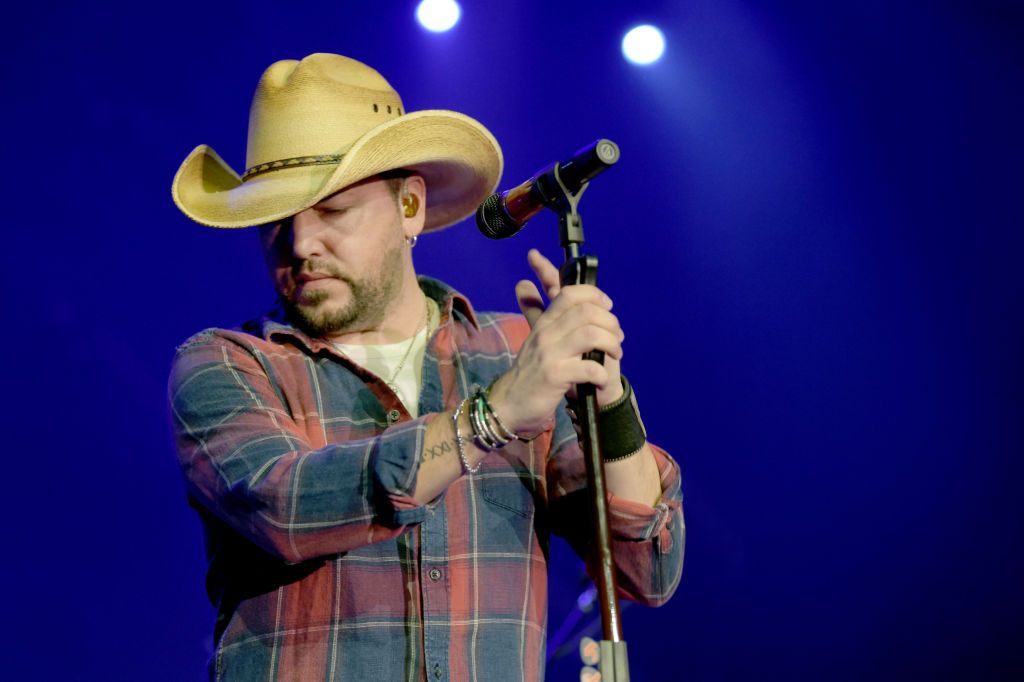 Working in country music in the past year has been a tricky process for many musicians as fans of the genre divide over the subject of gun control. Proud gun ownership has always been in the country genre's DNA, but in 2017 more musicians than ever, including Sturgill Simpson and Toby Keith, used their platforms to call that alliance into question.
The September mass shooting at Las Vegas' Route 91 Harvest fest, in particular, inspired a few previously silent country musicians to back out of their relationship with the National Rifle Association. One of those stars, Thomas Rhett, is nominated for six Academy of Country Music Awards, which will air on CBS in April.
It is unclear whether the Academy will try to control what its nominees say onstage, but if they do, it won't be the first time a country awards show has pushed for control over the conversation. In November, the Country Music Association Awards announced that any reporters asking political questions of nominees, especially related to guns, were at risk of being ejected from the event. After some backlash, the association back-pedaled and retracted its comments. The show's co-hosts, Brad Paisley and Carrie Underwood, opened the evening with a song mocking President Donald Trump.
Though it's becoming less taboo for country stars to speak out against the NRA, many of the nominees scheduled to appear at the ACM awards have historically avoided questions related to gun control. Here's what we know about the musicians leading the list of nominees: where they stand on the NRA, increased gun control, and preserving the Second Amendment.
Chris Stapleton
39-year-old Kentucky native Stapleton is nominated for eight awards, including Entertainer of the Year, Male Vocalist of the Year, and Album of the Year for "From A Room Vol. 1," which critics adored.
Stapleton has been quiet about his politics, but the fact that country music's renegade Sturgill Simpson adores him speaks volumes. Stapleton is also a long-time collaborator with Justin Timberlake, who recently tried to rebrand his image as a "man of the woods" and has said publicly that he's a life-long gun owner.
Thomas Rhett
Rhett, a young contender from Georgia, is nominated for six awards, including Male Vocalist of the Year, which he won in 2017.
Last year, 27-year-old Rhett was listed on the NRA's country music initiative, NRA Country. After the shooting in Las Vegas, however, Rhett was one of many stars to quietly sever his relationship with the organization, including their Artist of the Month campaign.
Keith Urban
Originally from Australia, now an American citizen (as well as Nicole Kidman's husband), Urban is a country music main-stay. He's nominated in five categories, including Entertainer of the Year (for the eighth time).
In April 2017, Urban told the press that he was "unsure" if he and Kidman would accept an invitation to visit Trump. Kidman has been similarly vague in her political commentary. In October, Urban made some touching comments about how he explained the Las Vegas shooting to his daughter, but he refrained from making comments about the NRA or gun ownership.
Miranda Lambert
Lambert, a 34-year-old singer-songwriter from Texas, is one of two leading female musician at the ACM Awards, with four nominations—newcomer Maren Morris nabbed the same number.
Lambert walked the ACM red carpet in 2016 with tiny pink gun holsters on her stiletto heels, an $849 Joyce Echols pair called "come and take it" shoes. Despite that cheeky hint at supporting gun owners, in a July 2017 Rolling Stone profile, Lambert insisted that she has no interest in using her stardom to discuss politics.
Maren Morris
Morris, 27, is the youngest starlet among this year's nominees. The Nashville native is up for four honors, including Female Vocalist of the Year.
Morris is the most outspoken figure here, having denounced Trump's policies more than once. Before the 2016 election, she publicly assured her fans that making country music did not mean she was planning on voting for Trump. In 2017, she tweeted that the president's desire to ban transgender soldiers from serving in the military made her sick. At the Grammys last year, Morris spoke briefly with Rolling Stone about gun control, and she said, "Having this open conversation about gun rights would be a start, [as well as] changing legislation."
The Academy of Country Music Awards, hosted by Reba McEntire—and with no prior announcements regarding who's allowed to talk politics—will air on CBS in April.