ACC Trumps Both SEC and Big 12 This Weekend, Despite Texas-OU Showdown
There once was a time when the Texas-Oklahoma rivalry game at the Cotton Bowl stadium in Dallas was must-watch TV. The rankings, storylines, traditions, pageantry and dividing the fans in half were storybook, but it has now become nostalgic. That has become yesteryear.
The Red River Rivalry is no longer the best game in the Big 12 Conference on that particular Saturday. It deserves the 11 a.m. CT time slot on TV. Now, it's not even the best Big 12 game of the weekend, which only has three Big 12 games.
What's the best game in the Big 12 Conference this weekend? How about Kansas State at TCU. And why not? Kansas State is tied for first place with an undefeated conference record with, gulp, Oklahoma State and Iowa State. The Kansas State Wildcats have traveled to Oklahoma and beaten the Sooners in Norman. Meanwhile, the TCU Horned Frogs just traveled to Austin and beat the Texas Longhorns. The third game this weekend? How about Texas Tech at Iowa State.
None of those Big 12 games will be a ratings bonanza.
Then there is the Southeastern Conference. There has been a temporary shift in power from the West Division to the East. Alabama is the only undefeated team in the West, and they should win at Ole Miss this weekend.
In the East, there will be a game of unbeaten teams as Tennessee travels to play a favored Georgia squad. Other than that, an undefeated Florida squad travels to face Texas A&M, which got manhandled by Alabama last Saturday.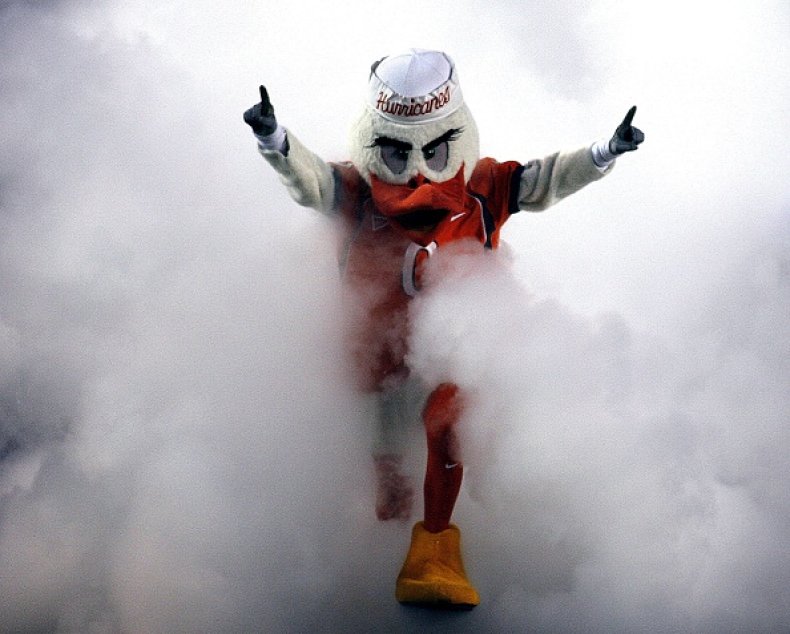 The Atlantic Coast Conference should have the best football this weekend. The ACC has five undefeated teams, and two of them will leave with a loss after this Saturday as there are two games featuring teams that have yet to lose.
In the featured game, Miami (3-0 overall, 2-0 in ACC) travels to face Clemson (3-0, 2-0 in ACC) for the Saturday night game on ABC. Virginia Tech and North Carolina are also undefeated, and they will face each other at noon ET Saturday on ABC—the same timeframe as Texas-Oklahoma on Fox. North Carolina is a top-10 team seeking revenge from a six-overtime in Blacksburg last year.
The ACC's other undefeated team, Notre Dame, has a prime time game at 7 p.m. on NBC against Florida State—a game that sounds sexier than it actually will be.
The ACC has become the frontrunner in the race for conference supremacy so far in 2020, and this weekend will be its first showcase piece—or it should be, based on the matchups and rankings.
Then again, the Big Ten kicks off in a little more than two weeks, and the Pac-12 just one week later. Until they go live, though, it's the ACC's season to steal.