To Accept Ukrainian Refugees Biden Needs to Reverse Trump Immigration Cuts
The Biden Administration announced on March 24 that it would welcome 100,000 Ukrainians into the United States. However, most of these individuals may not make their way over until the conflict has long subsided.
Two policy experts, J.C. Hendrickson of the International Rescue Committee (IRC) and Julia Gelatt of the Migration Policy Institute (MPI), told Newsweek that resettling 100,000 Ukrainians into the United States could take more than a year, perhaps even two.
These analysts say the United States faces a major visa backlog and that refugee resettlement programs have depleted staffs dealing with lengthy resettlement processing procedures due to actions taken under the Trump administration.
Democratic Congressman David Cicilline of Rhode Island, who sits on the House Foreign Affairs subcommittee for Europe, says addressing these issues will be key to Ukrainian resettlement efforts.
"We're going to have to fill positions [at the United States Citizenship and Immigration Services (USCIS) and Department of Homeland Security (DHS)] so these agencies can do their work in order to facilitate this flow of refugees," Cicilline told Newsweek.
"The second thing we're going to have to do is we're going to have to expedite and provide new ways for Ukrainians who are fleeing the war to be able to come to United States," he added.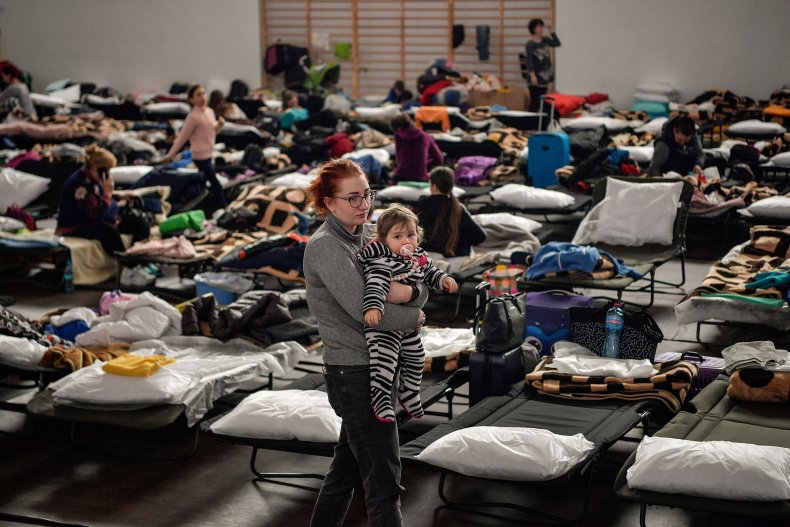 Under former President Donald Trump, the annual refugee ceiling dropped each year. Before Trump took office, 85,000 refugees were allowed into the country annually. In Trump's last year, that fell to 18,000, the MPI reports, a 79% decrease. These changes coincided with immigration budget cuts and government positions left unfilled, resulting in some 300 layoffs in the refugee resettlement nonprofit sector, Voice of America reports.
The Trump administration also added additional steps in the refugee-vetting process, making it more labor-intensive and time-consuming, Hendrickson told Newsweek. And while progress has been made over the past several months, he said Ukrainians will continue to feel the consequences until the Trump administration's changes are addressed.
"USCIS has made progress," Hendrickson said. "I think they've doubled their staffing in recent months, which is great and much needed."
'But that's really the bottleneck right now, security vetting, and that's what makes it take so long," " he added. "We're seeing firsthand what the human consequences are to the changes (the last administration) made."
A bipartisan letter to President Joe Biden, led by Cicilline and featuring 61 other signatories, emphasized that Ukrainian refugees are being housed in temporary shelters as Europe struggles to accommodate more than 4 million people who have fled their war-torn homeland. The IRC writes that these people need warm clothes, sleeping materials, and cash for necessities.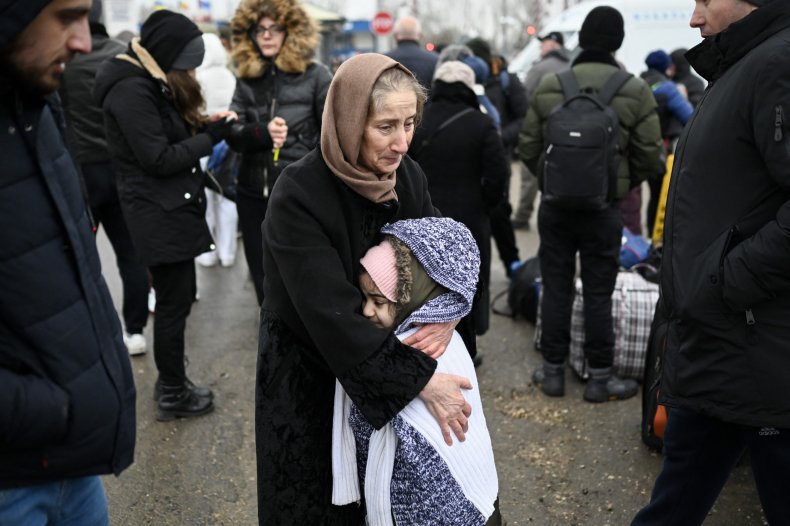 Cicilline says America's refugee system has long stood as the "crown jewel" of the country's humanitarian work. He said the less than 15,000 refugees ultimately admitted into the U.S. during the last year of the Trump administration, a time when COVID-19 pandemic exacerbated humanitarian crises across the world, was an "embarrassingly small number."
With the Biden administration potentially unable to act swiftly to fulfill its promise to accept Ukrainian immigrations, Cicilline says the country is seeing the "results of a system that was pretty broken."
With a refugee system still in disrepair, visas serve as an alternative path for immigrants. But this road is also littered with potholes.
"There is obviously a gigantic visa backlog of 9.5 million people," Cicilline told Newsweek. "There's no question that the backlog for visas grew substantially during the Trump years."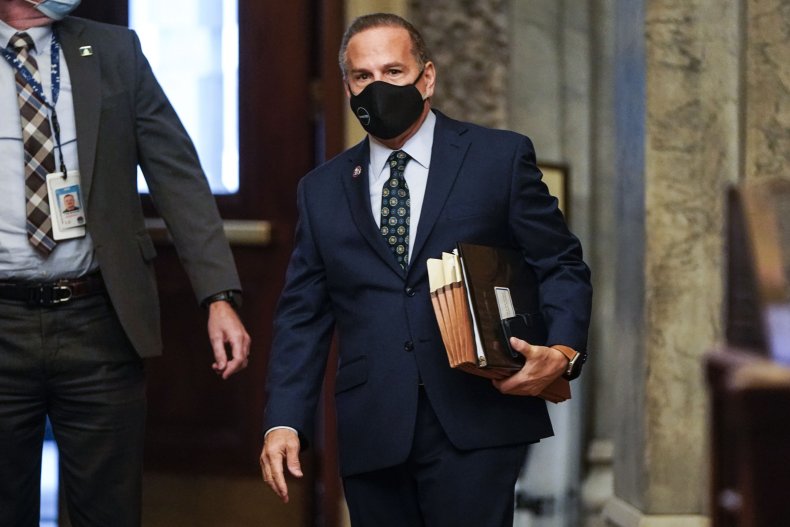 In 2016, that backlog included more than 4 million people, the MPI reports. The visa program allows employers and family members to sponsor Ukrainians entry into the United States. Gelatt of MPI says that many Ukrainians may want to stay in Europe, hoping to easily return to their country once the conflict subsides. She said those who would want to come to the U.S. would likely have existing connections, making the visa system a practical process.
On Tuesday, USCIS announced it would work to reduce the immigration backlog by introducing new internal metrics aimed to shorten the process of reviewing related forms. Additionally, the agency will expand premium processing for certain filers and improve access to employment authorization forms.
Gelatt suggests that if the government wants to use the visa system to bring in Ukrainians it could take a stance of prioritizing their applications. She also said that if the applications cannot be sped up, Ukrainians could be brought into the country to wait safely during visa processing through an avenue known as "parole."
"[Parole] has to be considered on a case-by-case basis — that's what the law says," Gelatt told Newsweek. "But that individual consideration can happen very quickly, I think, if the government wants it to."
"Parole is straightforward," she added. "The issue is that if someone's paroled into the United States ... it doesn't give them a pathway to permanent residence, and it doesn't give them a lot of access to public benefits or other resources."
This avenue could be beneficial for those individuals seeking immediate safety but who may want to return to Ukraine when it becomes possible. An additional way to help this demographic, which Gelatt says would have to be created, would be extending a temporary work visa targeted at Ukrainians.
She said that in the past similar visas have been extended to people from El Salvador, Guatemala, and Honduras. A report by the MPI writes that these visas have the potential to benefit "immigrants, their countries of origin and their U.S. employer."
As America faces a worker shortage and Ukraine faces economic devastation brought on by the war, this option could not only address the issues of refugee processing wait times but also help improve the U.S. economy.
"I do think there are some models that we could look at that just would make it easier for Ukrainians to come to the United States and be able to work at least for some period of time," Cicilline told Newsweek. "When you look at kind of the labor shortage we have this country, there are lots of people that would welcome that."