As White House staffers, and those who attended Judge Amy Coney Barrett's Supreme Court nomination ceremony in the Rose Garden, continue to test positive for the coronavirus, accusations that President Donald Trump was the outbreak's source are beginning to circulate.
White House physician Sean Conley declined to specify when Trump last tested negative for COVID-19 during a press conference earlier this week, just days after the president announced he had contracted the virus and was subsequently hospitalized for treatment.
Jonathan Reiner, a medical professor at George Washington University and director of the university hospital's cardiac catheterization laboratory, called Trump the White House's "superspreader" during an interview with CNN Tuesday night. Reiner is one of numerous politicians, public figures and medical professionals who are calling for increased transparency from the White House regarding Trump's diagnosis.
"I think he is the superspreader. And I think the reason the White House will not have the [Centers for Disease Control and Prevention] do a formal check and review every single case is that they're concerned that the patient zero might be the president of the United States," Reiner said.
"I think the president was infected with the coronavirus for at least a week before he was admitted to the hospital," Reiner added. He noted that infected individuals typically do not show symptoms for about one week after contracting the virus.
Early last Friday morning, Trump confirmed he had tested positive for the virus, and he was transferred to Walter Reed National Military Medical Center for treatment later that night. Earlier that week, Trump had participated in the first presidential debate against Joe Biden, and he interacted with guests during Barrett's nomination ceremony on September 26, which drew an estimated 200 attendees.
Between those present at the ceremony and those employed at the White House, more than a dozen people have now tested positive for the virus. The White House is not pursuing a thorough contact tracing effort to investigate the outbreak, The New York Times reported.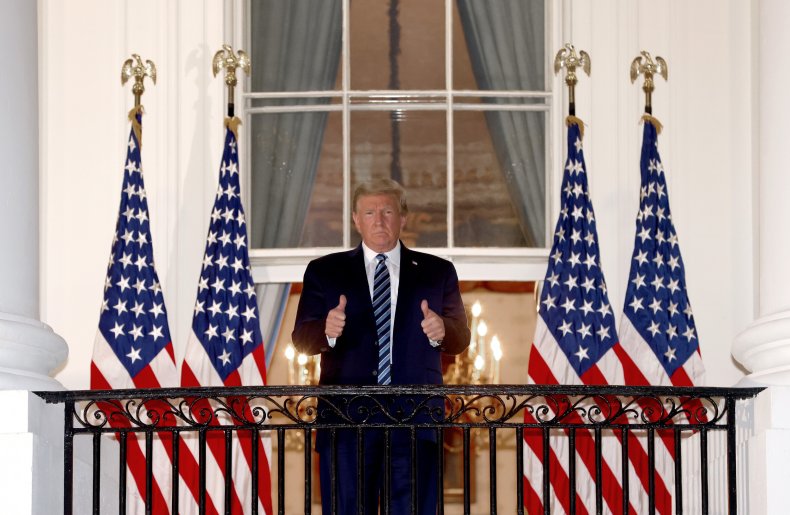 On Tuesday, Michael Steele, a former Republican National Committee chairman who is now an MSNBC political analyst, also suggested the coronavirus outbreak among White House officials and Barrett ceremony attendees originated with Trump.
"He takes his mask off in contravention of everything we know. He is the superspreader," Steele told MSNBC, referencing video footage of Trump removing his face mask upon returning to the White House from Walter Reed one day earlier.
"He is the problem in the White House, and everyone wants to tiptoe around it," Steele continued. "People are getting sick. We don't know how, and to what degree they will be sick over the next few weeks. And yet he's standing there, thumbs up, like, you know, 'I got a cold.'"
Newsweek reached out to the White House for comment but did not receive a reply in time for publication.