Accused Capitol Rioter Donald Smith Called 1/6 'Best Day of His Life,' Feds Say
A man charged in the insurrection at the Capitol on January 6 allegedly described his time inside Speaker of the House Nancy Pelosi's (D-Calif.) office as part of "the best day of his life."
Donald Smith was charged with illegally entering or remaining in a restricted building or grounds, disorderly or destructive conduct in a restricted building or grounds, violent entry and disorderly conduct on Capitol grounds and parading, picketing or demonstrating in a Capitol building on Wednesday.
A witness anonymously contacted the FBI on January 9 to inform the agency that Smith was one of the rioters and had been openly bragging about his exploits. A tip that the FBI received days later, from a person who said they were the alleged rioter's coworker, indicated that Smith had shared presumably doctored videos and photos of himself and others "storming the white house" while bragging about being inside Pelosi's office.
"I work with a man who showed up with pictures and video of him and others storming the white house," the witness said, according to the criminal complaint. "He says he was in Nancy Pelosis office and that it was the best day of his life."
"I do not condone these actions and would like to report him," added the witness. "His name is Donald Smith and we work at UPS in Lawnside NJ. I have a picture of him. Thank you in advance for your help."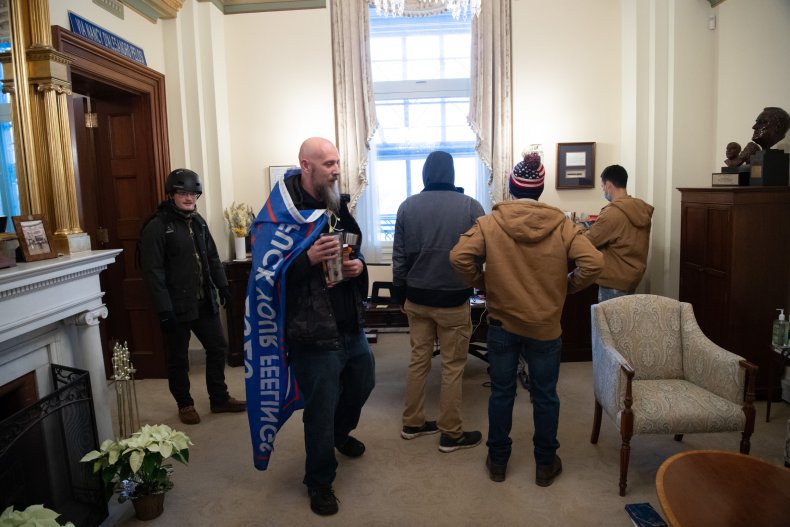 A picture said to be of Smith accompanied the witness statement. It appears to resemble photographs of a man taken inside the Capitol on January 6 that authorities have identified as Smith, although the man's face is partially obscured in the photos from the Capitol.
An additional witness also contacted the FBI to identify Smith as a worker at the same UPS location. Two other UPS employees also confirmed in interviews with the FBI that Smith was a coworker and was not present at work on the day of the deadly riot.
The FBI served a warrant on T-Mobile to obtain Smith's cell phone records. The records tracked Smith's phone moving from New Jersey on January 6 to the area of the Capitol in Washington, D.C. during the time of the riot.
Newsweek reached out to the FBI for comment.
The storming of the Capitol, by angry supporters of former President Donald Trump who were attempting to stop Congress from certifying President Joe Biden's 2020 election victory, resulted in multiple deaths and injuries.
Over 500 people have been charged in relation to the insurrection. More than two dozen have pleaded guilty, including two Ohio men who snapped photos inside Pelosi's office and could face up to six years in prison after admitting last week that they engaged in disorderly conduct.