Accused Capitol Rioter Still Practicing Law Wearing Ankle Monitor
William McCall Calhoun Jr. is among the hundreds of people who have been criminally charged for their alleged participation in the January 6 riot on the U.S. Capitol. And, according to a recent report, he is also believed to be the only one of those accused rioters who is a practicing criminal defense attorney.
On January 31, Calhoun appeared in a courtroom in Americus, Georgia with a court-ordered ankle monitor sticking out from his suit's pant leg, according to The Atlanta Journal-Constitution. The paper also reported that the judge overhearing the case warned potential jurors not to do any online background checks of their own.
More specifically, Sumter County Superior Court Judge Jimmie Brown said: "Don't Google any of the attorneys."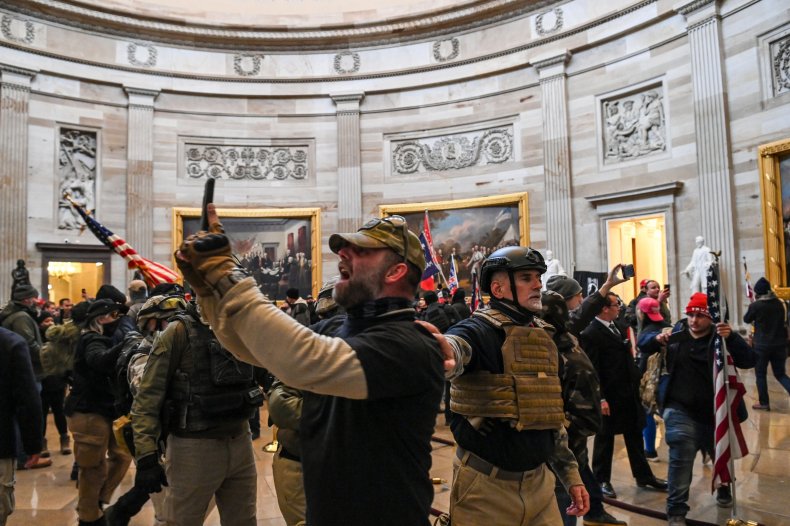 Calhoun, 58, faces five federal charges related to the riot at the Capitol. The most serious is obstructing an official proceeding, a felony that carries a prison sentence of up to 20 years.
He was also charged with entering a restricted building and violent entry or disorderly conduct. He will go to trial this year after rejecting a government plea deal in January. Calhoun has said the plea deal would be for a felony, and he claims he only peacefully walked through the Capitol while recording videos of what was transpiring.
In a statement to Business Insider last month, Calhoun said: "I will not be intimidated, and I will never bend the knee to the Communists by pleading guilty to something I did not do."
Posts Calhoun made on the social media platforms Parler, Facebook and Twitter may be referenced in his trial.
Some of his social media messages were contained in the original affidavit for his arrest, including one from Facebook he posted after the Capitol riot that read: "The first of us who got upstairs kicked in Nancy Pelosi's office door and pushed down the hall towards her inner sanctum, the mob howling with rage—Crazy Nancy probably would have been torn into little pieces, but she was nowhere to be seen."
He tweeted in October 2020, three months before the Capitol riot: "My AR15 set up will do head shots at 200 meters no problem. You have no clue what's coming."
"We're on the cusp of violent revolution," Calhoun wrote in another message. He also allegedly wrote threatening posts regarding President Joe Biden and other prominent Democrats.
As he awaits his own trial, Calhoun is defending clients in Georgia. While he has worked on cases related to misdemeanor offenses like speeding tickets and drug possession, he appeared before Judge Brown's court last week for a pending murder trial.
The State Bar of Georgia has reportedly taken no disciplinary action against Calhoun while he still awaits a decision on the charges against him. He returns to court in April, at which a judge will announce a trial date.
Newsweek has contacted Calhoun and the State Bar of Georgia for comment.