Accused Capitol Rioter Touted Being Among 'First 20 People or So' to Break Into Building
A Missouri man is facing four charges related to his participation in the U.S. Capitol riot on January 6.
Joshua Dressel was arrested on July 13 and charged with knowingly entering or remaining on restricted grounds; disorderly and disruptive conduct in a restricted building or grounds; violent entry and disorderly conduct on Capitol grounds; and parading, demonstrating or picketing in a Capitol building.
Federal prosecutors allege the 31-year-old was inside the Capitol building the day of the riot.
A tipster contacted the FBI on January 7 to report Dressel after spotting him on an MSNBC broadcast. The tipster identified him as "Joshua Dressed," but sources later revealed that "Dressed" was a misspelling and that the likely suspect was Dressel, according to the charging documents.
The tipster had known Dressel for years, the person told investigators, and recognized him in the MSNBC broadcast from his clothing, facial expressions and body language. The tipster also drew a blue arrow to a person and identified him as Dressel in an image captured from the video, along with a YouTube link to the same footage.
The tipster viewed a live-streamed video of the Capitol riot on Dressel's Facebook page, the person told authorities, but when investigators went to look at it, his account appeared to have been deleted.
A second tipster, who identified Dressel with "100 percent certainty," provided investigators a cellphone number associated with Dressel.
When the FBI was able to obtain records of Dressel's account from Facebook, it allegedly found him talking about being at the riot with another user later in the day on January 6. The Facebook account was tied to the phone number the second tipster gave to the authorities.
"First 20 people or so to break into the Capitol," Dressel wrote.
Later in the conversation, Dressel wrote that he was "proud to say I was a voice of reason in there trying to stop the crazy shit and calm things down."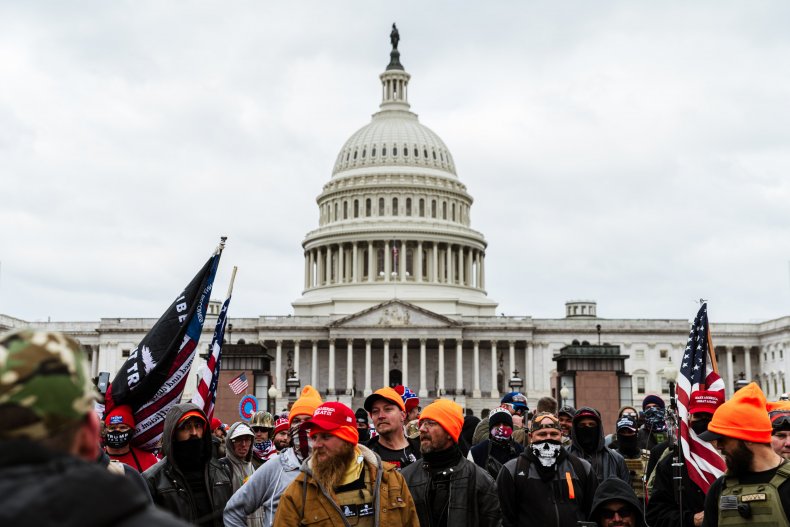 Prosecutors also said multiple surveillance cameras from inside the Capitol showed a man dressed in the same attire the tipster described Dressel as wearing that day: light-colored jeans, a dark-blue hoodie and a black hat that was on backward.
The videos allegedly showed Dressel entering the building from the Senate Wing door around 2:14 p.m. and entering the Capitol Crypt through the north corridor. FBI agents also compared the images supposedly of Dressel in the Capitol to his state-issued driver's license photo.
More than 500 people have been arrested so far in connection with the Capitol attack, U.S. Attorney General Merrick Garland said in June. At least 100 of them have been charged with assaulting a law enforcement officer.