Accused Capitol Rioters Could Spend More Than a Year in Jail Before Trial
Defendants in the January 6 Capitol riot cases have been complaining about their pretrial detention, as some of them could spend more than a year in jail before they face a jury.
A jury trial for Oathkeepers accused of conspiracy in carrying out the insurrection from nearly a year ago is scheduled to begin this April. It's set to involve those who have been in pretrial detention since their arrests at the beginning of 2021. While a judge raised concerns about the length of their pretrial incarceration, few have been released.
"For better or worse, that length of pretrial detention doesn't shock me," Benjamin Glassman, a former United States Attorney, told Newsweek. As a federal prosecutor, he said defendants had been detained for nine months or more in non-conspiracy cases and that it's not abnormal for people to be detained for about a year before trial.
About 20 people who are alleged members of the Oathkeepers, a right-wing militia organization, have been charged with being conspirators of the Capitol attack. They're accused of coordinating with each other to prepare for violence ahead of the riot as well as forcibly entering the Capitol by using military techniques.
While some have pleaded guilty to their role in the insurrection, many others are headed for a jury trial. Given the number of defendants on the indictment, it's likely that they'll be broken up into groups since they all can't be tried at the same time.
The first group is set to stand trial in April, according to court records. NBC4's Scott MacFarlane reported that's likely to include Jessica Watkins, who is accused of being a key figure in the assault on the Capitol. Watkins turned herself to police just two weeks after the riot and has been held in pretrial detention since. Kelly Meggs and Kenneth Harrelson, who are also charged with conspiracy, have been detained since their respective arrests in February and March.
All three have pushed for their pretrial release, arguing that they're not flight risks and don't pose any danger to their communities. Harrelson claimed in a recent filing that he was being held under "unlawful conditions" and subjected to additional restrictions of his imprisonment for not being vaccinated against COVID-19.
Neama Rahmani, a former federal prosecutor, acknowledged that many of the Capitol riot defendants have ties to their communities and little to no criminal histories, which could support pretrial release. However, he told Newsweek that prosecutors have been leaning heavily on defendants' alleged propensity for violence, pointing to their actions on January 6 and comments made on social media.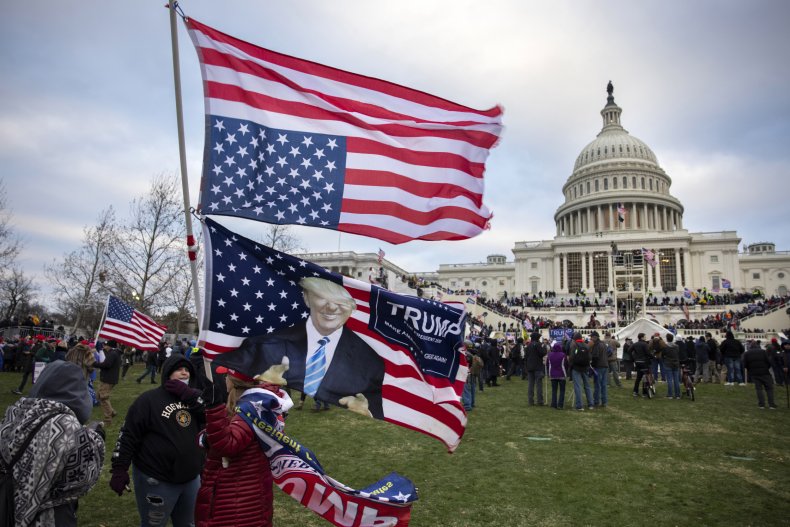 While Watkins and other Capitol riot defendants shouldn't be detained as "punishment," Michael McAuliffe, a former federal prosecutor and author of No Truth Left to Tell, told Newsweek it can "seem" like one, especially when the length of detention approaches the potential punishment. However, in the conspiracy case, the defendants face years in prison, not months.
"[Watkins] shouldn't be in custody at this point as punishment as she's presumed in the law to be innocent until a plea or a jury verdict determines otherwise. However, her alleged significant role in trying to prevent the peaceful transfer of presidential power resulted in the court finding that no set of conditions would assure the safety of the community prior to trial," McAulliffe said.
Capitol riot defendants aren't the only people to push back on their pretrial detention. Judge Amit Mehta, who is overseeing several cases, expressed some hesitation about delays in bringing the defendants to trial.
During a September court hearing, prosecutors said a January 31 trial is "becoming ever more unrealistic." They've argued that prosecuting hundreds of defendants at one time is "unprecedented" and they're struggling to process all of the evidence.
Mehta responded that he was "concerned about a lengthy pretrial detention period." If prosecutors turn over every piece of evidence they uncover before starting a trial, defendants won't face a jury until 2023.
"I just don't think that's acceptable to those being held," Mehta said, specifically referencing Harrelson, Watkins and Meggs.
Under the Speedy Trial Act, defendants have a right to be tried within 70 days of indictment, unless there's a reasonable excuse for a delay that both the defense and prosecution agree on. Given that defense attorneys need time to file motions and prepare for a trial, Rahmani said it's not uncommon for defendants to waive that time frame and for criminal trials to take place more than a year after a person's arrest.
"Assuming a valid time waiver, defendants have no legal basis to complain about the length of pretrial detention," Rahmani noted.
Prosecutors believe April 2022 is an achievable start time for the first trial in the Oathkeepers case, according to NBC4's MacFarlane. A second trial date is scheduled to start in July and is likely to involve some of the accused who have been released pending their trials.
McAuliffe wouldn't be surprised if the length of time from indictment to trial is longer in the Capitol riot cases than other criminal cases given the "consequential nature of the charges." However, as more time passes without a trial, he noted that the appropriateness of detention could become "a ripe issue for review."