As providers in the United States and its allies crack down on Russian state-tied media amid war in Ukraine, Moscow's ambassador in Washington told Newsweek that it was the U.S. that was presenting a biased media narrative of the conflict.
"Despite the Constitution, no one bothers about any freedom of speech and pluralism of opinions here," Ambassador Anatoly Antonov told Newsweek. "The blocking of broadcasting of Russian state media is an illustrative example. It got so bad that calls for violence against dissidents are legitimized."
Major Russian state-affiliated outlets such as RT, Ruptly and Sputnik have been removed by YouTube, and Facebook parent company Meta has temporarily lifted restrictions on calling for violence against Russians, though the social media giant recently narrowed the policy shift to not include calling for the killing of President Vladimir Putin himself, according to Reuters.
Antonov gave as an example of what he saw as a pro-Ukraine bias in U.S. media in the lack of coverage on what the Russian Defense Ministry claimed was the firing of a ballistic missile by Ukrainian forces against a civilian-populated region in a city held by pro-Moscow separatists in eastern Ukraine.
"It is symptomatic that today U.S. TV channels have not shown a single report on the savage attack of the Ukrainian military who fired a Tochka-U tactical missile with a cluster munition warhead at a residential block of Donetsk on March 14," Antonov said. "The strike killed more than 20 civilians and seriously injured about 30 others."
"It feels like no one cares about this," he added.
The claim has been disputed by Ukrainian military spokesperson Leonid Matyukhin, who alleged that it was a Russian rocket. Neither side's claim could be immediately verified by Newsweek, due to the similarity of the two side's arsenals and the fog of war surrounding a conflict in which both Kyiv and Moscow are vying for control of the information space.
And the two sides have regularly accused one another of staging attacks to further their own respective interests.
Ukrainian claims have often been amplified by major U.S. media outlets, including an early incident in which Ukrainian troops deployed to Snake Island were said to have been killed after defying a Russian warship order to surrender. Days after the claims were widely circulated, Ukrainian officials acknowledged that the servicemen had in fact been detained by Russia.
Ukraine's embassy in Washington has also opened the doors for foreign volunteers to join the battle, drawing criticism from Russian officials who have accused Kyiv of trying to internationalize the war, a narrative that has not garnered major traction in the U.S.
"At the same time, the actions of the Russian Armed Forces to destroy foreign mercenaries who arrived at the Ukrainian territory to kill Russians have caused a maximum outrage here," Antonov said.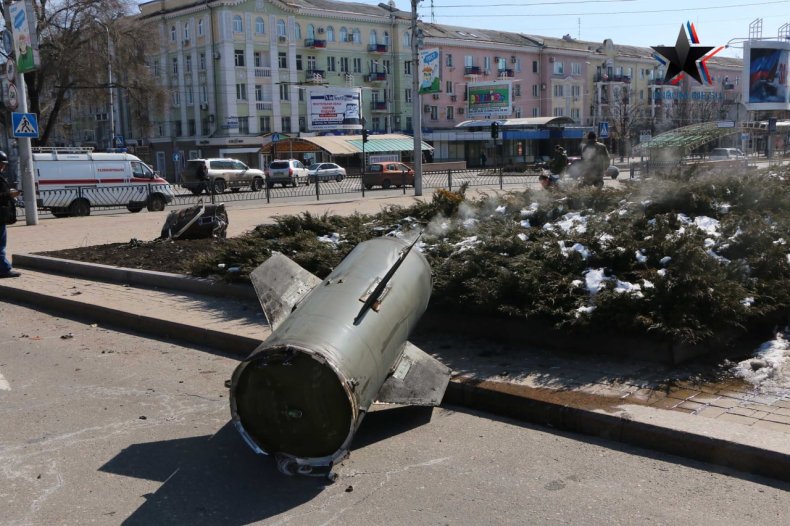 Washington, for its part, has accused Moscow of promoting disinformation both through official and unofficial channels.
Following Secretary of State Antony Blinken's call Friday with Ukrainian counterpart Foreign Minister Dmytro Kuleba, the U.S. readout said that among the topics discussed were mutual concerns "that Russia is escalating its disinformation campaigns to deceive the world, including at the United Nations."
Among the key areas of contention is Russia's claim that the U.S. military has operated sites in Ukraine where dangerous biological and chemical substances were being developed.
A senior State Department official addressed those facilities under oath before Congress last week.
"Ukraine has biological research facilities, which, in fact, we are quite concerned that Russian troops, Russian forces may be seeking to gain control of," Under Secretary of State for Political Affairs Victoria Nuland testified.
A State Department spokesperson later told Newsweek that Nuland was "referring to Ukrainian diagnostic and biodefense laboratories during her testimony, which are not biological weapons facilities." Such sites, the spokesperson said, "counter biological threats throughout the country."
"Throughout this crisis, Russia has baselessly alleged it is under threat, including from Ukraine and from NATO, and has alleged Ukraine plans to use chemical and biological weapons," the spokesperson added. "As we've said all along, Russia is continuing to invent false pretexts to justify their horrific actions in Ukraine."
But Russian officials have taken the remarks, along with a 2005 agreement between the Pentagon and Ukrainian Health Ministry on operating such facilities, as further evidence of suspect activities pursued by the U.S. in Ukraine, and have demanded clarification on such work.
Those demands have been echoed by Chinese officials, who also raised the alarm on what they said was non-transparent research involving potentially harmful substances in Ukraine and other countries.
U.S. and Russian rhetoric remain at odds over the roots of the conflict, with U.S. officials calling it a "premeditated, unprovoked, and unjustified war against Ukraine," while Moscow refers to it as a "special military operation" that sought the "demilitarization" and "denazification" of Ukraine.
Russia's references call attention to the influx of U.S. and allied weaponry to Ukraine as it seeks to join the NATO alliance, and to far-right and even neo-Nazi fighters that they claim have taken up arms against Russia. Newsweek has reported on the presence of such groups, including the Ukrainian National Guard's Azov Regiment, but observers have noted that they were part of a broader effort to resist Russia's incursion, which has attempted to encircle major cities, including the capital Kyiv.
And while the U.S. has introduced further sanctions on Russia's military over "widespread human suffering and casualties, including the deaths of innocent civilians, including children" in Ukraine, Antonov contended that Moscow's forces were only pursuing military targets.
"I would like to emphasize once again that only military infrastructure facilities are being destroyed by Russian high-precision weapons," Antonov said. "Currently, the only threat to civilians in Ukraine comes from armed formations of Ukrainian nationalists."
"They place tanks and artillery at kindergartens and schools, equip firing positions on the roofs of houses," he added, "[and] hide behind women and children to cause as many civilian casualties as possible."
The White House has fallen short of directly accusing Russia of war crimes, but has said that a probe was active in examining whether Moscow was targeting civilians.
White House Press Secretary Jen Psaki said the U.S. was looking "at this through a legal process internally," but had seen "a range of very concerning video reports" regarding the "targeting of civilians" that could be categorized as war crimes.
In spite of Washington's stance, Antonov encouraged U.S. outlets to pursue reporting in an objective manner.
"We hope that the U.S. media will stop inciting Russophobia," Antonov said, "and will present their assessments in an impartial manner."
And he expressed sorrow for those killed throughout the conflict, especially those who died in the disputed missile attack on Donetsk.
"Russian diplomats grieve for the dead," Antonov said. "There is no excuse for those who launched a missile into the center of Donetsk. We need to find these inhumans and punish them. We stay together with the relatives and friends of the victims. There are no words to express our sorrow."