Latest Accuser Claims Donald Trump Forcibly Kissed Her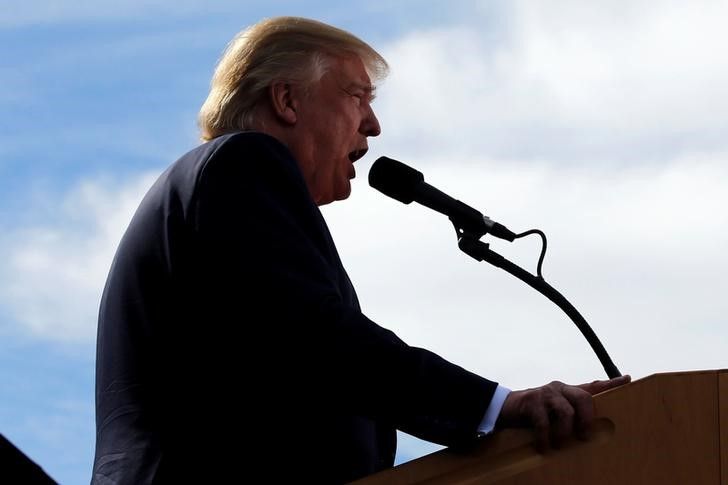 Another woman came forward Saturday to accuse Republican presidential nominee Donald Trump of sexual misconduct.
Cathy Heller, 63, of New York told The Guardian that Trump grabbed her, got angry when she pulled away and forcibly kissed her almost 20 years ago at a Mother's Day brunch at Trump's Mar-a-Lago estate in Florida. Heller joins at least eight other women to come forward in the past week to accuse Trump of sexual harassment or assault.
The Trump campaign denied the latest allegation as a "bogus claim," echoing the candidate, who has called all of the charges fabrications that the media is using to discredit him.
Heller says she was with her husband, children and in-laws at the Florida estate when Trump began greeting brunch attendees. She extended her hand when Trump approached her table, Heller said, and Trump "took my hand, and grabbed me, and went for the lips." Heller says she turned her head from Trump, angering him. "He said, 'Oh come on.' He was strong," Heller told the Guardian. He ended up kissing the side of her mouth, she says. "I was angry and shaken," Heller says. "He was pissed. He couldn't believe a woman would pass up the opportunity."
Heller's account was corroborated by two other brunch attendees, the Guardian reports.
She is a Hillary Clinton supporter who has donated to the Democrat's campaign, and her husband's family has fought to recover money that her late in-laws paid to join Mar-a-Lago. However, she says her "motivations for speaking" are to demonstrate that Trump is not "just talk. It's action."
Trump's campaign has been in free fall since the Washington Post revealed audio of the candidate in 2005 bragging about his star power and how it enables him to touch women at will. He's sought to excuse the remarks as just "locker room talk," but the revelations sparked numerous women to come forward alleging behavior that closely tracks with Trump's own words. In response, Trump has of late been accusing the women of looking for fame and attacking the press for publishing their accounts.
Trump spokesman Jason Miller told the Guardian that Heller's account can't be believed. "There is no way that something like this would have happened in a public place on Mother's Day at Mr. Trump's resort. It would have been the talk of Palm Beach for the past two decades. The reality is this: For the media to wheel out a politically motivated Democratic activist with a legal dispute against this same resort owned by Mr. Trump does a disservice to the public, and anyone covering this story should be embarrassed for elevating this bogus claim."