Keith Ellison's Accuser Reiterates Claims Against Deputy DNC Chair Amid Kavanaugh Debate
The woman who accused Democratic Minnesota Representative Keith Ellison of domestic abuse last month has reiterated her allegations that the Congressman physically and emotionally abused her during their relationship.
Karen Monahan tweeted Monday that the Democrats had not stood by her since she accused Ellison, who is running for Minnesota attorney general, of the abuse.
"I've been smeared, threatened, isolated from my own party. I provided medical records from 2017, stating on two different Dr. Visits, I told them about the abuse and who did it. My therapist released records stating I have been dealing and healing from the abuse," she wrote on social media. "Four people, including my supervisor at the time, stated that I came to them after and shared the exact story I shared publicly, I shared multiple text between me and Keith, where I discuss the abuse with him and much more. As I said before, I knew I wouldn't be believed."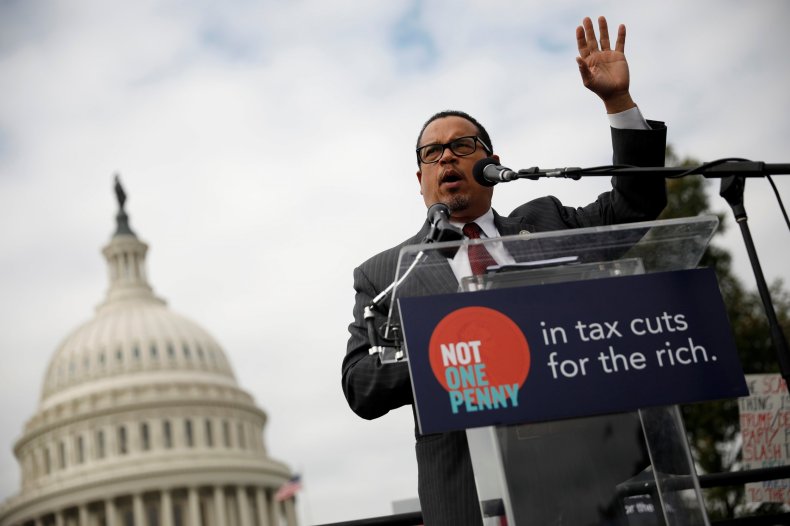 Her statement comes as some Democrats, like senators Mazie Hirono and Kamala Harris, have vocally supported Christine Blasey Ford, who has accused Supreme Court nominee Brett Kavanaugh of sexual assault.
Last month, Monahan's son levied accusations against the six-term House Democrat, claiming that he had seen a video or Ellison dragging his mother out of bed by the feet while screaming at her.
Monahan subsequently confirmed her son's claims, writing on Twitter that "what my son said is true. Every statement he made was true." Directing her comments at Ellison, she continued "you know you did that to me. I have given every opportunity to get help and heal. Even now, u r willing to say my son is lying and have me continue to leak more text and info just so others will believe him." She has declined to release the video.
Ellison, who also serves as the Deputy Chair of the Democratic National Committee, denied the allegations. "Karen and I were in a long-term relationship which ended in 2016, and I still care deeply for her well-being," he said in a statement, according to Politico. Ellison's teenage daughter, Amirah, who lived with the couple while they dated, also called the accusations false, The New York Times reported.
Many prominent Democrats did not comment on the accusations against the Minnesota representative, HuffPo reported. Democratic leaders from his home state have continued to support him, according to NBC News.
Another woman who alleges she had an affair with Ellison in 2006, while he was married, levied a similar accusation against the Congressman. Amy Alexander accused the representative of shoving her. Ellison, who received a court restraining order against Alexander, has said he did not have a romantic relationship with her.
The recent accusations against both Kavanaugh and Ellison come during a broader national debate about sexual harassment and assault, which has resulted in the dethroning of prominent media figures, Hollywood leaders and politicians.