Who is Austin McBroom's Fiancee, Catherine Paiz? The YouTube Star Stands Up for Her Partner as Scandal Unfolds
ACE Family YouTuber Catherine Paiz is standing in support of fiance Austin McBroom after allegations of infidelity and rape were made against him.
Makeup artist and YouTube vlogger Cole Carrigan posted a video Monday titled "The Truth About The Ace Family." In the video, Carrigan claims that McBroom raped a woman while his father and security guard were in the same room, then made her sign a non-disclosure agreement.
In the video, Carrigan presents text messages that he claims are a dialogue between the woman and McBroom, as well as photographs of bloody bedding from the alleged incident. He also claims that YouTuber Keemstar of the "Drama Alert" channel was paid $500,000 by the family to keep quiet about the incident.
After the video was posted, Carrigan shared several messages from viewers claiming to have had similar experiences with McBroom.
Instead of offering direct comment on the situation, Paiz posted an obliquely-worded Tweet that included a faked conversation with rapper Kanye West.
This is not the first time that McGroom and the ACE Family have been embroiled in controversy.
January saw McGroom criticized for posting a Snapchat video in which he took Paiz's five-year-old sister to a sex shop and purchased her a penis shaped lollipop. Many fans and viewers protested what they saw as sexualization of a child.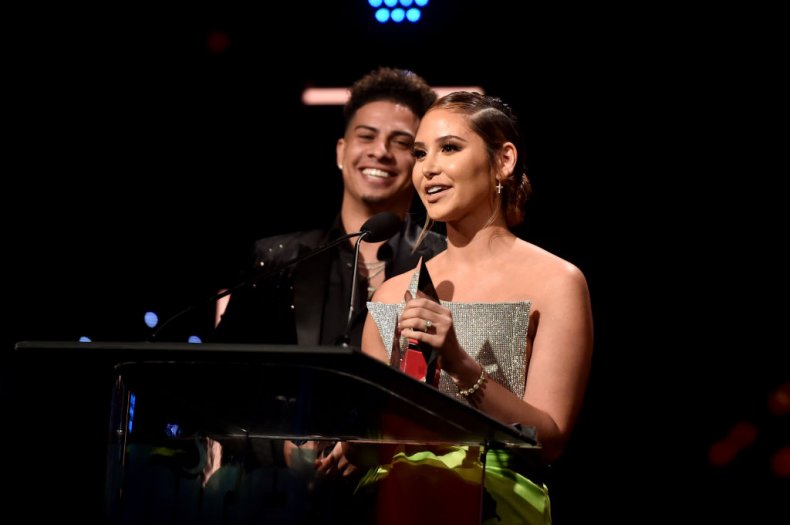 Born in Montreal, Paiz and her family moved to Miami when she was a child. She began modeling in her teens and attended St. Louis College. She has also acted in a handful of movies.
McGroom and Paiz met at a dinner party in 2015 and began dating soon after. In 2016, they welcomed daughter Elle and launched their YouTube channel, titled after the first initials of the trio's names.
McGroom proposed to Paiz in August 2017 and the couple welcomed their second child, Alaïa in October of the next year. They have yet to wed.
Their channel now has over 17 million subscribers. Their videos include vlogs of their daily lives, pranks on each other, a gender reveal for Alaïa alongside family friend Kylie Jenner, and planning for their wedding, which has been cancelled several times. In January, they announced that they would be taking a break from YouTube to focus on other projects, but returned to the platform in March.
In May, the ACE Family signed a contract with Univison to join its Creator Network, according to Variety.
McBroom posted a statement on Twitter on Tuesday, in which he claims that he is the victim of "extortion, defamation and slander" and that he will be taking legal action.