Ace Family Controversy Explained: After Cole Carrigan Rape Accusation, People Want YouTubers 'Canceled'
Twitter users are asking fans to "cancel" YouTube's Ace Family channel after claims that Austin McBroom is a rapist. The husband and father in the wildly successful video couple, whose partner is Catherine Paiz, was the subject of a YouTube video by makeup artist Cole Carrigan on Monday, and some fans were quick to believe Carrigan's claims.
Carrigan accused McBroom of taking advantage of one of his close friends. The woman was allegedly forced to sign a nondisclosure agreement, meaning she could not speak about any interactions with the Ace family. In addition to text messages from the friend, Carrigan showed images the woman took from the scene of her alleged rape, including bloody sheets.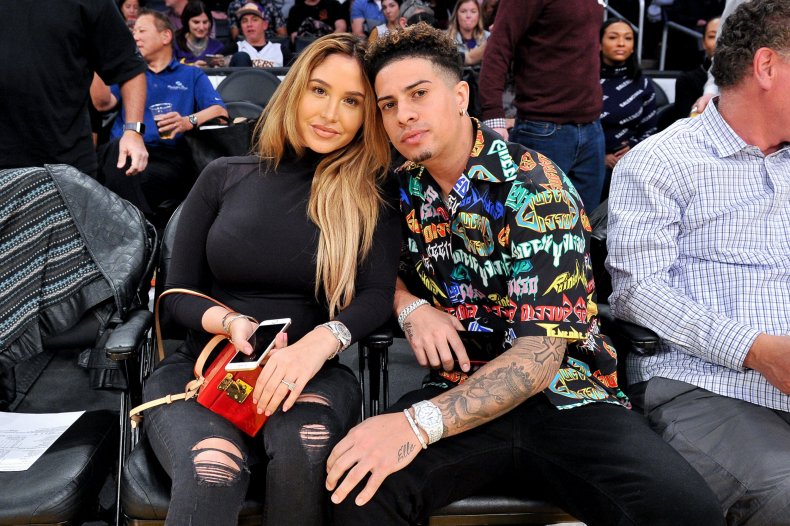 The woman also said McBroom's security guard and father were in the room at the time of the alleged rape, along with at least one of McBroom's friends. McBroom's father, Allen McBroom, allegedly put his penis in the woman's face. The alleged encounter happened on June 22. A second friend was also taken advantage of, according to the video.
After speaking out about the accusations on his Twitter account, Carrigan claimed to have received a handful of direct messages from women around the country who have also been taken advantage of by McBroom or were uncomfortable in his presence. Without giving names, Carrigan shared some of the messages.
Carrigan also posted a message that claimed YouTuber Keemstar was paid $500,000 by the Ace family to stay quiet.
The YouTuber responded to the video with a slam against Carrigan's credibility. "Cole you are a complete idiot," Keem wrote on Twitter. "'Keem was recording me' when have I ever recorded private convos? Never. Moron. Also you leaked my number. And you posted Ace family paid me 500k when you know that was a joke. No one should trust you! You are so full of shit!"
Carrigan's video was met with both support and a general lack of surprise by Twitter users, who seemed aware of issues with McBroom's behavior in the past. One user claimed that McBroom took a 5-year-old to a sex shop and posted a provocative video of the child.
Others reached out to Carrigan directly in response to the video and shared their alleged encounters with McBroom. In an anonymous message posted Tuesday on Carrigan's Instagram story, a woman claimed McBroom "was trying to finger me through my skirt and was groping me while his friend was trying to 'set' us up having sex." The woman claimed the encounter happened a few weeks ago and said she was "so disgusted."
Some Twitter users were quick to dismiss the claims because they said they don't trust Carrigan. A woman claiming to be the second person allegedly assaulted by McBroom said Carrigan's motivation in sharing may have been money, not advocacy.
The Ace Family channel has 17.7 million subscribers on YouTube. The family often posts videos about their children and their life together. Other YouTubers have long joked about the family's wealth and claim the problems they share about their life are not relatable to the public.
The family did not immediately respond to Newsweek's request for comment. McBroom issued a statement on his Twitter account Tuesday morning, which called himself a victim of "extortion, defamation, and slander."
This article has been updated to include McBroom's statement.