Acer Chromebook Spin 713 Review: A Solid School Laptop
Those looking to buy a computer have at least three distinct types spread across machines running Windows, Mac and ChromeOS. All are equally viable choices for work, school or play. The pertinent question is, What are you using it for? Since the answer is more frequently web-based tasks that don't need a full operating system, a Chromebook might be a good fit. It could also be a chance to save a few dollars. Acer is betting on this being a popular option as it debuts its new line of Spin Chromebooks. This Acer Chromebook Spin 713 veers toward the high end, with fully capable hardware and specs and plenty of speed and storage. Yet it dodges the $1,000 mark to retail for $699.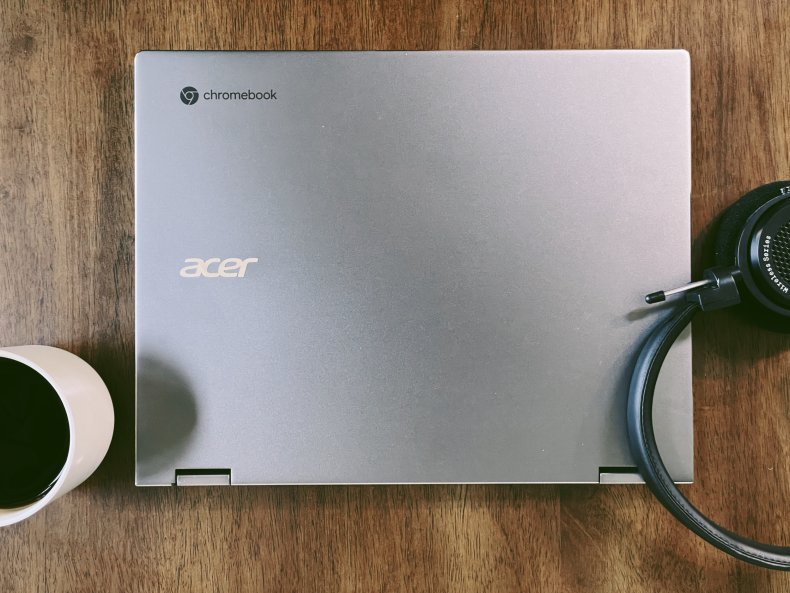 I've used plenty of Chromebooks since the very first CR-48 model was distributed for free by Google in early 2011. In looking at this new line from Acer, I ditched my Mac for work-related tasks and utilized Google's productivity suite of web-based apps to get this review and others done.
In short, this is a very capable machine that has a few quirks compared with a more traditional laptop.
The Acer Chromebook Spin 713 Hardware
The Acer Spin 713—model CP713-3W-5102, to be exact—should have enough speed, storage and inputs to satisfy anyone looking at a Chromebook in the first place. It uses an Intel Core i5 processor, includes 8GB of ram and has 256GB of hard-drive storage. There are two USB-C Thunderbolt 4 ports, one USB-A port, an HDMI input, a headphone input and a MicroSD slot. All in all, it carries a modern section of I/O for moving between daily tasks.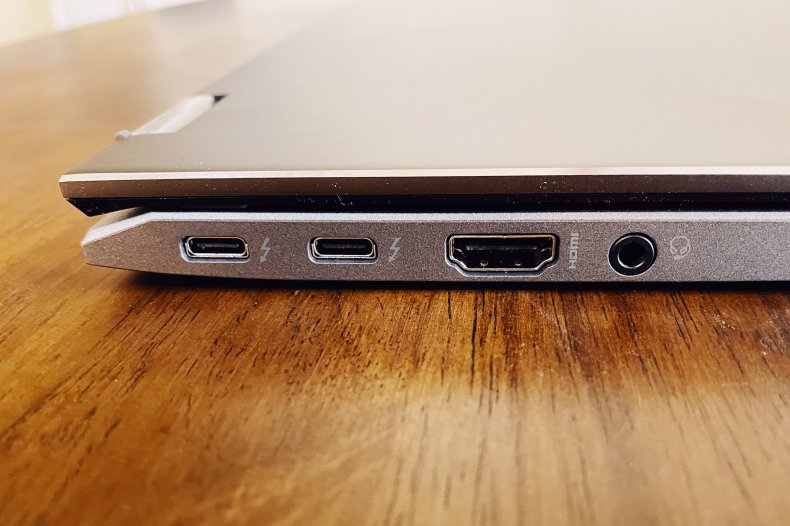 The Thunderbolt 4 capabilities will allow high data transfer speeds as well as advanced external monitor support.
The Spin 713 features a touchscreen for easy manipulation, and the display can flip around to stand in different viewing positions. All of the hardware specs are great and should make for a seamless workflow.
I was less than thrilled about the keyboard and trackpad. This will be a personal preference that can be argued. Comparing the Acer directly against the latest MacBook Air with an M1 processor, I found the Spin 713's typing and mousing a step down from what Apple offers. During my time testing the computer, I didn't experience technical issues in either of those areas—merely keys that were mushy to press and a trackpad that felt less than precise. The touchpad also didn't offer enough settings to configure exactly with multiple finger controls.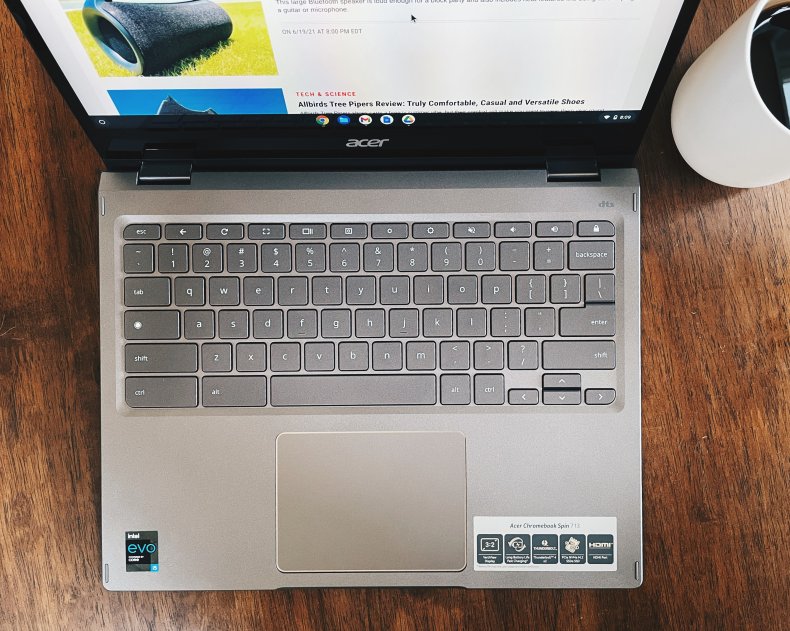 I didn't care for those areas of the machine, but they performed OK. The keys were a generous size, and some of the dedicated shortcut keys included were convenient.
Working on a Chromebook
There are a few considerations to working on a Chromebook. The first is whether it's feasible because of the apps you'd need to do tasks. The second is how everything performs. A fresh Google Doc or Google Sheet covers a lot of my daily work. While that may not be the same for everyone, I suspect those in school will be able to get by with the Google suite of productivity apps. As of June 2021, Google Docs still works better on a Chromebook than it does on an iPad. That may change as iPadOS gains new multitasking capabilities in iOS 15. For now, the native Chrome browser is just as powerful and capable as it is with Mac or Windows. It even runs Slack just fine in a browser window.
Chrome tends to drag down computers with battery life. The Spin 713 has a listed 11 hours of battery life. That felt mostly accurate as I used it on and off across whole days between charging. The time frame it displayed seemed to jump around quite a bit and once left me stranded when it said 9 percent, or 1 hour and 12 minutes of use remaining. Moments later it shut off on me.
The spec I was most curious about testing was its fast charging. It claims zero to 4 hours of battery life after a 30-minute charge. So after the time it died unexpectedly on me, I put it to the test. The computer can charge with any USB-C cable but comes with a traditional-looking power brick—just with a USB-C tip.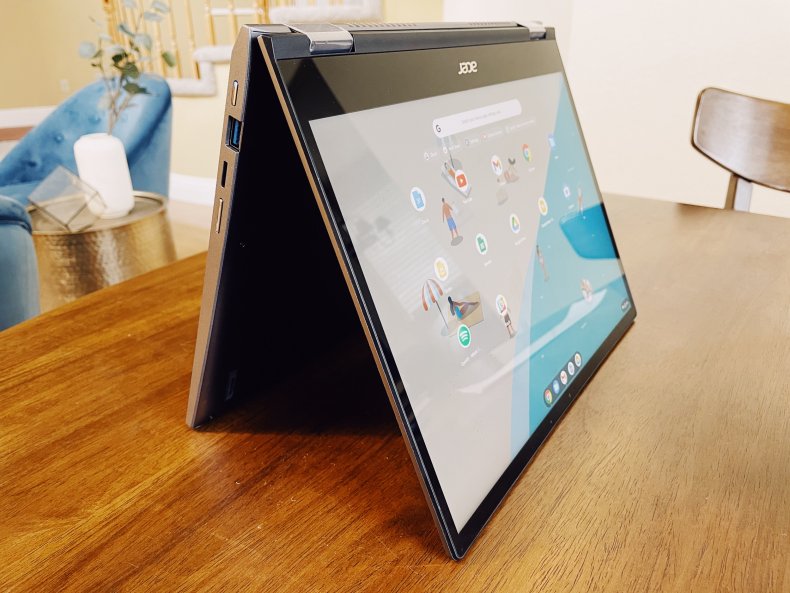 I charged the machine for just over 30 minutes, and when it turned back on, the software showed a level of 54 percent. In practice, the battery longevity was perfectly fine. It was finicky in providing a heads-up near the low percentages, but that might be experienced on other laptops, as well.
Speed performance was as expected for nearly all of my use. The most frustrating aspects arose were when turning it back on after a shutdown, and the machine didn't respond to taps or show the cursor on the log-in screen as quickly as it had other times. The speed felt just fine while navigating among dozens of tabs and working through various tasks. It's hard to pinpoint the few moments of sluggishness other than potentially as system updates or background tasks running longer than expected.
Should You Buy the Acer Chromebook Spin 713?
In most ways, the Acer Chromebook Spin 713 is a very middle-of-the-road, average machine. On the plus side, that means it's competent and won't cost a hefty amount. It will do video calls, web browsing and video watching all in a solid and respectable way. What it also means though is that it probably won't wow you. The keyboard is usable but a little mushy while typing. The trackpad can be a little jumpy, two-finger recognition isn't great, and its level of precision is slightly fuzzy. But if those input things don't bother you, then there's not a whole lot to complain about with this Chromebook.
Buy at Best Buy.
Newsweek may earn a commission from links on this page, but we only recommend products we back. We participate in various affiliate marketing programs, which means we may get paid commissions on editorially chosen products purchased through our links to retailer sites.