Is Acer's $999 Swift 3 Laptop the Premium Travel Computer You Need?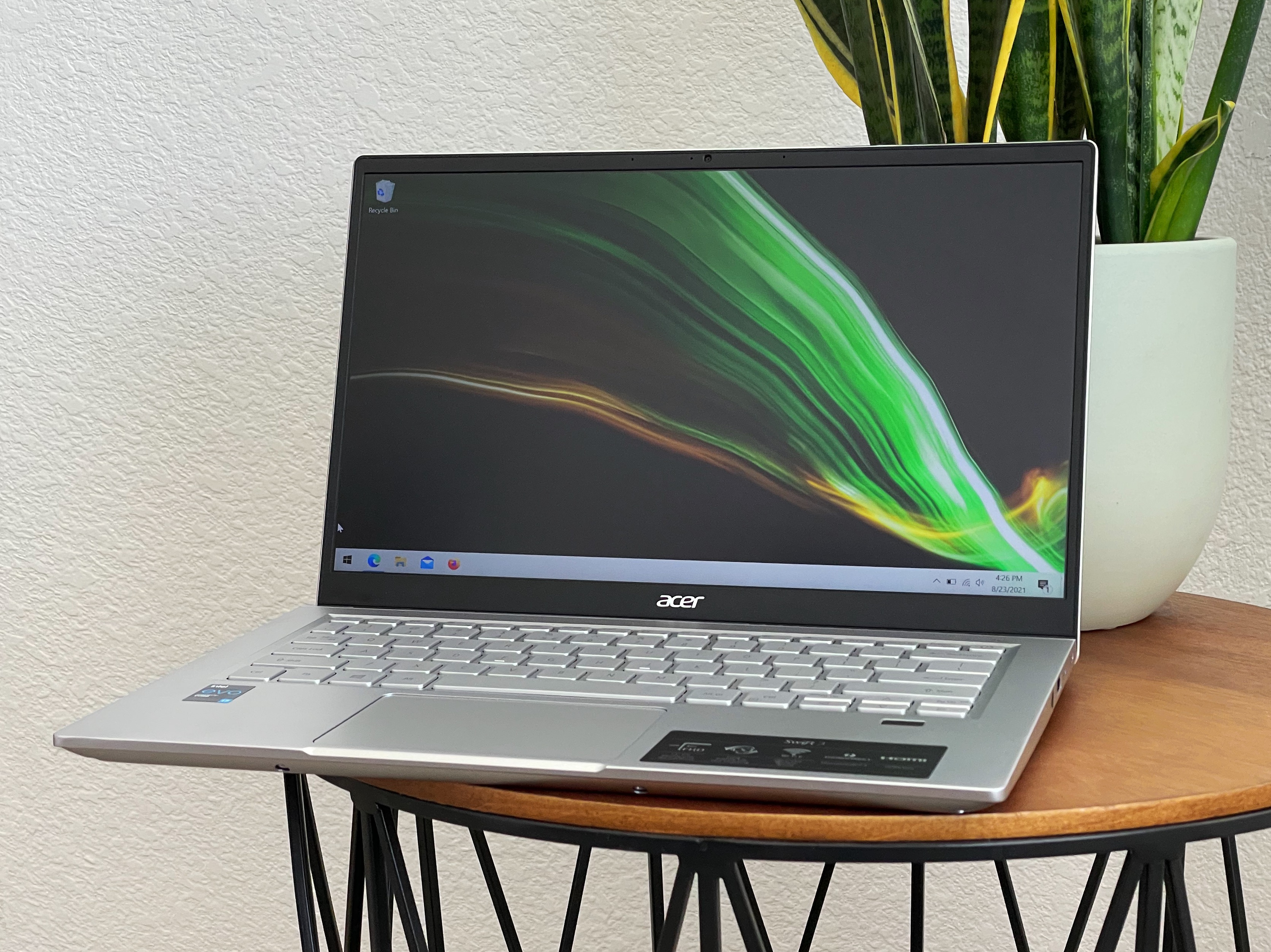 Spending $1,000 on a Windows laptop wasn't always considered a premium purchase, but for a general-purpose portable computer, it mostly is now. Consumers, especially those who need a fairly average laptop for work or school, have benefited from manufacturers competing for their business. Unless you need specific specs, like for gaming or video editing, a $500 laptop may be sufficient for your needs.
If you want a little more than average features and beefed-up power, the Acer Swift 3 (SF314-511-70TU), at $999, wants to be the laptop for you. Is this Swift 3 model worth its price, and do you need the extra bells and whistles over other cheaper Acer laptop models?
TL;DR
Pros
Long battery life
Portable size and lightweight
Thunderbolt 4 port
Cons
Touchpad is less than reliable
Fan noise can be loud
Buy at Acer.
Acer Swift 3 Features
This model of the Swift 3 line features an Intel Core i7 quad-core processor, 16GB of RAM and a 512GB SSD hard drive. The general specs are above average and will keep things moving along quickly for a lot of people. I ran an UberBenchmark test, and it said it's a fantastic machine for desktop work but below average for gaming. Specifically, it called out the GPU (graphics processing unit), saying it "can handle older games but it will struggle to render recent games at resolutions greater than 1080p."
This laptop isn't targeted at the gaming crowd, but it is worth noting that you'll likely be disappointed in trying to use it as a dual-purpose machine.
Using the Geekbench 5 test on both this computer and an M1 MacBook Air yielded nearly identical results for the computer score. As a whole, the machines perform similarly—they are also priced comparably. The CPU test, however, produced different results. I started the test on the M1 MacBook Air after the Swift 3's, and the Air still finished first, of course, with a faster score. The other big difference is that the fans on the Acer laptop kicked into high gear around 30 seconds, producing heat and noise. The fans didn't kick on in the MacBook Air, because it doesn't have any—it runs quiet and cool without them.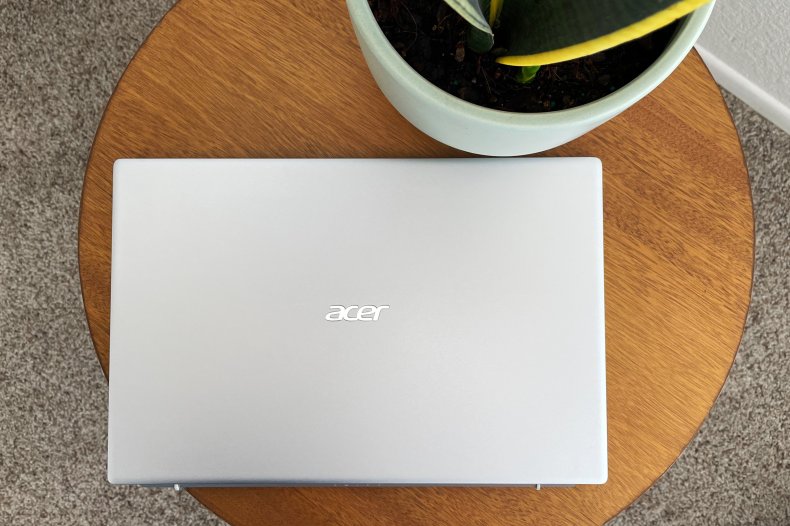 Beyond buying for raw speed, as noted by software tests, there are commendable features like Thunderbolt 4 for fast data transfer speeds and monitor connectivity for convenience. Wi-Fi 6 is onboard for faster and better wireless speeds—assuming you are connected to a Wi-Fi 6 capable router.
There's a fingerprint reader for logging into the computer with a touch. Windows handled the setup of the authentication method without issue, and it worked to log me in each time.
The Swift 3's 14-inch display and lightweight frame make it easy enough to tuck into a backpack and bring along wherever you need it. Even outside, I found the screen to be usable and vibrant.
Swift 3 Productivity
A keyboard will always be a little personal with regard to feel, but I like the shallow key depths and typing sensation of this one. Individual keys are springy and feel stable. In fact, I like this keyboard much better than the keyboard on the Acer Chromebook Spin 713 I tested earlier this year. One annoying thing about the keyboard is the placement of the page up and page down keys, tucked among the arrow keys. Maybe someone could get used to it, but I never did. It's a problem because accidentally hitting the page up and down causes a jolt of disruption to productivity and flow.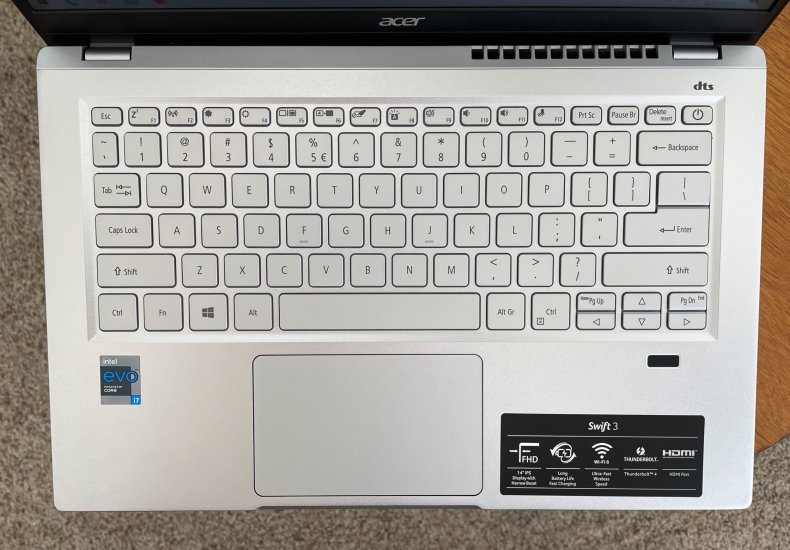 Unlike the keyboard, which I liked overall, I didn't care for any aspect of this touchpad. It's not nearly as precise and responsive as I would like or expect on a $1,000 computer. Finger detection would often cause multiple wrong clicks and bring up unintentional context menus.
The front-facing camera can be a little grainy inside with less-than-perfect lighting conditions. It's still very usable for video calls. The internal speakers can get loud, but the overall audio quality is poor, with frequencies only catering to the upper range. The speakers, microphone and camera are fine for meeting with colleagues, but just don't expect them to be exceptional.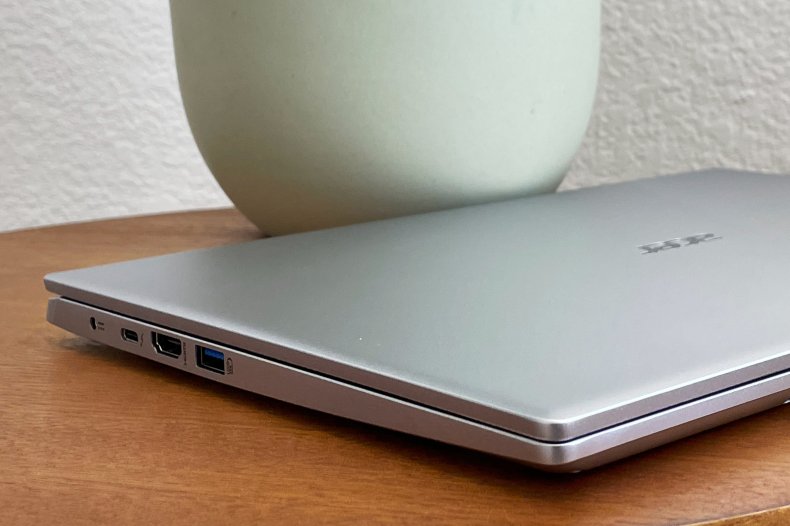 The highlight of this Swift 3 machine is its battery life. I found it does last a very long time in use. Will it always last the 17 hours that promised in promotions? I doubt that. But, importantly, I did get "all-day" usage out of it. Like the fine print states, your mileage will vary based on activity, but I think you will find it lasts longer than you might expect. When you do need to recharge, I found its fast charging very handy. Even though it does come with a proprietary charging plug, you can still charge it through the USB-C port. (The same Thunderbolt port that can be used for a monitor or fast data transfer speeds.)
Should You Buy the Acer Swift 3?
This Windows machine (specifically the SF314-511-70TU variant of the Swift 3) is best suited to someone on the go. Its long battery life and compact form make it a great road machine. Unfortunately, there are too many little exceptions or practical annoyances to make me want to spend $1,000 on it. My opinion would be a lot more favorable with a more fluid and reliable touchpad, but even then there are enough other mediocre aspects that would make me look instead at other premium options.
Buy at Acer.
Newsweek may earn a commission from links on this page, but we only recommend products we back. We participate in various affiliate marketing programs, which means we may get paid commissions on editorially chosen products purchased through our links to retailer sites.