Outgoing Republican Congressman Denver Riggleman of Virginia on Tuesday criticized his conservative colleagues for refusing to publicly acknowledge President Donald Trump's election loss to President-elect Joe Biden.
Biden has secured at least 290 Electoral College votes, surpassing the 270 required to win the presidential election, but Trump has declined to concede. Instead, the president accused Democrats of stealing the election and filed a series of lawsuits in several battleground states. Only four Senate Republicans—Mitt Romney of Utah, Susan Collins of Maine, Lisa Murkowski of Alaska and Ben Sasse of Nebraska—have publicly congratulated Biden on his election victory.
Speaking on CNN, Riggleman, who lost his primary, said he doesn't "understand why we can't just state a fact" and insisted that "in two months we're going to have a new president and that's a fact."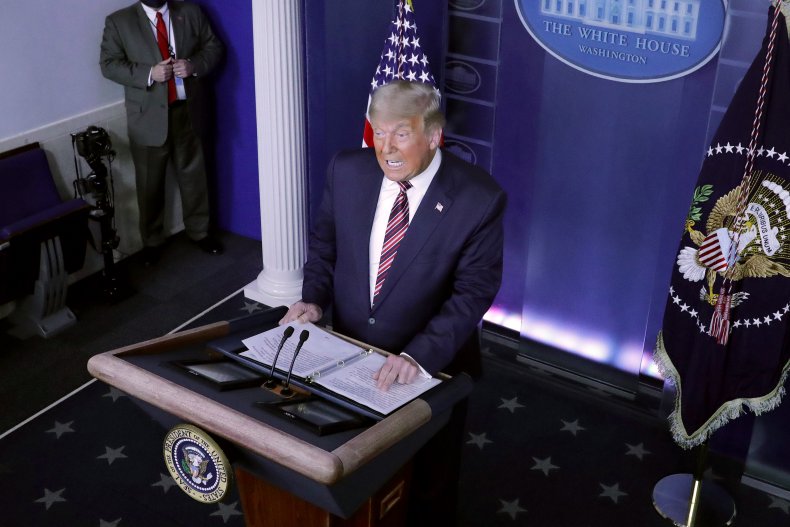 When asked by anchor Erin Burnett whether Republicans are privately congratulating Biden but can't publicly, Riggleman said, "Yes."
"I know that's a very blunt answer, but yes," he continued. "We've been getting calls from Republicans saying, 'Thank the congressman, I can't really say much out here, but thank him for doing the right thing.'"
"I know a lot of it has to do with elections where everybody is so worried about what somebody will say about them," Riggleman added. "You are elected to do the right thing, you're elected to serve, you are not elected to try to pander just to get re-election. And it's something I've been talking about since I was elected."
"We just need to acknowledge facts! It's not that big of a deal to say we've transitioned to another president. I just don't understand it."
Top Republican leaders have yet to send well-wishes to Biden. But some members of the party have urged the president to accept defeat while others have publicly cast doubt on the election results.
Republican Senators Roy Blunt of Missouri and Ron Johnson of Wisconsin both questioned whether Biden won on Tuesday. "The president wasn't defeated by huge numbers. In fact, he may not have been defeated at all," Blunt said during a press conference.
When a reporter asked Johnson whether he had congratulated Biden, he said "no" and said it was because there is "nothing to congratulate him about."
Senate Majority Leader Mitch McConnell has indicated that he will wait "until the Electoral College votes" before accepting Biden's defeat of Trump. The Electoral College is due to officially confirm Biden's victory on December 14. "At some point here, we'll find out finally who was certified in each of these states and the Electoral College will determine a winner and that person will be sworn in on Jan. 20," McConnell said. "No reason for alarm."
Newsweek reached out to Senate Majority Leader Mitch McConnell for further comment.