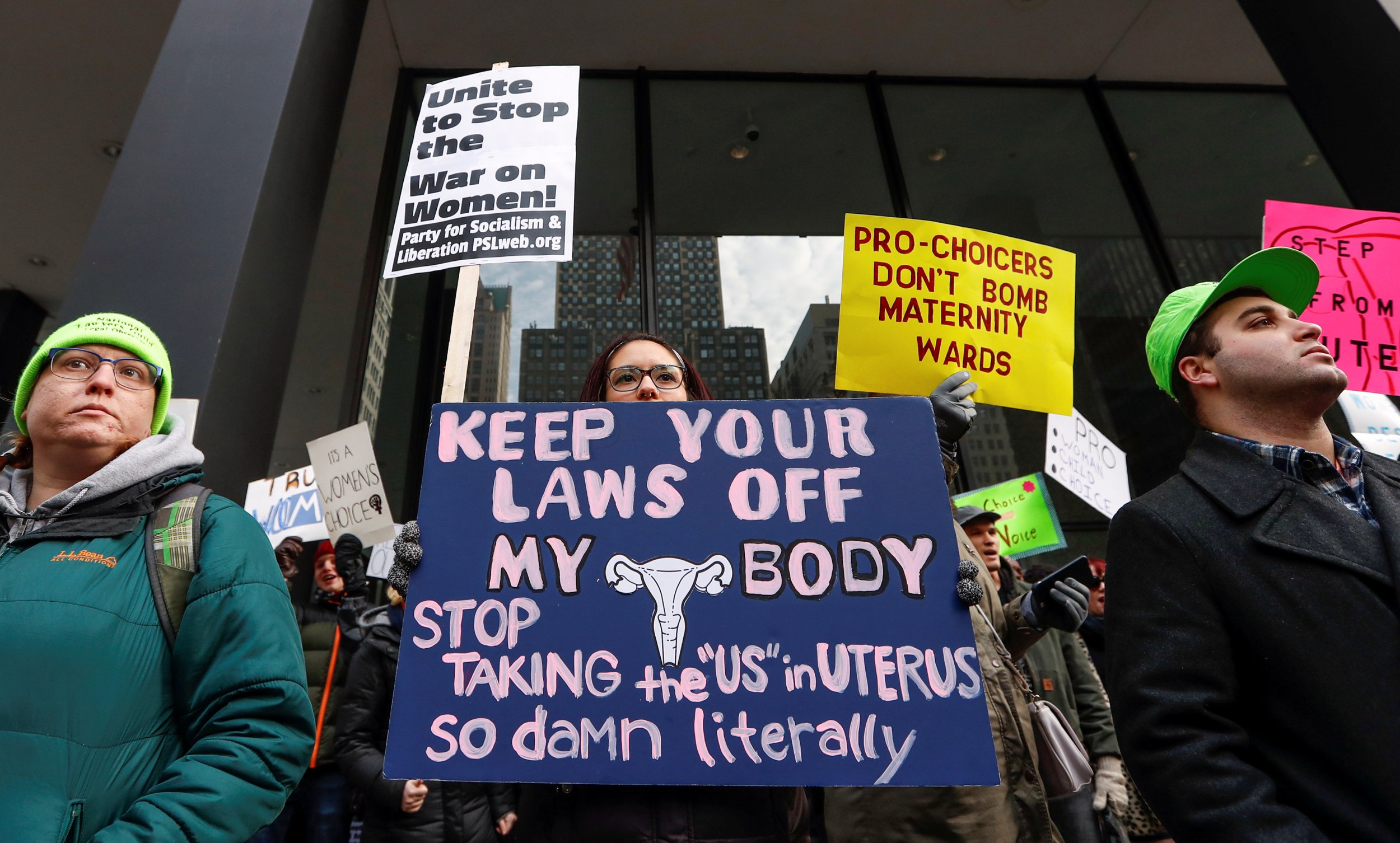 The American Civil Liberties Union of Arkansas "as soon as practically possible" intends to challenge a new state law that not only bans a common type of second-trimester abortion procedure, but also allows a husband to sue a doctor to stop his wife from obtaining it, according to the state organization's executive director.
Quietly signed by Arkansas Governor Asa Hutchinson late last month, the law bans what is considered the safest and most common method of second trimester abortion: dilation and extraction, or D&E. Buried in the legislation—the Arkansas Unborn Children Protection From Dismemberment Act—is a clause that lets husbands take legal action to prevent their wives from getting that type of abortion.
Related: Ohio, Texas and other battlegrounds for abortion rights
There are no exceptions in the law for women who have survived rape or incest, including spousal rape, meaning that a woman's rapist husband could sue to prevent her from having an abortion. Parents and legal guardians are also allowed to sue, under the law. The D&E procedure is only permitted if the life of the mother is at risk, according to the law.
The ACLU plans to take legal action because "it is a ban on certain abortions performed pre-viability, which is unconstitutional, plain and simple," Rita Klar, executive director of the ACLU of Arkansas, tells Newsweek. Under Roe v. Wade, the Supreme Court's 1973 decision, a woman has a right to an abortion until roughly 22 weeks of pregnancy, when the foetus is considered viable outside the womb. Under the new law, Arkansas has made it much harder for women to obtain a second trimester abortion, which is a guaranteed right under Roe.
The Arkansas law is another example of legislators in the state "just chipping away, making it harder for women, harder for the people who perform the service for women," says Klar. The law is expected to go into effect in August.
The World Health Organization recommends D&E as the surgical method of abortion for women who are more than 12 to 14 weeks pregnant. It is "the safest and most effective surgical technique for later abortion, where skilled, experienced providers are available," according to the group. Pro-life and anti-abortion supporters believe D&E is essentially "dismemberment" of the foetus, hence the name of the bill; a headline from LifeNews declares the law a ban on "tearing off babies' limbs."
"If a woman doesn't have the option [of D&E] or if physicians don't have that as an option, then they have to use a procedure that's either less appropriate for her, or perhaps less safe depending on her medical circumstances," says Leslie McGorman, deputy political director of NARAL, a pro-choice advocacy organization. "It's similar in what we've seen in other bans in that there's an inherent danger in eliminating any type of option for a physician."
The legislation is among a slew of bills introduced or passed over the past several months by lawmakers who appear emboldened by the election of Donald Trump as president in November. Trump has called himself pro-life and said in a CBS interview last year that if Roe v. Wade is overturned, "it would go back to the states." The nomination of Neil Gorsuch to the U.S. Supreme Court has made the question of what now happens to Roe an even more pressing one, especially as Trump signaled that he would nominate a pro-life justice to the bench.
"Sadly, it has gotten easier and easier to pass abortion restrictions in Arkansas. I would say it's not a result of the people changing, but of the ability of the religious right to mobilize and get people elected," says Klar. "The people who are pro-choice are simply sitting on their hands and not noticing that the world was changing around them. It's the same population of people. Sometimes people pay more attention to what's going on nationally than what's going on locally."
Arkansas state legislators previously passed a law banning abortion after 12 weeks of pregnancy, although it was struck down by the Eighth Circuit Court of Appeals in 2015. That same year, the state enacted several measures limiting abortion access, including requiring abortion providers to have numerous hospital admitting privileges and making women undergo abortion counseling that includes questionable information about possible adverse mental health outcomes.
The majority of the 3,771 women in Arkansas who had an abortion in 2015—the last year for which data is available—had one in their first trimester. A quarter of those women had an abortion less than five weeks into their pregnancy, according to the Arkansas Department of Health. D&E was used in 638 cases, or 17 percent of abortions.
"I'm hoping that recent demonstrations will make people realize they have to pay attention [to abortion rights in Arkansas]," says Klar. "This is a serious threat and people without means are much more burdened by it."
D&E bans were also passed Louisiana, West Virginia and Mississippi last year. Several other states have attempted, but failed, to pass legislation outlawing the procedure. Ultimately, says Gorman, such legislation is designed to place additional burdens on physicians who perform abortions, "so they leave the practice altogether or never enter into abortion care." They are also designed to eventually test the Supreme Court about "whether the Roe standard will survive," she says.
"This is the safest procedure for the second trimester, which proves how little legislators really care about women, women's lives, women's health," says Klar. "In the current political climate, it's extremely important that we take back our power because it's being challenged on all fronts."