ACLU Calls for Kenosha Police Chief and Sheriff to Resign After Shootings
After the shooting deaths of two individuals during protests in Kenosha, Wisconsin over the police shooting of Jacob Blake, the American Civil Liberties Union (ACLU) made a public call on Thursday for the resignations of two of Kenosha's top law enforcement officials.
Blake was allegedly shot in the back by Kenosha police officer Rusten Sheskey at least 7 times as Blake attempted to enter his vehicle. Blake's children were waiting in the automobile at the time of the shooting. Although he survived the shooting, Blake was reported to be paralyzed from the waist down after surgery.
Protests over Blake's shooting turned violent. On Tuesday, three protesters were shot during demonstrations, two of them fatally. Kyle Rittenhouse, a 17-year-old Illinois resident, was apprehended and charged with first-degree intentional homicide. In light of the unrest in Kenosha, the ACLU said Kenosha Police Chief Daniel Miskinis and Kenosha County Sheriff David Beth should both step down immediately.
"Sheriff David Beth's deputies not only socialized with white supremacist counter-protestors on Tuesday but allowed the shooter to leave the scene," the ACLU tweeted on Thursday. "Sheriff Beth also previously called for five people of color who had been arrested for shoplifting to 'be put into warehouses.'"
"During the police department's first press conference in response to the Blake shooting and subsequent murders committed at protests, Police Chief Daniel Miskinis blamed the victims in Tuesday night's shooting for their own deaths," the ACLU continued.
In the Twitter thread, the ACLU asked individuals to contact Wisconsin Governor Tony Evers to call of Sheriff Beth's resignation. Individuals were also encouraged to contact the Kenosha Police and Fire Commission to ask for Chief Miskinis' resignation.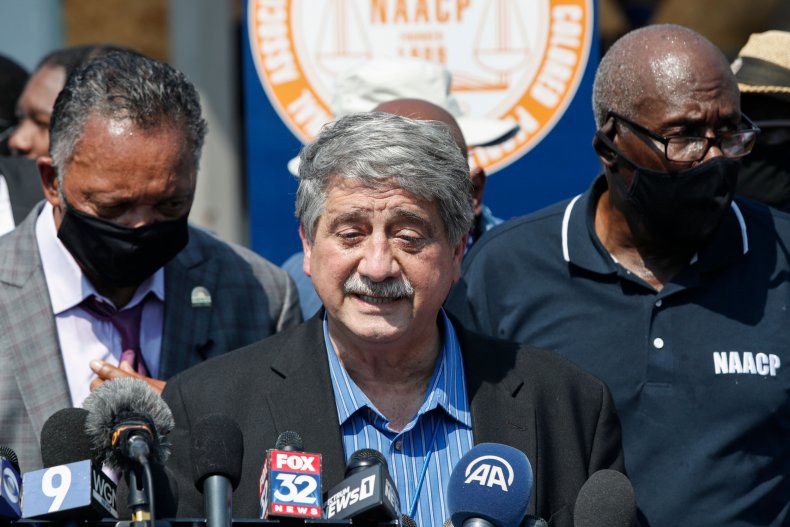 "If Sheriff Beth and Police Chief Miskinis refuse to immediately tender their resignation, we call on Mayor John Antaramian to demand the police chief's removal with the Kenosha Police and Fire Commission, and the sheriff's removal with Gov. Tony Evers," the ACLU wrote.
Newsweek reached out to the offices of Governor Evers and Mayor Antaramian for comment.
In 2018, Sheriff Beth said during a news briefing that society "has to come to a threshold where there are some people that aren't worth saving."
"We need to build warehouses to put these people into it and lock them away for the rest of their lives," Beth added.
Video posted on social media purports to show an armed Rittenhouse being chased down a street during the protests. After the armed individual falls down, he begins firing into the crowd. Sheriff Beth said during a Wednesday news conference that he had been asked to deputize citizens to assist law enforcement officers during the protests.
"A group wanted me to deputize people that were carrying guns," Beth said, implying that Rittenhouse could have been "part of it."
Chief Miskinis said during a Wednesday press conference that the protesters may have been killed because they had violated the city's curfew.
"Person who were out after the curfew became engaged in some type of disturbance and persons were shot," Miskinis said. "Everybody involved was out after the curfew. I'm not going to make a great deal of that, but the point is the curfew is in place to protect. Had persons not been out involved in violation of that, perhaps the situation that unfolded would not have happened."
Members of the Wisconsin National Guard were deployed to Kenosha on Monday to assist law enforcement authorities in patrolling the protests. Governor Evers announced Thursday that National Guard members from Michigan, Alabama and Arizona would also be deployed to the area.