ACLU Sues DHS Over Federal Agents' Response to Portland Protests
The American Civil Liberties Union (ACLU) on Friday filed a lawsuit against the U.S. Marshals Service and the Department of Homeland Security (DHS) over allegedly violent behavior from federal law enforcement agents at protests in Portland, Oregon.
The group says the lawsuit was filed on behalf of local journalists and legal observers. It seeks to prevent agents "from dispersing, arresting, threatening to arrest, or using physical force against journalists or legal observers" during protests against racial injustice sparked by the May 25 death of George Floyd.
"This is a fight to save our democracy," Kelly Simon, interim legal director with the ACLU of Oregon, said in a statement. "Under the direction of the Trump administration, federal agents are terrorizing the community, risking lives, and brutally attacking protesters demonstrating against police brutality."
"This is police escalation on top of police escalation. These federal agents must be stopped and removed from our city," added Simon. "We will continue to bring the full fire power of the ACLU to bear until this lawless policing ends."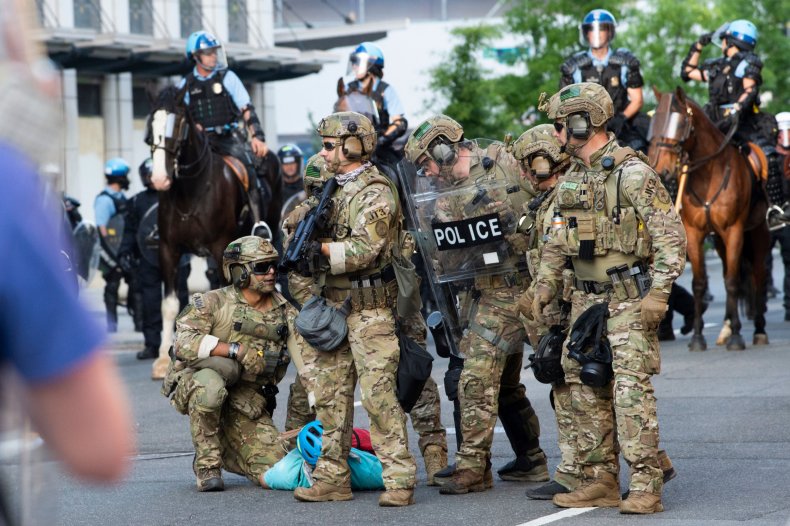 The legal complaint seeks a temporary restraining order and a preliminary injunction against the agencies, who it alleges have been "assaulting news reporters, photographers, legal observers, and other neutrals who are documenting Defendants' violent response to protests over the murder of George Floyd."
Portland police have been under a similar restraining order after being accused of violent conduct, which the ACLU says led to a temporary "respite from the violence and intimidation that gave rise to" their current legal action. However, President Donald Trump soon sent federal agents to the city, which the group claims led to further violence.
The ACLU cites a number of reported incidents involving the "indiscriminate" use of rubber bullets, tear gas and acoustic weapons at demonstrations, including a July 12 incident involving a protester who suffered serious head injuries after allegedly being shot in the head by a police officer.
Multiple plaintiffs listed in the complaint are journalists and legal observers who say they were shot, gassed or otherwise violently attacked by the agents, despite identifying themselves and wearing clothing that was clearly marked "PRESS" or "legal observer."
"Cowardly attacks on those who report police misconduct to the world have no place in a free society," said Matthew Borden, one of the attorneys working on case.
Oregon officials have also denounced the presence of the federal agents, with both Portland Mayor Ted Wheeler and Oregon Governor Kate Brown insisting they are worsening the situation and calling for them to leave the area.
However, the Trump administration is refusing to cooperate, claiming they need to restore "law and order" because the city is "under siege" despite disagreement from locals. Brown suggested that the president is persisting "in hopes of winning political points in Ohio or Iowa."
"This political theater from President Trump has nothing to do with public safety," Brown tweeted Friday. "The President is failing to lead this nation. Now he is deploying federal officers to patrol the streets of Portland in a blatant abuse of power by the federal government."
The ACLU is involved in several other lawsuits in Oregon and across the country over allegedly violent behavior from police and federal agents, some of which specifically targets journalists, a group Trump had dubbed "the enemy of the people." There have been over 500 documented aggressions against journalists attempting to cover the demonstrations as of Thursday, according to the U.S. Press Freedom Tracker.
Newsweek reached out to DHS and the U.S. Marshals Service for comment.