ACLU Sues ICE for Release of Immigrant Detainees Who Are Vulnerable to Coronavirus
The American Civil Liberties Union is launching a lawsuit against the U.S. Immigration and Customs Enforcement (ICE) agency demanding the release of immigrant detainees in Tacoma, Washington, who could be vulnerable to coronavirus.
The lawsuit, being filed on Monday in partnership with the ACLU of Washington and the Northwest Immigrant Right Project (NWIRP), calls on ICE to release detainees who are believed to be at "high risk" of facing serious health consequences if they contract COVID-19 in the event of an outbreak at the Tacoma Northwest Detention Center.
In an interview with Newsweek, ACLU senior staff attorney Eunice Cho said that with Washington being a key "epicenter" of the outbreak in the U.S., with 42 of the country's 69 coronavirus-related deaths so far occurring in the state, the health of immigrant detainees could soon be put at risk.
The detainees that the ACLU is suing ICE on behalf of "all have underlying medical conditions or are older adults who are particularly susceptible to serious illnesses if they contract COVID-19."
"These individuals are particularly at high risk of serious infection or death if they come down with COVID-19," she said.
The lawsuit, which is expected to be filed on Monday afternoon in the U.S. District Court for the Western District of Washington, includes testimony from leading public health experts Dr. Marc Stern, Dr. Robert Greifinger, and Dr. Jonathan Golob.
All doctors have testified about the potential danger the continued detention of people at high risk of illness or death from COVID-19 could pose, Cho said.
"ICE has the responsibility to protect the safety of all who are in immigration detention," Matt Adams, the legal director for NWIRP, said in a statement shared with Newsweek.
"As a first step, it should immediately release our clients who have already been identified by the federal government as being most at risk because of this epidemic," Adams said. "If it waits to react to worst case scenarios once they take hold, it will already be too late."
While ICE has announced a number of measures aimed at preventing the spread of coronavirus at its facilities in the event of an outbreak, Cho said that ultimately, detention facilities are not set up to allow detainees to engage in the social distancing and good hygiene practices that would allow them to avoid catching and spreading coronavirus in the event of an outbreak.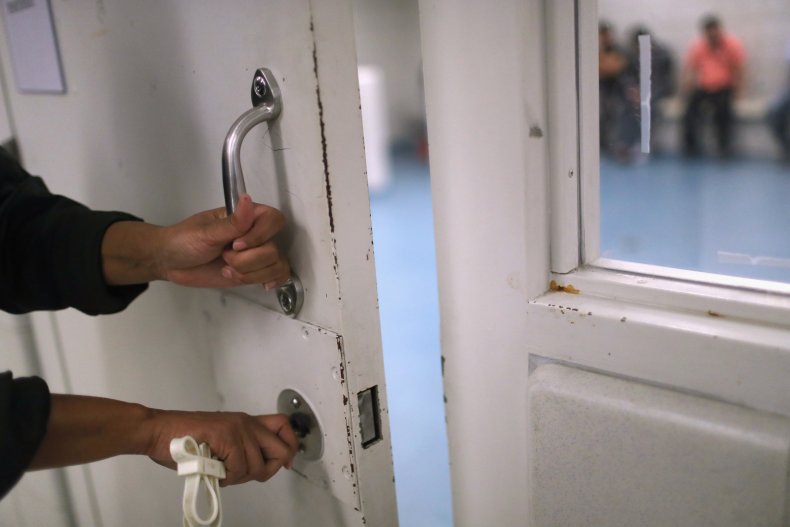 Instead, she said, "people who are at risk of illness or death from COVID-19 should be released directly into a kind of contained environment, whether it's their home or their family members' home" or another location arranged in partnership with local public health officials.
In recent weeks, immigration advocates have been escalating calls for ICE to release immigration detainees to no avail.
"It's really important to note that our Constitution provides for these protections. When somebody's in government custody, they have the right to be safe from communicable disease," Cho said. "In this situation, the risk is even more elevated because COVID-19 is a disease that we have never seen the likes of before. There's no vaccine, no treatment, no cure."
Newsweek has contacted ICE for comment.