ACLU Sues Indiana Police to Stop Tear Gas Use After Win in Washington State
The American Civil Liberties Union (ACLU) of Indiana has filed a lawsuit against the Fort Wayne Police Department and Allen County Sheriff for using tear gas against racial justice protesters during the ongoing demonstrations against anti-Black police brutality.
The ACLU's lawsuit is just the latest legal attempt to get police departments to stop deploying the chemical weapon as a "crowd control" measure against protesters.
The ACLU's case says that on Friday, May 29, protesters in downtown Fort Wayne marched to the Martin Luther King Bridge where police reportedly blocked them at both ends before shooting tear gas canisters into the crowd.
In a May 30 statement released by the Fort Wayne Police Department (FWPD), the police claimed that the May 29 protest at the downtown courthouse started peacefully. At 7 p.m., police say the crowd began spilling into the street and eventually grew hostile and threatening to members of the 10 Point Coalition, an urban youth gun violence non-profit that tried to calm the crowd.
"The protest then became increasingly aggressive and police intervention began," the FWPD statement continued. "Police made several announcements to leave the area... the crowd refused. ... Only after the crowd began jumping on cars and then began hurling rocks and water bottles at officers did the Public Safety Response Team deploy smoke and tear gas."
The ACLU's case also says that on June 14, FWPD officers dragged protesters out of private businesses where they had sought shelter from the gas and other police weapons. As such, the ACLU has accused law enforcement officers of violating the protesters' First and Fourth Amendments rights to peaceful assembly, free speech and unreasonable seizure.
"Police must not respond to protesters speaking out against police brutality with yet more brutality. We will not let these violent attacks on our constitutional rights go unchecked," said Ken Falk, legal director at the ACLU of Indiana. "Excessive use of force against protesters chills free speech, and widens the rift of distrust between communities and the police that are sworn to serve them."
Newsweek reached out to the Fort Wayne city attorney for comment. This story will be updated with any response.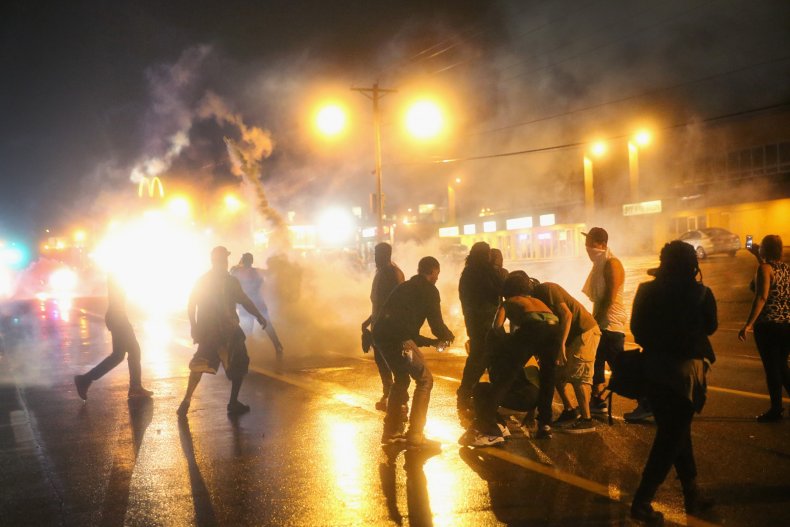 The ACLU filed its case in the U.S. District Court for the Northern District of Indiana. The filing follows another ACLU lawsuit against the city of Indianapolis for allegedly allowing its police force to attack protesters and journalists.
Tear gas is a chemical weapon banned in war zones—except to protect supply convoys, control prisoners of war and on personnel rescue missions—by the 1925 Geneva Protocol and the United Nations' Chemical Weapon Convention (CWC) which went into effect in 1997. However, the CWC says tear gas "may be used for certain law enforcement purposes including riot control."
Purvi Parikh, an allergy and immunology doctor at NYU Langone Health, told ProPublica that tear gas can trigger asthma attacks and damage breathing tissue that leaves one more susceptible to COVID-19 infections.
On June 12, a federal court in Seattle issued a restraining order to stop police from using tear gas and flash-bangs against protesters.
Under the injunction, which was requested by Black Lives Matter Seattle-King County and the Washington ACLU, Seattle Police Department (SPD) was told not to use tear gas, pepper spray and flash-bang grenades. Although Seattle Mayor Jenny Durkan ostensibly banned the use of tear gas for 30 days in June, the SPD continued to use the chemical irritant against protesters.
The lawsuit's plaintiffs claimed police had "exercised an overwhelming and unconstitutional use of force to discourage these protesters from exercising their constitutional rights."
The judge agreed, writing, "The Court holds that SPD's use of these weapons would chill a person of 'ordinary firmness' from protesting."
The injunction is set to expire at the end of June. However, the Seattle City Council voted unanimously on June 15 to ban police from using tear gas and pepper spray.