ACLU Sues Sheriff and Police Chief Over Pepper Spraying North Carolina Voters
The Lawyers' Committee for Civil Rights Under Law, along with the North Carolina chapter of the American Civil Liberties Union (ACLU) and several other groups have sued the Alamance County Sheriff and Graham Chief of Police for pepper-spraying voters marching to the polls in the city of Graham last Saturday afternoon.
Police claimed to have dispersed demonstrators with pepper spray only after repeatedly warning them that they were violating the city's protest permit by blocking the road near the courthouse where their gathering took place.
However, the lawsuit alleges that the city's ordinances regulating protest permits are vague and restrict people's First Amendment rights to free speech.
"The city's permit requirement and periodic protest ban violate our most fundamental rights to peacefully assemble and petition our government for redress," Barrett Brown, president of the Alamance NAACP, said in a press release.
The ACLU of North Carolina filed its lawsuit in a U.S. District Court along with the national ACLU, the Lawyers' Committee for Civil Rights Under Law and the Lockamy Law Firm. The lawsuit was filed on behalf of the Alamance NAACP, a Black civil rights group, and eight individuals, according to The News & Observer.
Alamance County community engagement and diversity coordinator Michelle Mills said demonstrators had endangered public safety by running a generator alongside gas cans in violation of the city's and police's terms for the demonstration. The gas-powered generator provided electricity for the protest's sound system as speakers delivered speeches in front of the courthouse.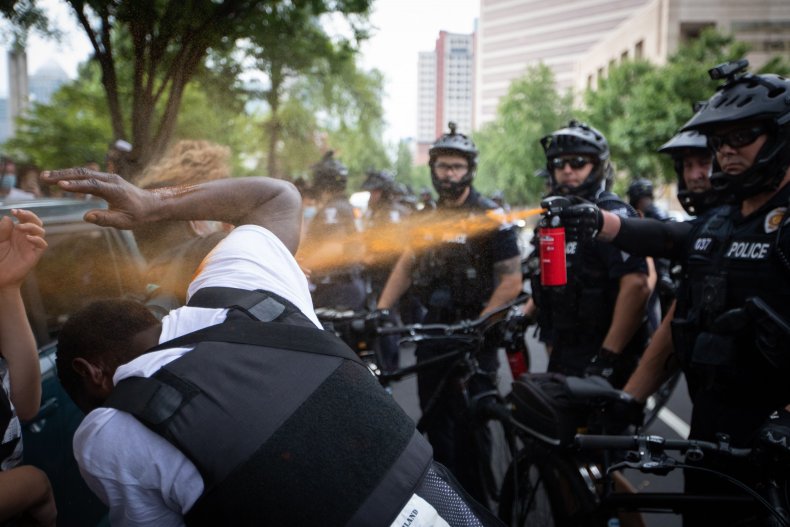 Saturday's demonstration was part of the "I Am Change" march, organized by Reverend Gregory Drumwright for Friday and Saturday, the final days of in-person early voting in the state. The march encouraged people to vote early in opposition to the systemic oppression of minority groups.
Protesters congregated at Wayman's Chapel AME Church and then marched to the Alamance County Historic Courthouse about half a mile away. After speeches at the courthouse, where a controversial Confederate monument still stands, the marchers intended to walk a few blocks away to an early voting location.
Congressional Candidate Scott Huffman of North Carolina attended the event. He told Newsweek that officers began dismantling the sound system around 1 p.m., before the speeches had ended. Despite the protest being peaceful and sponsors having permits extending late into the afternoon, Huffman said, Alamance's sheriffs didn't tell the crowd why they demanded their dispersal.
"The police violence in Graham, N.C. perpetrated against a group of peaceful and primarily Black protestors over the weekend is yet another clear violation of the right to free speech and the right to vote," Kristen Clarke, president and executive director of the Lawyers' Committee for Civil Rights Under Law, told WSOC TV.
At least 23 people are facing various charges over the Saturday confrontation with police.
Newsweek contacted Drumwright for comment.