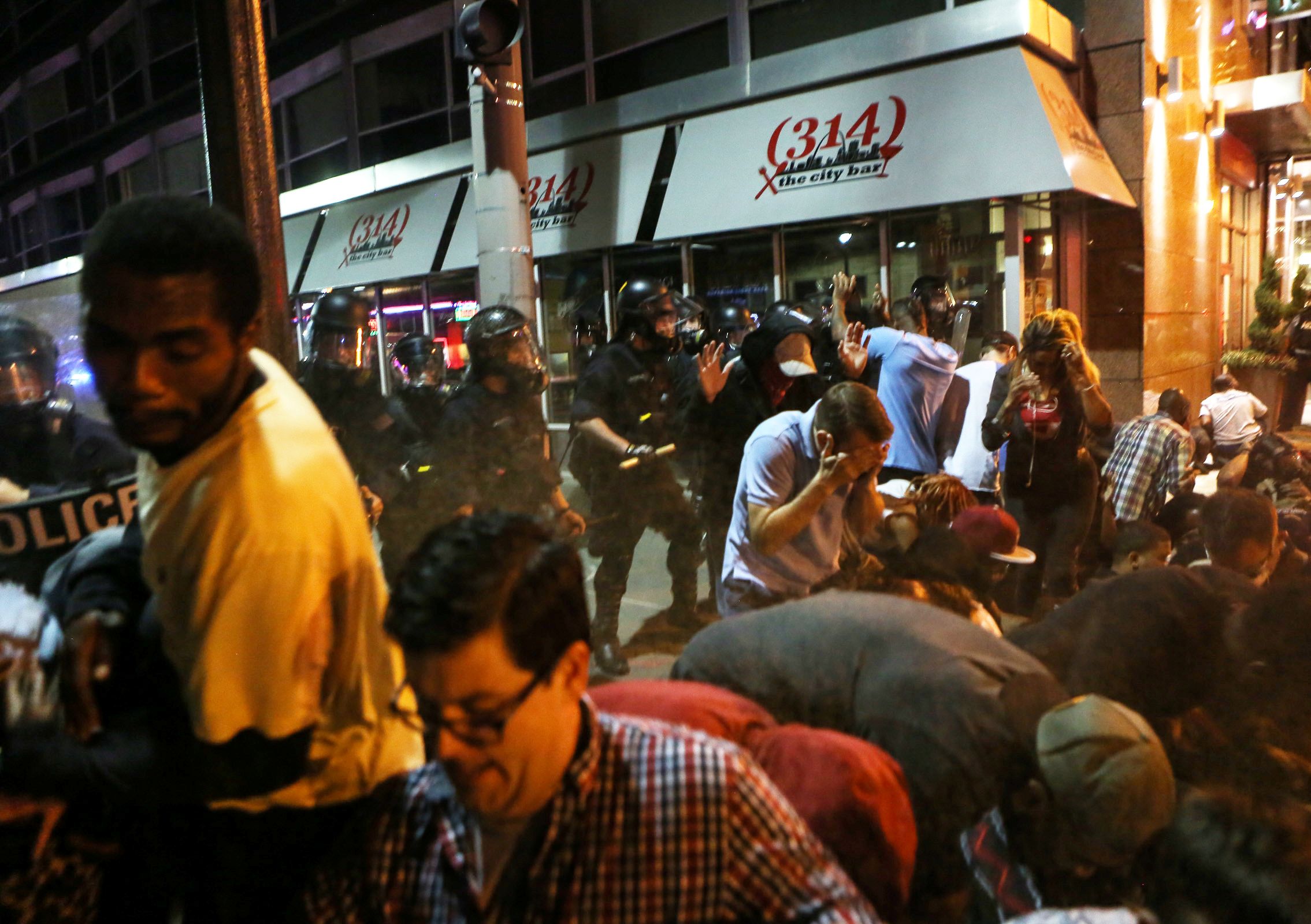 The ACLU of Missouri has filed a lawsuit against St. Louis alleging protesters there were subject to excessive force and the use of chemical agents without warning by the police, and that officers interfered with those taking photos or videos of the events.
The lawsuit was filed Friday, the one-week mark since the acquittal of police officer Jason Stockley in the fatal shooting of Anthony Lamar Smith, which spurred the protests that activists had been planning since the trial began in early August.
Police officers have showed up at the protests in full riot gear, and have used tear gas, rubber bullets, mace, xylyl bromide and other chemicals against demonstrators. The ACLU lawsuit alleges the officers deployed the chemical agents without warning against not only the protesters, but also bystanders, journalists and local business owners who were in the line of fire.
The lawsuit alleges police officers removed some protesters' goggles and sprayed them directly in the face. They also allegedly forced observers to stop taking photos and videos, and even made some delete them.
"The City of St. Louis has failed to supervise and train its officers to deploy chemical agents in a constitutional way," a statement from the ACLU read, "to permit recording of police actions, and to avoid restricting freedom of movement unjustifiably, and has been on notice that the lack of training and supervision have resulted in the deprivation of constitutional rights since at least 2014."
The two plaintiffs in the case, Maleeha Ahmad and Alison Dreith, are St. Louisans who say they were the victims of excessive force or chemical agents without warning, and it prevented them from exercising their First Amendment rights.
"Law enforcement officers, community members, experts, advocates and elected officials must come together to create sustainable solutions," said Jeffrey Mittman, executive director of the ACLU of Missouri. "We must foster understanding and trust."
The St. Louis police department has faced other criticism for how it handled the aftermath of the Stockley verdict, including after officers were accused of chanting, "Whose Streets? Our Streets" at protests, and after Police Chief Lawrence O'Toole said the police "owned tonight" on a night of 80 arrests. Also, an officer in a post on Facebook called Black Lives Matter activists "the klan with a tan" and "domestic terrorists," leading to an internal investigation by the police department.
St. Louis City Counselor Julian Bush said in a phone interview with Newsweek, "We look forward to appearing in court with the plaintiffs and thrashing out the issues presented. We are confident that the proceedings wil result in the justice position that will protect the safety, persons and property of all."
The St. Louis mayor's office and the metropolitan police department did not immediately respond to requests for comment about the lawsuit.