ACLU Sues Texas for Deeming Some U.S. Voters 'Non-Citizens'
Amidst legislation in Texas perceived by many critics as attempts to restrict voting rights, the American Civil Liberties Union (ACLU) Foundation of Texas has filed a lawsuit against the state on Tuesday for falsely deeming some voters to be "non-citizens."
In its announcement of the suit, filed in conjunction with the Campaign Legal Center and the Mexican-American Legal Defense Fund, the ACLU described how Secretary of State John B. Scott's office began a process to identify potential non-citizens on the state's voter rolls. The office "identified thousands of registrants for potential removal" and sent lists to local registrars, according to the filing. The ACLU has claimed that Scott has refused to disclose the criteria for identifying the purged voters—many of whom are properly naturalized citizens, according to the ACLU.
"In August and October 2021, CLC, ACLU of Texas, MALDEF, Lawyers' Committee and DĒMOS submitted records requests to Secretary Scott for records related to the new voter purge program and the data the Secretary of State relied on to determine each voter's citizenship status," ACLU Texas said in a statement. "Under the National Voter Registration Act, the Secretary of State is required to keep this data and disclose it upon request. However, Texas has so far failed to produce any records."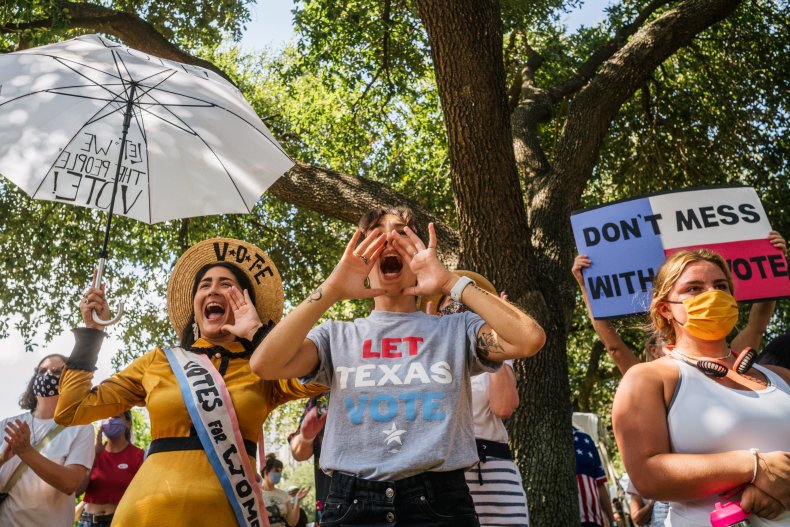 In 2019, the ACLU and other groups successfully sued Texas for similarly flagging naturalized citizens as non-citizens. As part of the settlement, the state agreed to reform its voter purge program. However, in this latest lawsuit, the ACLU accused the program of still being "riddled with reported errors."
The state's GOP-led government has been accused of infringing on residents' voting rights with a series of restrictive laws passed after the 2020 presidential election. In September, Governor Greg Abbott signed into law Senate Bill 1, which restricts how and when Texans can vote by banning overnight early voting hours and drive-thru voting, as well as tightening voting-by-mail rules.
"It seems that Texas is incapable—or worse, unwilling—to learn from the past. Racial and ethnic discrimination in voting has been a sad part of Texas's history continuing in the present," Ezra Rosenberg, co-director of the Voting Rights Project for the Lawyers' Committee for Civil Rights Under Law, wrote on the ACLU's website. "And discriminating against naturalized citizens falls into this unfortunate pattern."
Newsweek reached out to the ACLU Texas for a comment on this story.
Rosenberg continued: "We need to shed light on precisely how Texas is identifying voters it wants to purge from the rolls in order to ensure that the precious right to vote is not snatched from eligible voters, whose only 'crime' is that they are naturalized and not native-born citizens."
In response to a request from Newsweek, Secretary Scott's office declined to comment on the lawsuit directly but said that the state's process for identifying non-citizens on voter rolls was laid out in a September 2021 advisory to local registrars.