ACLU Sues Trump Administration Over 'Unconstitutional' Policy That Could See Asylum Seekers Jailed Indefinitely
The American Civil Liberties Union has launched a fresh legal challenge against the Trump administration, this time over a new policy that "categorically denies bond hearings to asylum seekers."
The ACLU, American Immigration Council (AIC) and the Northwest Immigrant Rights Project filed a legal challenge on Thursday over the policy in U.S. district court in Seattle, accusing the Trump administration of violating the Constitution by seeking to bar asylum seekers from asking a judge to grant them bond.
The policy, announced on April 16 by Attorney General William Barr, specifically targets asylum seekers who immigration officers have previously determined to have demonstrated a "credible fear" of facing persecution or torture in their home countries, if forced to return.
Currently, many asylum seekers have the right to a bond hearing where an immigration judge decides whether they should be held in detention or released from custody as their asylum case proceeds. Under the new policy, however, asylum seekers could find themselves jailed indefinitely without a hearing.
"This policy unconstitutionally strips people of their right to a hearing," ACLU Immigrants' Rights Project senior staff attorney Michael Tan said in a statement provided by the ACLU.
"Hearings are a critical part of due process and prevent unlawful detention," Tan said. "The administration cannot bypass the Constitution by arbitrarily locking people up."
All three groups behind the legal challenge said that the Trump administration's new policy is the latest in a string of efforts to "punish" asylum seekers that have tried to find refuge in the U.S. and deter those who might think of doing so in the future.
Trump's true motives are clear—to deter asylum seekers and punish people who apply for protection under our laws," Tan said.
Trina Realmuto, who serves as directing attorney at the American Immigration Council, said that with Barr's "unilateral decision to eliminate bond hearings, the administration is once again breaking the law in its crusade to deter and prevent asylum seekers from requesting protection in the United States."
"We will continue fighting the administration's use of mass incarceration as a weapon to punish migrants," Realmuto said.
The following graph from Statista shows how the number of immigrants detained in the US has risen over recent years.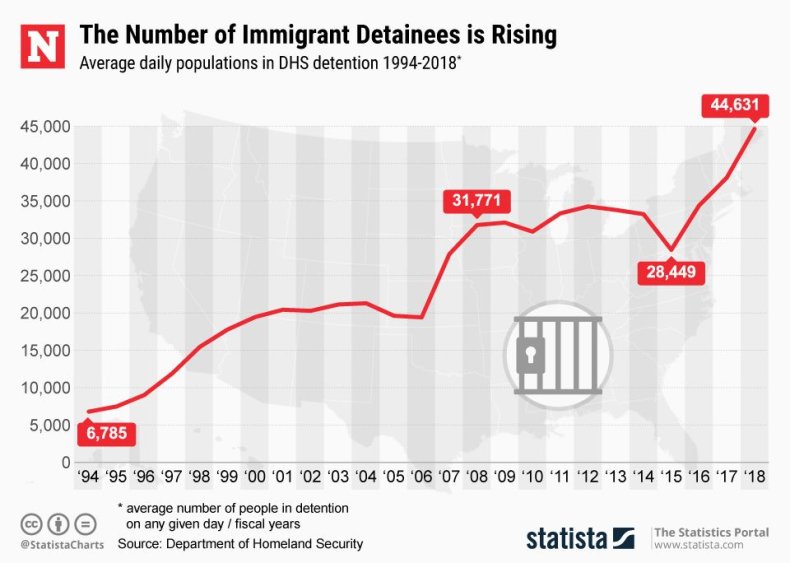 The legal challenge against the Trump administration makes good on the ACLU's promise last month to see the Trump administration in court over the controversial policy.
The civil liberties union had condemned the policy change when it was first announced, with ACLU Immigrants' Rights Project Director Omar Jadwat calling the decision "the Trump administration's latest assault on people fleeing persecution and seeking refuge in the United States."
Barr's decision, which was his first related to immigration since he took office, would not currently apply to unaccompanied minors or asylum-seeking families facing deportation, as current rules mandate that they cannot be held for longer than 20 days, as per the 1997 Flores Settlement Agreement. However, the Trump administration has also sought to eliminate that provision, which the president has repeatedly railed against.