With Acosta for Labor Department, Trump Avoids Wacky, Goes Mainstream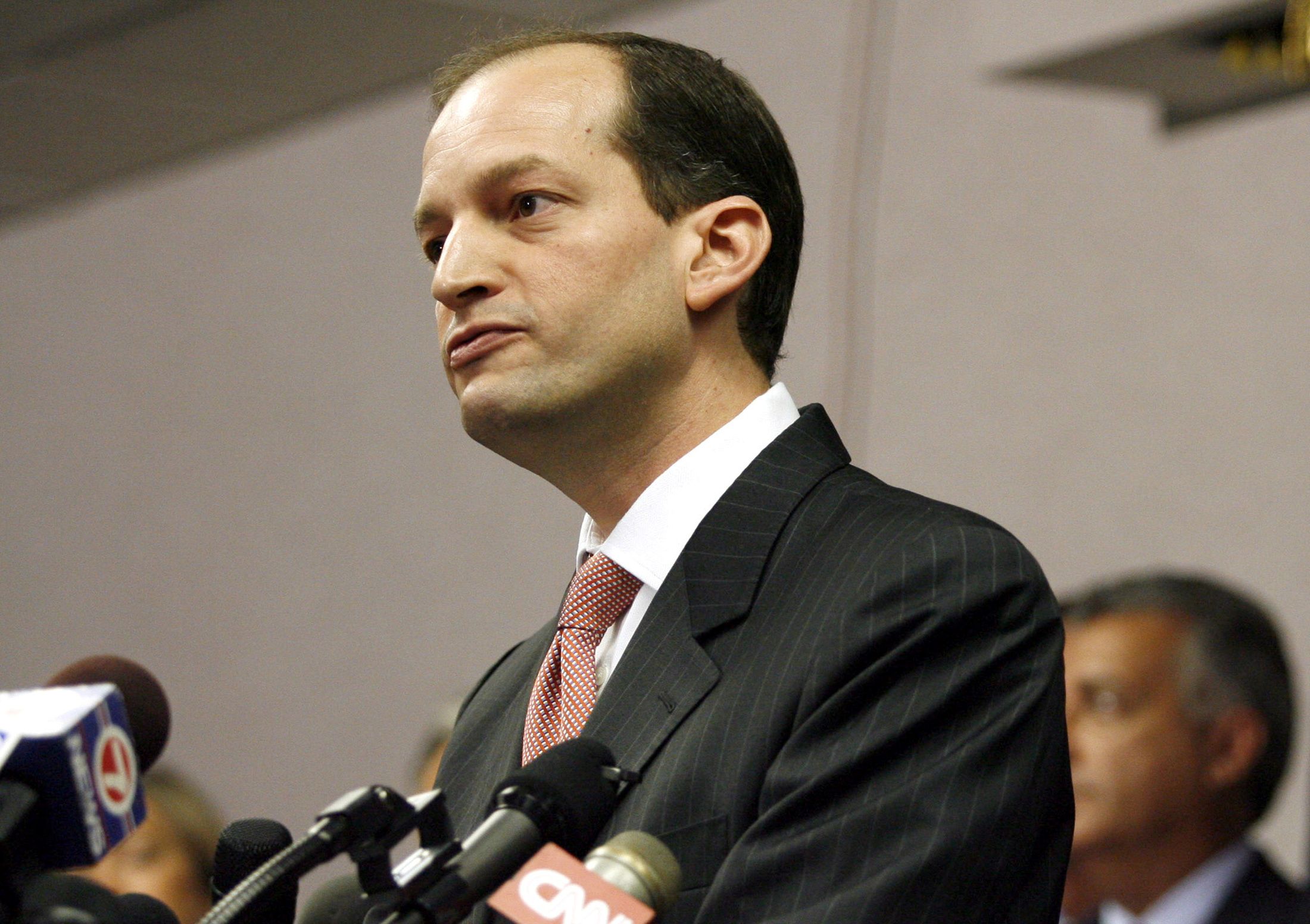 President Donald Trump's new nominee for labor secretary, Alexander Acosta, is an experienced prosecutor and a conservative who is likely to cheer mainstream Republicans—and a reminder that even as he breaks long-established norms, the president has chosen many Republicans who might have served in other GOP administrations.
Acosta, who was the U.S. attorney in Miami and served as the Department of Justice's point person on civil rights under President George W. Bush, is currently the president of Florida International University's School of Law in Miami. His upward trajectory is a familiar one for many conservative policymakers, including a stint at Kirkland & Ellis, a law firm that's in part known for its conservative alumni, including the former Whitewater special counsel, Kenneth Starr.
Related: Labor secretary nominee Puzder sexually harassed senior CKE female executive, 2004 lawsuit alleged
Trump chose Acosta after Andrew Puzder withdrew his nomination to be labor secretary on Wednesday. Several GOP senators had said they were unsure if they could support the besieged hamburger mogul who has been accused of—and denies—a history of spousal abuse. Acosta, who has served in several Senate-confirmed positions, is likely to be approved easily. In addition to his long résumé, Acosta is Hispanic and would be the first Latino appointed to a Cabinet-level position by Trump. Every president since George H.W. Bush has had a Latino serving at the highest level of leadership, and Trump's omission had been noticeable.
While Trump has chosen to work with a number of persons considered outside the mainstream of Republican thinking—including Stephen Bannon, the White House counselor and self-styled nationalist—most of his Cabinet nominees have been garden-variety Republicans who could well have served in a Mitt Romney or Jeb Bush administration.
Democrats will surely oppose Acosta, who served on the National Labor Relations Board—perhaps his only experience that's germane to the labor secretary role, a stand-alone position that's been part of the Cabinet since 1913. Acosta is not a CEO, as was Puzder, and his appointment marks a return to the tradition of most Republican presidents in picking veteran government and elected officials rather than corporate chieftains to fill a slot that was designed, in part, to advocate for average working people. Creating the Department of Labor was a cause célèbre for unions at the turn of the 20th century.
Today, the department is largely known for its data collection, especially through the Bureau of Labor Statistics, as well as job training programs. When he was a candidate, Trump frequently questioned the accuracy of unemployment figures, once saying that he had "heard" the rate could be as high as 42 percent—a figure that would dwarf even that of the Great Depression. The current unemployment rate is 4.8 percent.