'Impeachment' Cast: How the ACS Actors Compare to Real-Life
After a three-year wait, Impeachment: American Crime Story finally kicks off tonight (Tuesday, September 7) at 9 p.m. ET on FX.
Made up of 10 episodes, the highly-anticipated drama series focuses on the Clinton-Lewinsky scandal of the late 90s, which saw President Bill Clinton become the second-ever U.S. president to be impeached. Monica Lewinsky also serves as an executive producer on the show.
As well as detailing the events that led to Clinton's impeachment, the series draws upon A Vast Conspiracy: The Real Story of the Sex Scandal That Nearly Brought Down a President by Jeffrey Toobin, and features a star-studded ensemble cast - including Sarah Paulson, Annaleigh Ashford, Beanie Feldstein, Clive Owen, Margo Martindale, and Billy Eichner.
Just like the previous installments in the American Crime Story series (O.J Simpson vs The People and The Assassination of Giovanni Versace), there are some eerie resemblances between the show's cast and the real-life people at the time.
Newsweek has a full look at the Impeachment: American Crime Story actors and how they compare to the real-life figures.
Meet the Impeachment: American Crime Story Cast and Characters
Beanie Feldstein as Monica Lewinsky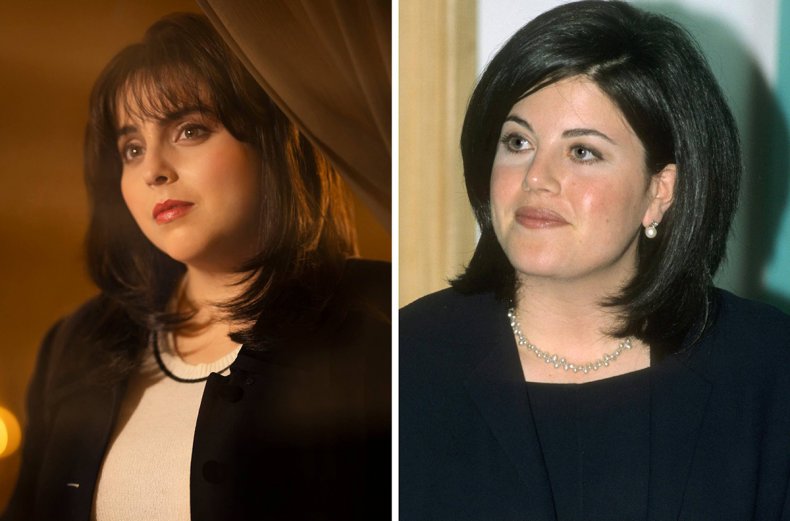 Feldstein is best known for her role as Julie in Lady Bird, Molly in Booksmart, and Jenna in What We Do in the Shadows.
Who is Monica Lewinsky?
Monica Lewinsky was a White House intern when she met President Bill Clinton in the 1990s. The pair had an affair, spanning 1995-1997, with the news of their relationship breaking in January 1998.
Clinton denied the affair, famously stating he "did not have sexual relations with that woman [Lewinsky]", during a live White House press conference. In a sworn deposition on January 17, 1998, he denied having a "sexual relationship", "sexual affair" or "sexual relations" with Lewinsky.
He was impeached on December 19, 1998, under charges of lying under oath and obstruction of justice regarding his testimony.
Today, Lewinsky is an activist, speaking out against cyberbullying and harassment.
Sarah Paulson as Linda Tripp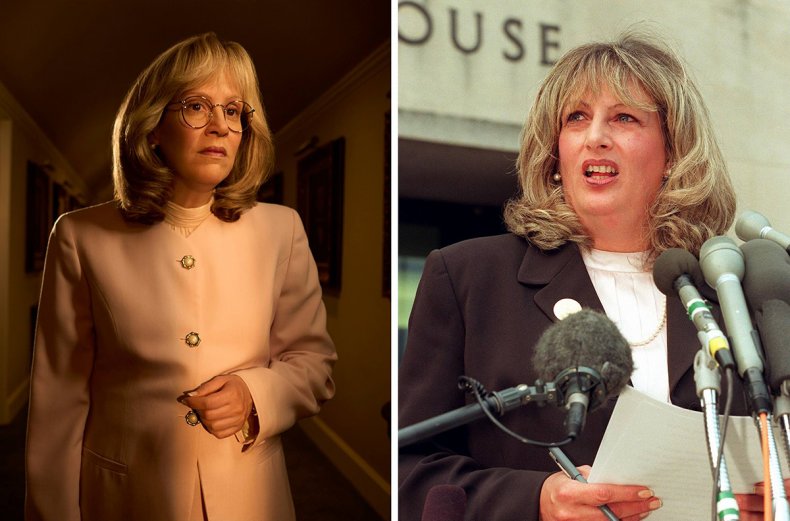 Emmy and Golden-Globe-winning actress Sarah Paulson portrays Linda Tripp in Impeachment.
Paulson previously portrayed prosecutor Marcia Clark in the first installment of American Crime Story: O.J. Simpson v. the People.
Who is Linda Tripp?
Linda Tripp was an American civil servant who secretly recorded her confidential phone conversations with Monica Lewinsky, in which Lewinsky would share details about her relationship with President Clinton.
Tripp handed in her recordings to independent counsel Kenneth Starr, disclosing she was aware of a relationship between Lewinsky and Clinton and that Lewinsky had given a false affidavit, denying her relationship to the federal court in Arkansas in the Clinton v. Jones lawsuit.
Tripp also informed Starr of a navy blue dress belonging to Lewinsky, which was stained with Clinton's semen.
Edie Falco as Hillary Clinton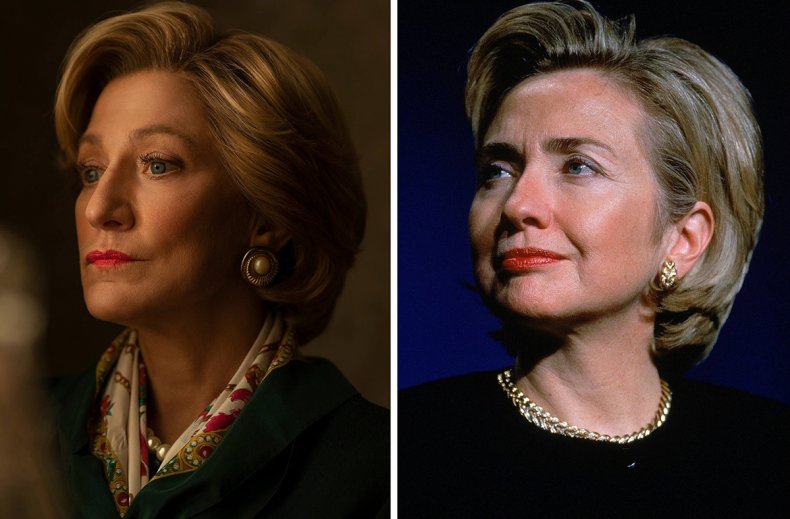 Edie Falco is best known for her role as Carmela Soprano in The Sopranos and Nurse Jackie Peyton in Showtime's Nurse Jackie.
Who is Hillary Clinton?
Hillary Clinton is the former First Lady and wife of Bill Clinton. She's also an American politician, lawyer, writer, and public speaker, who served as the 67th United States Secretary of State from 2009 to 2013.
In 2016 she ran for president, losing to Donald Trump.
Clive Owen as President Bill Clinton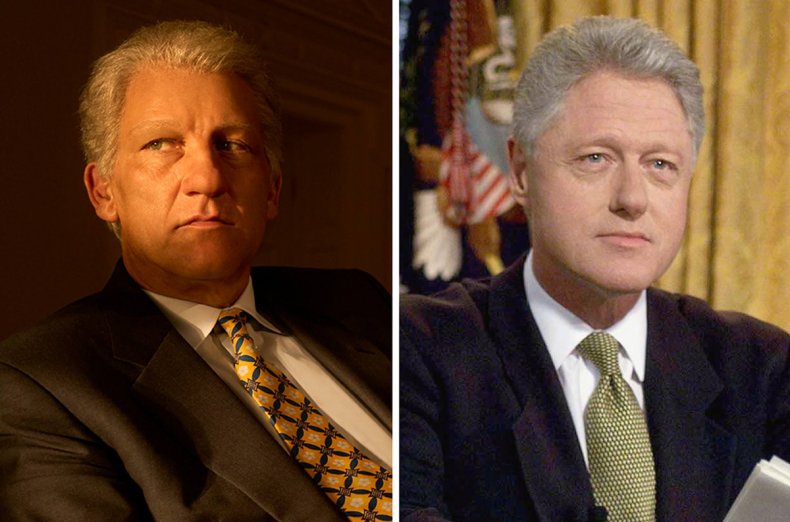 Owen is best known for his role as Dr. John W. Thackery in The Knick and Larry Gray in Closer.
Who is Bill Clinton?
Bill Clinton is an American politician and attorney. He served as the 42nd president of the United States from 1993-2001.
Before his presidency, he served as the governor of Arkansas and the attorney general of the state.
Clinton became the second U.S. president in history to be impeached by the House of Representatives as a result of the Clinton-Lewinsky scandal. He was accused of perjury and obstruction of justice, but was acquitted on both charges the following year by the Senate.
Annaleigh Ashford as Paula Jones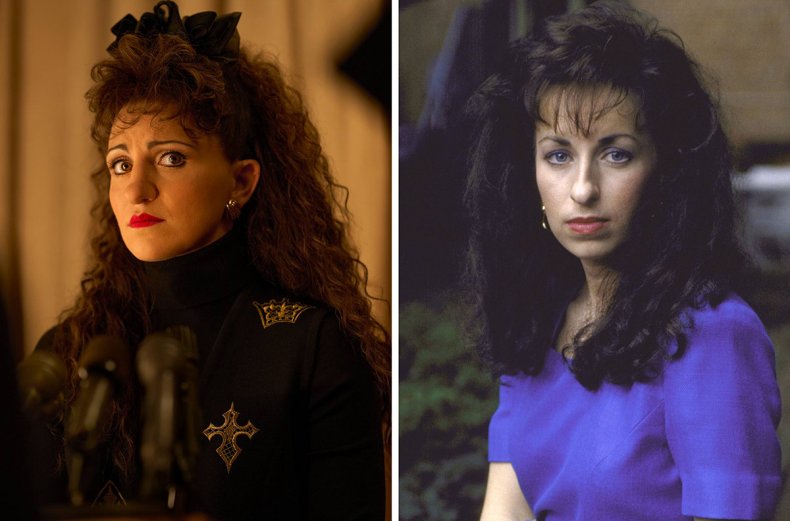 Annaleigh Ashford is a Tony-award-winning actress. She is well known for her roles in Masters of Sex, Kinky Boots, Unbelievable and Bad Education.
Who is Paula Jones?
Paula Jones is an American civil servant and former Arkansas state employee. In 1994, Jones sued President Bill Clinton for sexual harassment and was the catalyst that sparked the Lewinsky-Clinton affair, leading to Clinton's impeachment.
It was during the Jones suit that Clinton denied ever having sexual relations with Lewinsky. He was later accused of perjury after evidence of his and Lewinsky's affair was exposed.
The Jones lawsuit also led to a landmark legal precedent by the U.S. Supreme Court, which ruled a sitting U.S. president is not exempt from civil litigation for acts committed outside of public office.
Margo Martindale as Lucianne Goldberg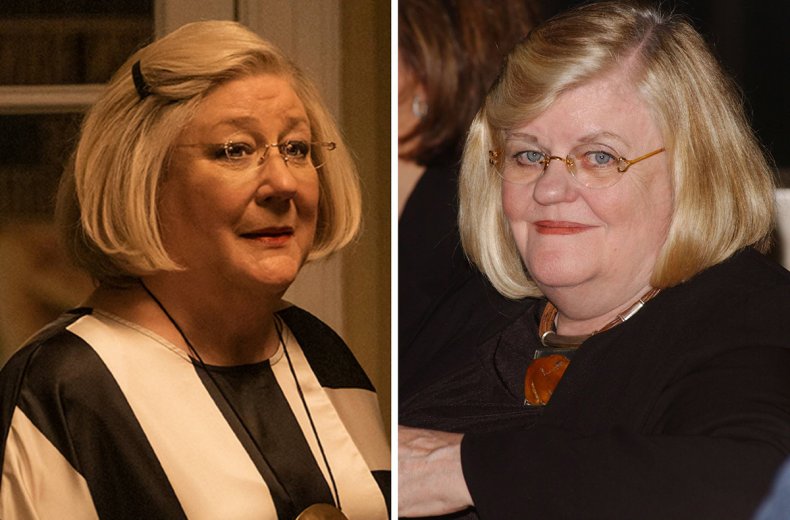 Margo Martindale is an American character actress, best known for her roles in Justified, The Americans, Million Dollar Baby, Dead Man Walking, Orphan, and The Savages.
Who is Lucianne Goldberg?
Lucianne Goldberg is an American literary agent and author. She played a key role in the Lewinsky-Clinton scandal due to her friendship with Linda Tripp.
She controversially advised Tripp to record her phone conversations with Lewinsky. She then encouraged her to hand over all 20 hours of recordings to special prosecutor, Kenneth Starr.
Cobie Smulders as Ann Coulter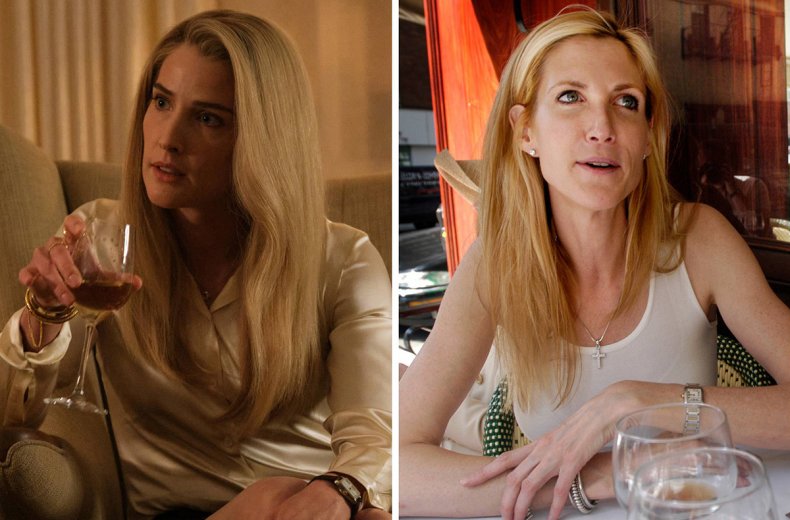 Cobie Smulders is a Canadian-American actress, best known for playing Robin Scherbatsky in How I Met Your Mother.
Who is Ann Coulter?
Ann Coulter is an American conservative media pundit, author, columnist, and lawyer.
She rose to fame as an outspoken critic of the Clinton administration. Coulter also wrote legal briefs for Paula Jones's attorneys as an unpaid legal advisor for the attorney's representing Jones in her sexual harassment suit against President Bill Clinton.
Dan Bakkedahl as Ken Starr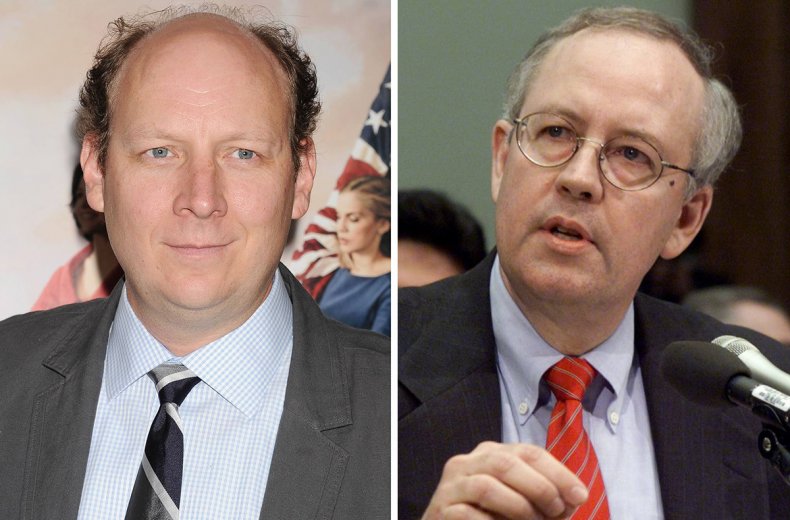 Dan Bakkedahl is an American actor and comedian, best known for playing Congressman Roger Furlong in Veep and Tim Hughes on the CBS Life in Pieces.
Who is Ken Starr?
Ken Starr is an American lawyer who served as the United States Circuit Judge and 39th solicitor general of the United States.
He led the investigation into members of the Clinton administration, beginning with the suicide of deputy White House counsel Vince Foster and the Whitewater real estate investments of Bill Clinton. His inquiry expired into suspected perjury by Clinton regarding his sexual activity with Lewinsky.
Starr filed the Starr Report, a scathing document which alleged Clinton had lied about his sexual relationship with Lewinsky during a sworn deposition, leading to the impeachment of Clinton and a suspension of Clinton's law license.
Kevin Pollak as Bernie Nussbaum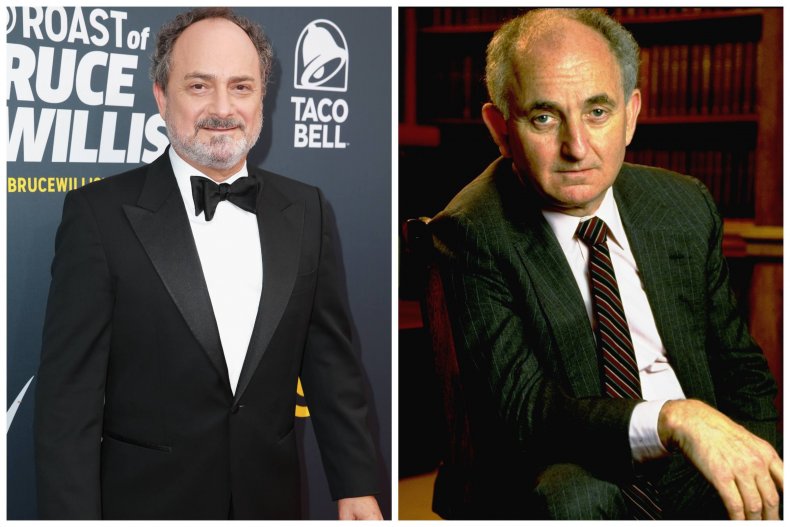 Kevin Pollak is an American actor and comedian, best known for his role as Sam Weinberg in A Few Good Men. He also played Philip Greenin Casino, and Bobby Chicago in End of Days.
Who is Bernie Nussbaum?
Bernie Nussbaum is an American attorney, who served as White House Counsel under President Bill Clinton.
Matthew Floyd Miller as Vince Foster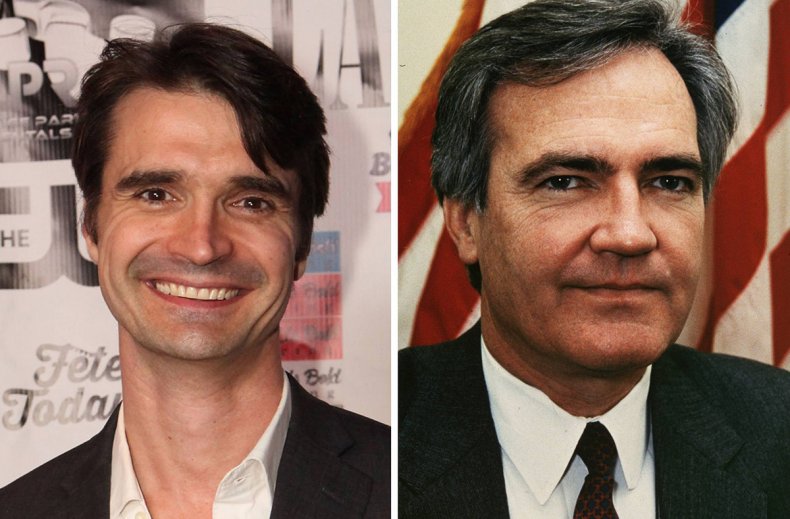 Matthew Floyd Miller is an actor and producer, best known for his work on All Good Things and his career on Broadway.
Who is Vince Foster?
Vince Foster was an American attorney who served as deputy White House counsel during the first six months of the Clinton administration.
On July 20, 1993, Foster was found dead as a result of a gun shot wound in Fort Marcy Park. Five governmental investigations have ruled his death as suicide.
Impeachment: American Crime Story airs Tuesdays at 9 p.m. ET on FX.