Acting Attorney General Matthew Whitaker Wrongly Claimed 'Academic All-American' Honors on Résumé: Report
Acting Attorney General Matthew Whitaker wrongly claimed on his résumé that he was named an Academic All-American during his time as a football player at the University of Iowa, according to a report.
On Wednesday, The Wall Street Journal reported the incorrect claims appeared in Whitaker's biography on the website of a law firm that had previously employed him, in an application of an Iowa judgeship in 2010 and on a résumé that was sent to a patent-making company in 2014.
According to the newspaper, the Federal Trade Commission also disclosed Whitaker's résumé in documents released last month. In addition, the Justice Department stated Whitaker had been "an academic All-American football player" in a press statement released in 2009.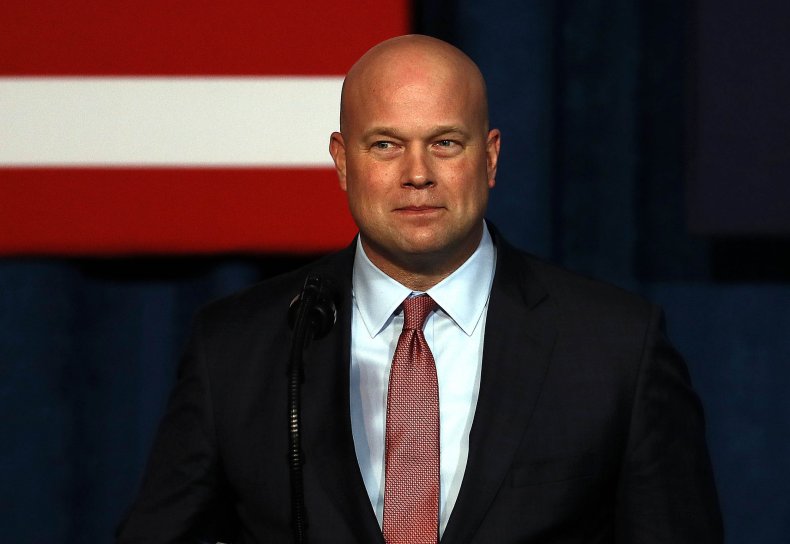 But Whitaker's name was not listed under those who had been named Academic All-Americans on the College Sports Information Directors of America (CoSIDA) website—the organization that awards the annual honor. Instead, another University of Iowa athlete was named in 1992, the year that the acting-attorney general claimed he had won the honor.
Whitaker reportedly played the tight end position—often seen as a hybrid of both an offensive lineman and a wide receiver—for the University of Iowa between 1990 and 1992. In order to be nominated as an Academic All-American, a student must achieve a cumulative GPA of at least 3.3.
Barb Kowal, a spokesperson for CoSIDA, told the Journal that their records apparently showed no mention of Whitaker ever being named an Academic All-American. However, she confirmed he was awarded a lower-level All-District honor in one of eight regions around the country.
Kerri Kupac, a Justice Department spokesperson, told the Journal Whitaker made the mistake in his résumé because he relied on information provided in a 1993 University of Iowa football media guide, which stated he was a "GTE District VII academic All-American."
In an email to the Journal, Kowal said: "Being named an Academic All-District is PART of the CoSIDA Academic All-America program, but does not make you an Academic All-America honoree. You must be placed on the national ballot and then voted onto the Academic All-America team to gain that honor."
President Donald Trump appointed Whitaker as acting attorney general in November, following Jeff Sessions's departure a day after the midterm elections.