Acting U.S. Navy Chief Modly Blasts Removed Captain Crozier For Being 'Too Naive or Too Stupid' to Command in Leaked Audio
The acting Navy chief questioned the intelligence and intent of an aircraft carrier captain removed last week over a letter in which he appealed to superiors for support in quarantining sick sailors aboard his ship.
Acting Navy Secretary Thomas Modly told personnel aboard the USS Theodore Roosevelt that their former commander, Captain Brett Crozier, was "too naive or too stupid to be a commanding officer of a ship like this" if he was unaware that his desperate plea for Pacific Fleet leadership to provide additional resources to help him isolate COVID-19-infected sailors aboard the ship would go public, a comment met with jeers and expletives by the military audience.
The comments were captured in leaked audio of the speech that was first published Monday by Task & Purpose and a transcript of the comments was earlier reported by Daily Caller. The audio was also sent to Newsweek.
Modly said the "alternative" to that scenario was that Crozier intended for the document sent to "over 20" individuals to be leaked, something Modly said would prove a "serious violation" of the Uniform Code of Military Justice.
"It was betrayal," Modly said, warning sailors that "there is no, no situation where you go to the media."
"Because the media has an agenda and the agenda that they have depends on which side of the political aisle they sit and I'm sorry that's the way the country is now, but it's the truth and they use it to divide us and use it to embarrass the Navy," he added. "They use it to embarrass you."
Later Monday, Modly apologized for his remarks.
"I do not think Captain Brett Crozier is naïve nor stupid. I think, and always believed him to be the opposite," Modley said in a statement sent to Newsweek by the Navy. "We pick our carrier commanding officers with great care. Captain Crozier is smart and passionate. I believe, precisely because he is not naive and stupid, that he sent his alarming email with the intention of getting it into the public domain in an effort to draw public attention to the situation on his ship."
"I apologize for any confusion this choice of words may have caused," he added. "I also want to apologize directly to Captain Crozier, his family, and the entire crew of the Theodore Roosevelt for any pain my remarks may have caused. They, and the entire Navy, have my full commitment that I will continue to help get the TR back to full health and back to sea where we can move forward beyond this unfortunate situation."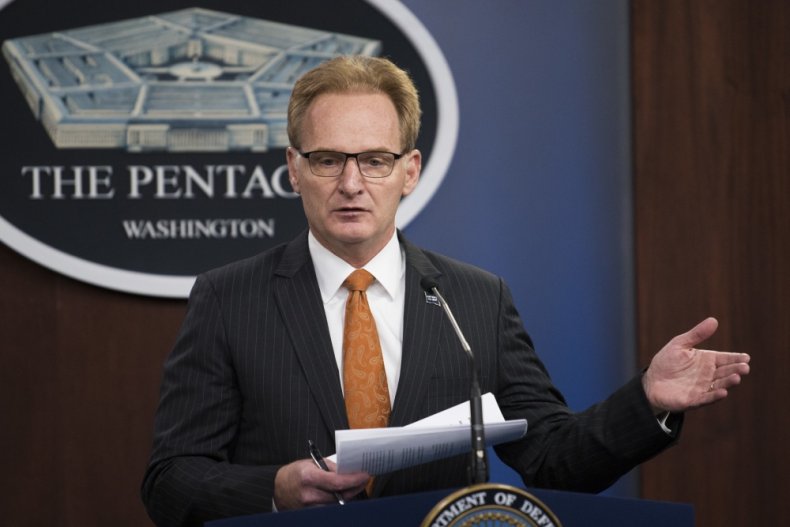 The Pentagon declined to comment when contacted by Newsweek about Modly's initial remarks and instead referred to Secretary of Defense Mark Esper's comments Sunday.
"I think acting Secretary Modly made a very tough decision, a decision that I supported. It was based on his view that he lost faith and confidence in the captain based on his action," Esper told CNN at the time.
"I think it's just another example of how we hold leaders accountable for their actions," he added.
Also on Sunday, The New York Times reported that Crozier had tested positive for COVID-19, citing two of his Naval Academy classmates. In his letter, first published by The San Francisco Chronicle, the captain said, "We are not at war. Sailors do not need to die."
Modly criticized this line in his speech Sunday, telling sailors, "We're not technically at war, but let me tell you something, the only reason we're dealing with this right now is because a big authoritarian regime called China was not forthcoming about what was happening with this virus and they put the world at risk to protect themselves and to protect their reputation."
The novel coronavirus disease was first observed in the Chinese city of Wuhan but has spread worldwide, so far afflicting nearly 1.3 million people across the globe, with around 273,000 recovering and 27,000 dead. The United States has suffered the worst outbreak on record, reporting some 340,000 cases as the death toll exceeded 10,000 on Sunday.
As the West found itself in the throws of the virus, China has begun lifting certain restrictions and officials there have defended their country's handling of the pandemic. President Donald Trump has alternatively praised and criticized his Chinese counterpart Xi Jinping's response to COVID-19, and Washington and Beijing have exchanged harsh rhetoric toward one another.
In an op-ed published Monday by The New York Times, Chinese ambassador Cui Tiankai called on the two economic superpowers to more closely cooperate against COVID-19.
This article has been updated to include an apology later issued by Acting Navy Secretary Thomas Modly.