Acting DHS Secretary Dismisses Possibility of Sending Federal Agents to Polling Stations Despite Trump's Pledge
Acting Secretary of Homeland Security Chad Wolf dismissed the possibility that federal agents under his purview would be sent to monitor polling stations during the November election, despite controversial remarks by President Donald Trump days earlier.
"That's not what we do at the Department of Homeland Security," Wolf said during a Sunday morning interview with CNN's State of the Union. "We have expressed authorities given to us by Congress and this is not one of them," he added.
"This is not a mission for the Department of Homeland Security," he asserted. "We don't have any authority to do that at the department."
Wolf's comments came after Trump on Thursday told Fox News host Sean Hannity that law enforcement would be sent to polling stations, raising concerns from critics about the potential specter of voter intimidation.
"We're going to have sheriffs, and we're going to have law enforcement, and we're going to have, hopefully, US attorneys, and we're going to have everybody and attorney generals [sic]," the president told Hannity during an interview.
Asked by CNN on Sunday whether Trump had discussed the possibility of the DHS sending agents to polling stations with him, Wolf said the president had not. "No, absolutely he has not," he responded.
Federal law actually prohibits "any troops or armed men" from being deployed at polling locations during an election. The only exception would be to "repel armed enemies of the United States." Violating this law can result in a fine or imprisonment for up to five years.
Newsweek reached out to the White House for comment, but did not receive a response by the time of publication.
After Trump made the remarks to Fox News, election lawyer Marc Elias, who works with the Democrats regarding voting rights, tweeted a clip from the interview and vowed legal action if the president sent law enforcement.
"BREAKING: Trump tells Hannity that he will send law enforcement to the polls," Elias posted. "Not without a legal fight he won't!"
The president has repeatedly claimed, without evidence, that the upcoming election will be rife with voter fraud. He has claimed that Democrats are trying to use mail-in ballots to steal the election. But election officials, Republicans and Democrats, have largely dismissed these claims, pointing out that voter fraud is very rare and generally caught and prosecuted. They've also said that mail-in voting does not pose a greater risk to election security due to the multiple safeguards built into the process.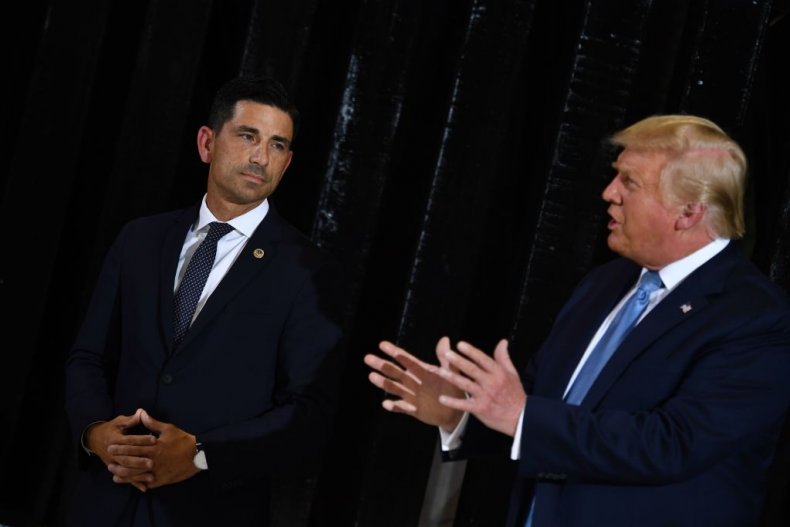 Wolf also answered questions about possible foreign election interference, as intelligence agencies and analysts have warned that Russia, Iran and China all appear to be attempting to influence the U.S. election. Following the 2016 election, intelligence agencies concluded that Russia had interfered in an effort to hurt former Democratic presidential candidate Hillary Clinton's campaign in a bid to support Trump's election.
"I have been in numerous conversations with the president about election security and a number of nation states have gotten discussed," the acting DHS secretary told CNN.