Students at University of North Carolina at Chapel Hill are upset over the university's recent selection of an interim police chief, who some students alleged punched and pushed students at a board meeting discussing Nikole Hannah-Jones' tenure.
On Tuesday, the university announced the resignation of Police Chief David Perry and stated that Assistant Chief Rahsheem Holland, who has been serving as acting chief since Perry went on medical leave after a procedure in May, will continue in the role until UNCPD finds a replacement.
But some students are calling for Holland's termination after the veteran officer, who has worked at the university for 20 years, clashed with student protestors at a Board of Trustees meeting last week.
Video footage shows Holland shoving students out of a conference room where the board had gathered to discus her tenure appointment in a closed session. One student and vice president of the Black Students Movement (BSM), Julia Child, alleges he also punched her in the face.
"I never thought I would be here staring at a bruise on my face because a grown man punched me. This is my worst fear as a Black woman," Child tweeted with a photo of her bruised face. "Officer Holland put his hands on me today and punched me hard enough that my mask flew off my face and a bruise is left on my cheek."
Shortly after the announcement Holland would serve as acting police chief, members of the BSM issued a statement condemning his promotion.
"The full Board of Trustees at UNC, as well as Chancellor Guskiewicz, were present on the afternoon of Wednesday, June 30th, when Rasheem Holland assaulted multiple Black students who were non-violently exercising their right to protest during a Board of Trustees meeting," a statement from the student group reads.
"Given the unjust violence that he has perpetrated against our community, we demand that university leadership not appoint Rasheem Holland as Interim UNC Campus Chief of Police and terminate his employment with the university immediately," the statement said.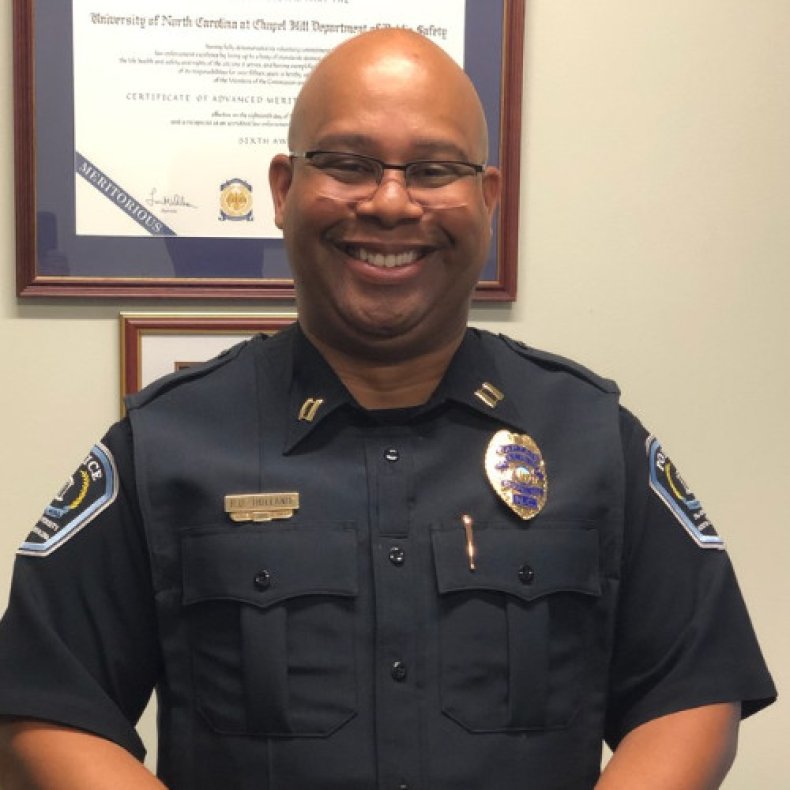 The pushback is the latest fallout from the controversy surrounding Hannah-Jones' tenure.
On Tuesday, the New York Times journalist announced she would not be accepting a tenured teaching position at the university, and would take another position as the Knight Chair in Race and Journalism at Howard University instead.
Hannah-Jones had initially been denied tenure after conservative activists raised concerns with the board over her work in the 1619 Project, which won her a Pulitzer Prize last year.
Newsweek reached out to UNC-Chapel Hill for comment but did not hear back before publication.