Active Shooter Alert Bill Gets Nays From 161 GOP Reps—and One Democrat
Despite garnering some bipartisan support, the House of Representatives failed Wednesday evening to pass a bill that would create an AMBER Alert-style system for active shooter situations.
The House considered and voted for the bill under suspension, which meant that two-thirds of the representatives, rather than a simple majority, would have needed to back the Active Shooter Alert Act in order for it to pass. But the bipartisan-sponsored legislation did not meet that threshold as 161 Republicans and a lone Democrat, Representative Ron Kind of Wisconsin, voted "nay."
Meanwhile, 215 Democrats and 44 Republicans voted in favor of the bill. Three Democrats and five Republicans did not cast votes.
Democratic Representative David Cicilline introduced the Active Shooter Alert Act in February, but pushes for legislation related to gun safety have taken on a renewed sense of urgency in the wake of several recent mass shootings. These include the deadly attack at a Buffalo, New York, supermarket that left 10 people dead, and a shooting at a Uvalde, Texas, elementary school that left 19 children and two teachers dead.
While delivering remarks on the bill during House Judiciary Committee debate earlier this month, Cicilline cited the Buffalo and Uvalde shootings as recent examples of active shooter events.
"Active shooter events have become ubiquitous—so frequent that some of these horrific events barely make headlines," he said. "This is not normal, and we cannot let it be normalized. We cannot become numb to these events, and we cannot settle for the status quo. We have to give law enforcement every tool they need to neutralize these threats and keep our communities safe."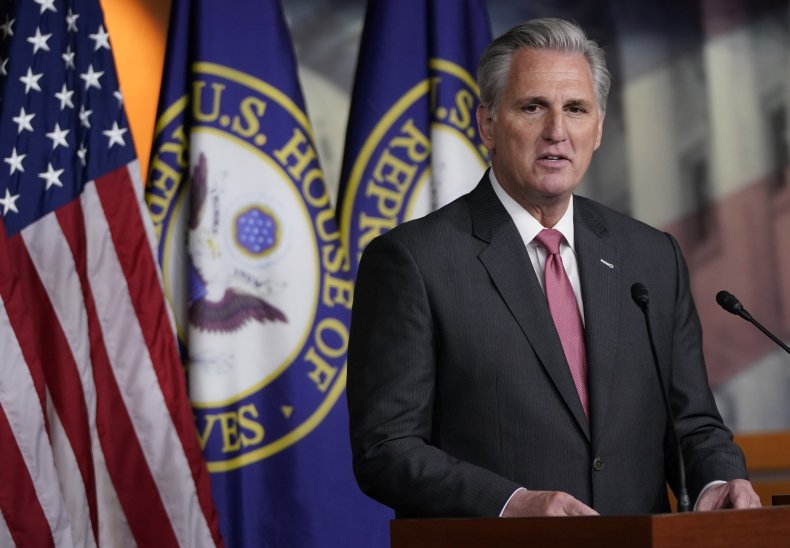 The renewed and contentious gun control debate has seen Democrats calling for more gun control, while many Republicans have resisted pushes for gun reform. But though Cicilline framed the Active Shooter Alert Act as a response to a trend of mass shootings, the legislation does not appear to have any connection to gun access in the U.S., making it unclear why 161 Republicans voted against it.
Kind, the one Democrat who voted against the bill, had not released any statements either through social media or his website by Thursday morning on why he opposed the measure.
Though the House failed to pass the bill under suspension, House Speaker Nancy Pelosi said in a statement Wednesday night that it would be brought to a vote again and passed by the Democratic majority, The Hill reported. Pelosi also took aim at the GOP House members who "inexplicably voted to oppose the needs of law enforcement heroes and to keep this crucial, life-saving information away from our communities."
Newsweek reached out to Kind and House Minority Leader Kevin McCarthy for comment.