Shooting Reported at Nashville Mall, Suspect At Large: Live Updates
UPDATE: Friday, May 4, 10:57 a.m EDT— The Metropolitan Nashville Police Department said 22-year-old Demarco Churchwell was killed in a shooting at the Opry Mills Mall on Thursday.
Justin Golson, 22, was the suspected shooter. "He is in custody and being interviewed," the department posted to its Twitter account.
It later posted that Golson would be charged with criminal homicide.
UPDATE: 4:57 p.m EDT— The Metropolitan Nashville Police Department said Thursday evening that an earlier shooting at the Opry Mills Mall involved two males who were in a dispute.
"Shooting at Opry Mills appears to have been the result of an ongoing dispute between 2 males," the department posted to Twitter. "1 of them was critically wounded. The suspected gunman left the mall building and immediately surrendered."
Brad Davis, an IT Branch Manager for Addison Group out of Spring Hill, Tennessee, told Newsweek he was at the mall during the shooting. He was taking his colleagues to Opry Mills for lunch when he saw people leaving the mall.
He wrote, in part, in a message:
"We had just finished and I had paid the check when we saw 15 people that were jogging to the exit. They looked somewhat confused. I found that a little odd so I kept watching. Probably 100 people quickly followed, in a dead sprint, towards the exit. I grabbed my team and we headed outside. I asked some people what had happened and they said that there was a person inside shooting people. We hopped in my car to drive away. Luckily, the Tennessee Highway Patrol was doing motorcycle training at the end of the mall in the parking lot. I raced over to where they were and ran to the closest trooper and let them know that there was an active shooter situation. They had no idea and seemed to process what I said in an instant. Immediately, me and an officer opened up the fence and they raced out to the mall to handle the situation."
Tennessee Highway Patrol did not immediately respond to a request for comment.
UPDATE: 4:17 p.m EDT— After conflicting reports about the nature of a shooting at the Opry Mills Mall in Nashville, the Metropolitan Nashville Police Department said that the incident stemmed from a dispute and that the suspected shooter was in custody.
"BREAKING: Dispute at Opry Mills Mall results in gunfire," the department posted to Twitter. "One person shot. Suspected shooter in custody. No additional imminent threat known. Mall being swept by MNPD officers as a precaution."
The Nashville Fire Department updated the status of a patient involved in the shooting, saying the person was en route to Skyline Hospital on Twitter. The Department said there was only one patient at the time.
UPDATE: 4:09 p.m. EDT— The Nashville Fire Department confirmed it was on scene at the Opry Mills Mall amid reports of a shooting. It also reported that at least one person had been injured.
"Our personnel is on scene at Opry Mills Mall," it posted to Twitter. "One patient transported to Vanderbilt in Critical Condition"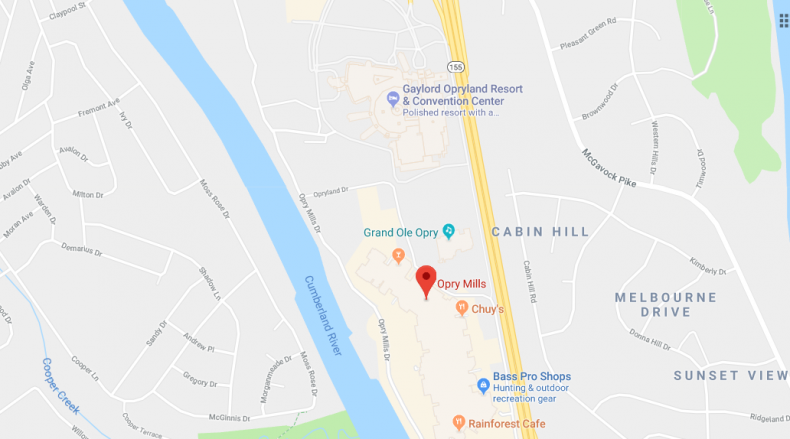 Original story:
At least one person opened fire at a Nashville, Tennessee, mall on Thursday afternoon, according to multiple reports.
It was not immediately clear who the shooter was and how many people—if anyone—had been shot. A spokeswoman for the Metropolitan Nashville Police Department confirmed to Newsweek that police had responded to an incident at Opry Mills Mall but could not confirm any further details on the situation.
Citing police, local station WSMV reported that four people had been shot and that one person was in custody—while another suspect was loose. A spokesman for the Nashville Fire Department told the Tennessean that at least two people were injured. The Opry Mills Mall is east of downtown Nashville, near the famed Grand Ole Opry.
The Bureau of Alcohol, Tobacco Firearms and Explosives tweeted that it was responding to the scene of a shooting.