Shooting Rampage at Oregon College Leaves 10 Dead, 7 Injured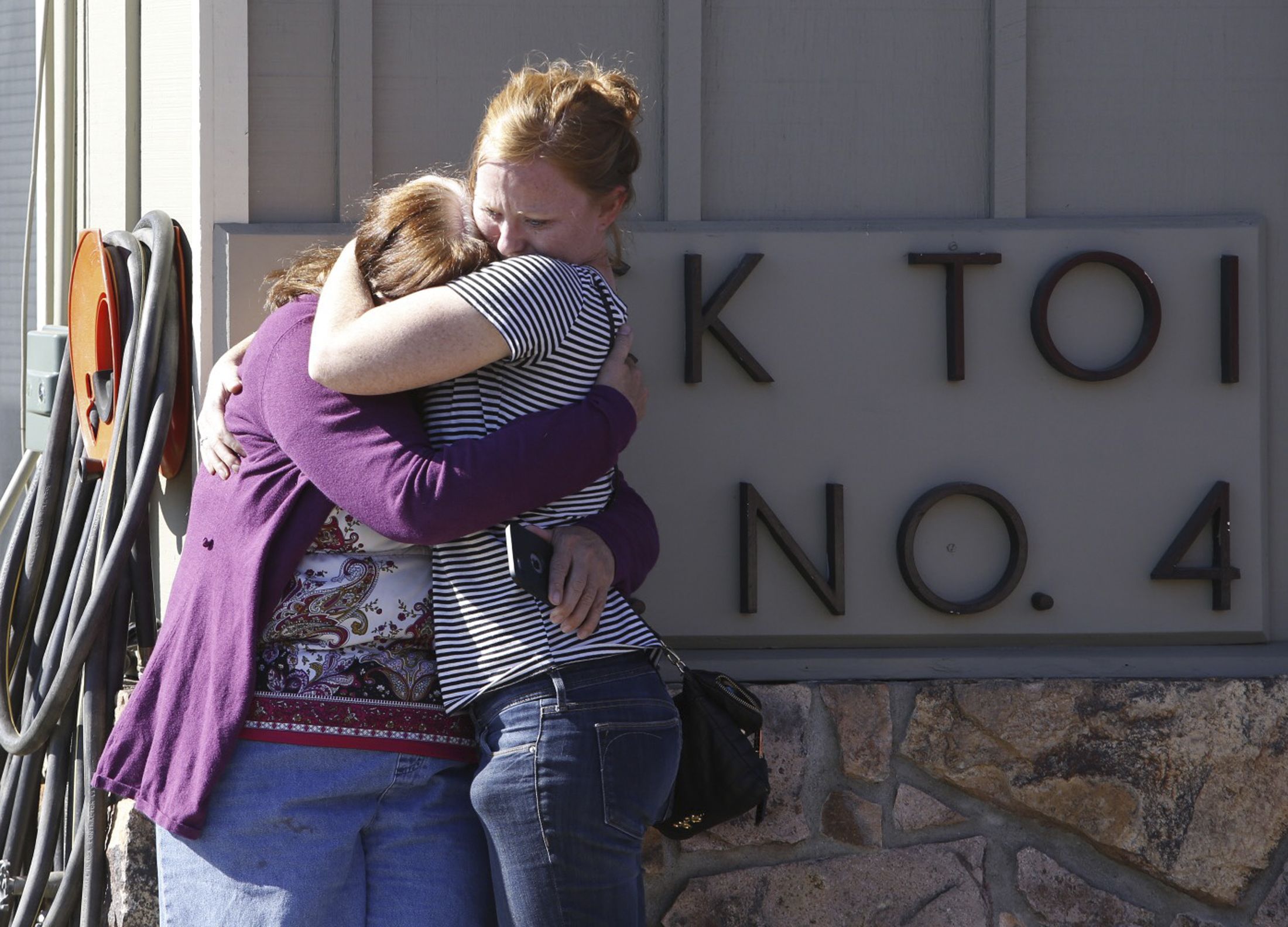 A shooter killed 10 people and wounded 7 others at the Umpqua Community College in Roseburg, Oregon, on Thursday morning.
The shooter, a 26-year-old male, was killed in a shoot out with police. He was identified as Chris Harper Mercer. "I will not name the shooter. I will not give him the credit he probably sought," said Sheriff John Hanlin.
None of the identities of the victims have been released by authorities and are not expected to be released for another 24 to 48 hours.
"The law enforcement investigation into the shooter and his motivation is ongoing," Hanlin said at a press conference. The sheriff said two police officers acted in a heroic manner, though he did not specify their actions.
Multiple ambulances were on the scene and brought at least 11 victims to hospitals. The nearby Mercy Medical Center received 10 patients. At least one victim was flown to a different medical center for further treatment.
The shooting happened in a classroom, according to Ray Schoufler, the Douglas County Fire Marshal. The Douglas County Sheriff's Office received the 911 call at 10:38 a.m., local time. "Police units from multiple juristictions have responded. Students and faculty members are being bused to the Douglas County Fairgrounds and can be picked up there," the office said in a statement.
"We're just a facility that is large enough that they can get away from the campus and have an area to bring the students and faculty to safety and have it where they can reach their family," says Brenda Mayberry, event development coordinator at the fairgrounds, who has worked there for 17 years. She says law enforcement has previously used the site for evacuation and reunification. "We are part of a system here for any disaster."
"I want to know my child is okay. I want to know where my kid is. We don't even know if she's alive," Jessica Chandler, mother of UCC student Rebecka Carnes, tells Newsweek as she waits for more information. Carnes began classes at the community college on Wednesday and has not been in touch with her mother since the shooting. Chandler and her relatives have called Carnes between 50 and 100 times, she says. She hopes her daughter was transported to a medical center in Eugene and has provided the hospital with a description of Carnes.
ATF agents from the Eugene and Portland offices, along with canines and a special agent in charge from Seattle, Washington, are responding to the scene, ATF's Public Information Officer Brian Bennett tells Newsweek. The FBI is also involved in the investigation.
"We were advised that the suspect is in custody and it was not needed [for us] to lock down our facilities. We're waiting for updates from law enforcement," an employee with the Roseburg School District tells Newsweek. Schools are not under lockdown.
Kortney Moore, a student at the college, told NRToday the shooter asked people in the classrom their religion before he shot them.
"Mom, there's people dead, I don't know where to go," Channelle Williamson, a student at the college, texted her mother Maycie during the incident. "I heard shots, we thought people were messing around banging on the door. People jumped up to see what that was," the student said, according to her mother, who spoke with Newsweek. Maycie Williamson said she felt "helpless, absolutely helpless" while waiting for her daughter to be evacuated.
Sarah Cobb, 17, was in her fourth day of classes at the college, in Writing 121, when she heard what sounded like a textbook slamming on a desk. She looked out the window and saw people running, then heard two more loud bangs. Then, screaming.
"I knew immediately something is wrong," she told Newsweek. "I was terrified. I didn't know what to do." She turned to her teacher and said "We need to leave."
Cobb sprinted across campus, to the student center nearby. She remained there on lockdown for "what felt like a lifetime," she said. About 45 minutes later, she and other students were bused to the fairgrounds, where she was interviewed by officials and where she helped parents try to find their missing loved ones.
Counselors have been brought in to comfort students, staff and their relatives. A vigil will be held Thursday evening at 8 p.m. in Stewart Park.
Umpqua Community College is a two-year school with roughly 3,300 full-time students and 16,000 part-time students. It was established in 1964.
Roseburg is located in the Umpqua River Valley, about an hour south of Eugene, Oregon. In December 2014, law enforcement arrested a man following a shooting near Rosemary Anderson High School in Portland, Oregon.
There were 134 mass shootings between January 2009 and July 2015, according to an analysis compiled by Everytown for Gun Safety, a group created by former New York City Mayor Michael Bloomberg to seek passage of laws at all levels to reduce gun violence.
Oregon law does not require permit to purchase, registration of firearms, or licensing of owners. Oregon received a D+ for its gun laws on most recent state scorecard by the Law Center to Prevent Gun Violence.
Additional reporting by Seung Lee, Max Kutner and Michele Richinick, Winston Ross and Iva Dixit.