Active Shooter Training Response Programs Gain Popularity in Wake of School, Church Attacks
When shots rang out during a wedding at a church in Pelham, New Hampshire October 12, those in attendance took the assailant down, tackling him before any more people could be injured. Pelham Police Chief Joseph Roark told The Lowell Sun the reason may have been because of the active shooter training church members received within the past year.
"Thankfully, they were able to stop that and detain the shooter," said Chief Roark. He also said their actions corresponded with the training they received.
The New Hampshire Council of Churches in cooperation with the New Hampshire Homeland Security and Emergency Management offers active shooting training to any house of worship, regardless of whether they belong to the council.
"We've actually been in conversation with many of the synagogues and mosques in our state who have similar concerns," said Reverend Jason Wells, Executive Director of the New Hampshire Council of Churches in an interview with WMUR. "We have offered active shooter training around the state already. We will do that again."
Civilians are not the only ones being trained for such an event. WJAC reported that groups of first responders in Altoona, Pennsylvania went through an event held by Survival Mindset, an organization offering preparation drills and training for active shooter scenarios, on October 14.
"We want to have participants experience what it feels like to not only be in an armed intruder situation, but to be empowered in terms of how to respond to that situation," said Rick Capozzi, founder and president of Survival Mindset.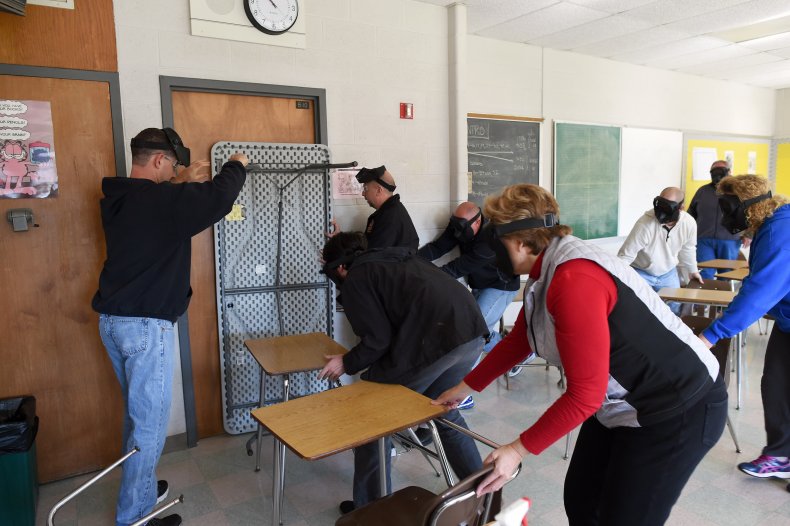 "It's like a fire extinguisher," said Lieutenant Louis Lusk of Pennsylvania State Corrections. "You have this training and you set it off to the side hoping that it will never be used, but [if] it's needed you're [ready] to pull your training out and use it to protect yourself."
With churches, schools and places of work now seemingly open targets, training people what to do in the event of an active shooter has become popular. A company that provides certified instructors to many school staff is the ALICE Training Institute.
"ALICE (Alert, Lockdown, Inform, Counter, Evacuate) Training instructor led classes provide preparation and a plan for individuals and organizations on how to more proactively handle the threat of an aggressive intruder or active shooter event," says their website.
Their website also states they have trained over 3,700 K-12 school districts, 900 institutions of higher learning and 310 houses of worship.
However, some instructors who have adopted the ALICE program have been criticized for their methods, most famously in Indiana where elementary school teachers were shot with soft plastic pellets with no prior warning.
"They told us, 'This is what happens if you just cower and do nothing,'" a teacher told the Indianapolis Star under the condition of anonymity. "They shot all of us across our backs. I was hit four times. It hurt so bad."
Kenneth Trump, president of consulting firm National School Safety and Security Services, said in Education Week the ALICE Training Institute trains and certifies their instructors before sending them into their local areas. These instructors sometimes insert their own ideas and techniques into their programs, which can deviate from their original training.
But school officials in Oregon, Ohio, credit ALICE training for how students reacted to the false threat of a gunman at a high school football game, according to WTVG.
"I think they did a great job," said officer Sara Shaw, who has helped teach ALICE techniques in the school district for over a decade. "We've taught them so many times—evacuate, get away, distance is safety, and they did that."