Donald Trump in Scotland: Activist Arrested After Paragliding Too Close to President
An activist in Scotland has been arrested after undertaking a protest using a motored parachute to get within a few hundred yards of President Donald Trump.
"Police Scotland can confirm that a 55-year-old man has been arrested in connection with an incident when a powered parachute was flown in the vicinity of the Turnberry Hotel around 9:45 p.m. on Friday," police said in a statement, Reuters reported on Sunday. The man is expected to appear in court on Monday.
Prior to his detention, police announced they had launched a search for the activist. "It is a criminal offence to fly within the airspace restriction zone and officers are carrying out enquiries to trace the pilot," police said in a statement posted to Twitter.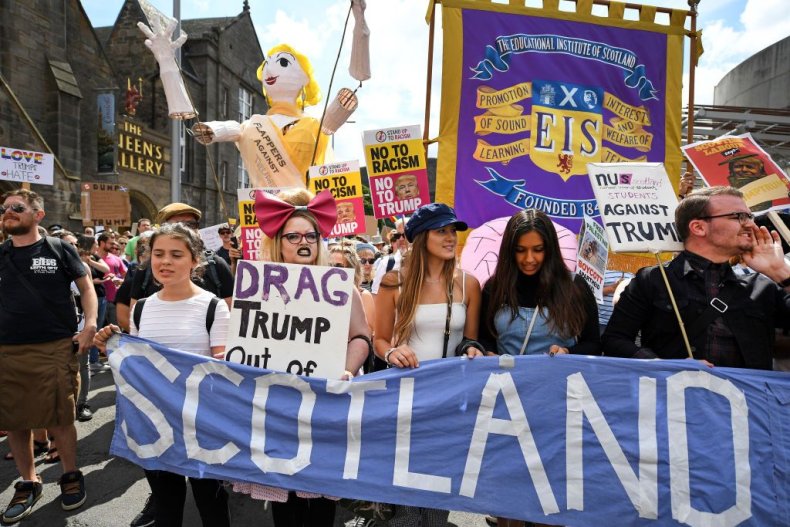 Trump was forced to retreat into the Turnberry Hotel, which the president's company owns, after Secret Service officers observed the man paragliding through the air. Greenpeace UK organized the stunt, which occurred on Friday, with the activist holding a sign that read: "Trump well below par #resist."
"Trump calls climate change a 'con job' and a 'myth,'" Greenpeace spokesman Ben Stewart said in a statement to local media.
"He pulled America out of the Paris climate accord and overturned the Obama clean power plan that would have slashed American pollution," Stewart continued. "He's committed to burning more dirty coal and overturned the ban on offshore Arctic oil drilling. And that's before you even get to talking about separating kids from their parents and caging them."
Stewart also called Trump the "worst president ever," saying that British Prime Minister Theresa May should not have "dignified" the president with a visit. "The vast majority of British people are appalled by his words and deeds," he said.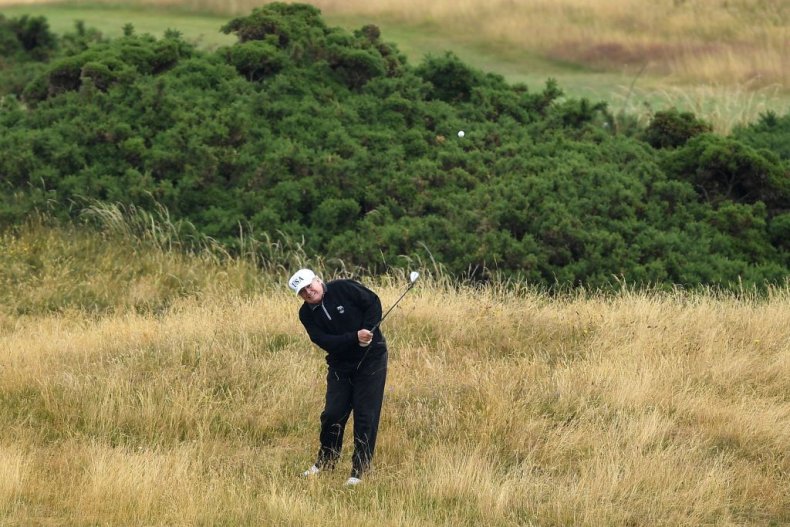 On Thursday, the environmental activist group released a report that detailed ways in which May could "stop Trump from trashing the environment."
"We can't ignore the global example the U.S. still sets and the U.S. is still the second biggest emitter of CO2 in the world," the organization's report explained.
Trump's visit to the United Kingdom has been overshadowed by massive demonstrations throughout the nation. In London, demonstrators flew a now iconic orange baby Trump balloon wearing a diaper to protest the president, and to highlight what many see as his childish behavior. In addition to Trump's environmental policies, protestors emphasized human rights abuses, hardline immigration policies and anti-Muslim rhetoric.
Outside of Trump's Turnberry golf resort, where the president stayed while in Scotland, protestors chanted: "No Trump, no USA, no KKK, no racist USA!"