Activists Call For 'Cats Not Adverts' At London Underground Stations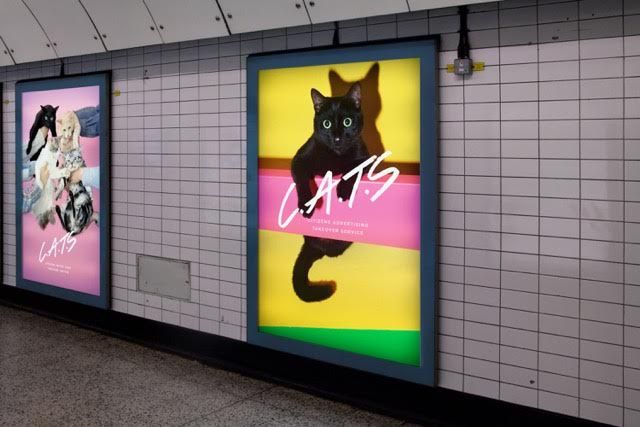 Instead of hitting bleary-eyed commuters with a tirade of unattainable body images and extortionately priced products, a bunch of U.K. activists are aiming to replace every advert in a London tube station with...cats.
Images of furry felines will take the place of every bikini-clad model and luxury brand, creating what campaigners hope is a more "calm and relaxed" environment for people to travel and think.
A new group called the Citizens Advertising Takeover Service (CATS) has launched the project to highlight new research which shows that experiences, rather than consumer products, are more likely to bring happiness.
"Wouldn't it be great not to worry about the holiday we can't afford, the car we don't need, or the body we don't have?" spokesman James Turner tells Newsweek. "Imagine a world where public spaces made you feel confident and calm.
"We know this is a silly project. But what if we did this around the whole country, or in every major city in the world? People would start talking about it."
"We want to claw back from the barrage of advertising that we see every day."
Turner hopes the cute, professionally shot images will offer people a "moment of peace" or even just a "smile and a laugh" as people make their way across the city.
"It's to offer a glimpse of how the world might look if advertising didn't solely attempt to make people as though they don't have enough 'stuff,' " Turner says.
"It's a gentle prod, we're not against advertising. It's more a playful way to open people's eyes."
Last year the French city of Grenoble took the unusual step of banning adverts from the city. The mayor's office stated that it was "taking the choice of freeing public space in Grenoble from advertising to develop areas for public expression" and replacing advertising signs with community noticeboards and trees.
CATS is a new project from Glimpse, a collective of creative professionals, many of whom work in advertising, PR and marketing. They say they hope to use the "power and allure of advertising to deal with intractable social problems."
The aim is to raise £23,000 on Kickstarter, allowing the team to replace an entire platform in one of the smaller stations. If they raise more, they will aim for shopping hubs like Oxford Circus.
"Many of the adverts on the tube make you feel uneasy," James says. "We need to have more companies that are willing to sell experiences rather than things.
"Maybe it sounds naïve but until we question the big machine we have around us, nothing will change.
"There is also something to be said about every square inch of public space being owned by a brand."