Activist Group Declares Texas City a 'Sundown Town,' Says Black Residents, Visitors Should 'Reconsider Travel'
An activist group in Texas recently declared San Antonio a "sundown town" for Black residents and visitors, advising them to "reconsider travel" to the city.
The Defund SAPD (San Antonio Police Department) Coalition made the announcement on its Facebook page, which included a press release and a map of the city showing the travel advisory.
"A travel advisory has been issued to warn that any Black people in or traveling to San Antonio use increased caution when visiting the city due to the city's policing policies that put Black Lives in danger," the press release says.
The travel advisory includes four different levels: Exercise normal precaution, exercise increased caution, reconsider travel and do not travel. The most recent announcement by the Defund SAPD Coalition says that the city is in the "reconsider travel" phase.
Sundown towns are areas with all-white residents and have policies based on race, such as ordering Blacks to leave by nightfall.
The release then goes on to cite two instances of "racism and anti-Blackness" displayed by the San Antonio Police Department and the Bexar County Sheriff's Office.
"A combat veteran Damian Daniels was murdered by a Bexar County Sheriff's Deputy during a wellness check," the release says. "Another Black man, Mathias Ometu, was harassed and arrested by the San Antonio Police Department for jogging. Ometu spent two days in Bexar County Jail even after it was confirmed he was not the suspect the police were searching for."
Additionally, the release also includes remarks from two San Antonio community organizers, who suggest that declaring the city a sundown town is the correct move.
One of the organizers, Camille Wright, criticized City Manager Erik Walsh for proposing an increase to the police budget and compared the city to Kenosha, Wisconsin, where Jacob Blake, a 29-year-old Black man, was shot seven times in the back by police last month.
"It is clear that San Antonio is becoming a sundown town for Black people. We aren't safe and what happened in Kenosha [Wisconsin] can definitely happen here," Wright said in the release.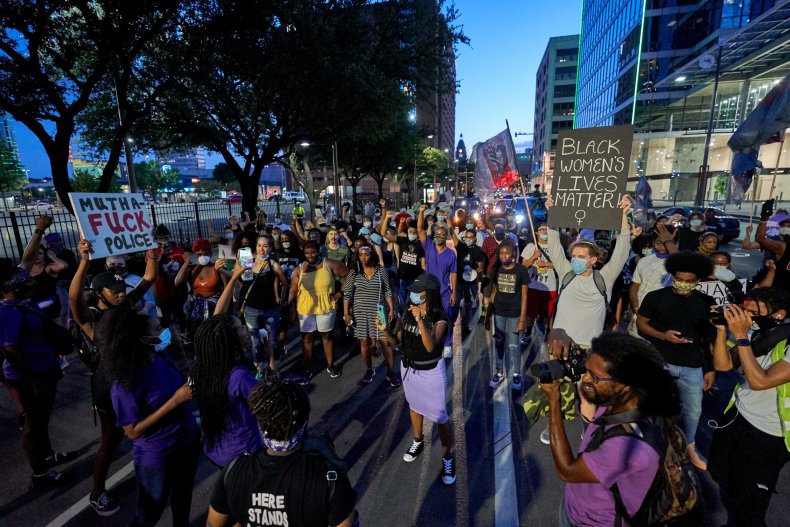 According to the San Antonio Express-News, the city's proposed $2.9 million budget would give the police department $487 million. The City Council is expected to vote on the budget in mid-September.
Marlon Davis, another San Antonio community organizer, criticized Mayor Ron Nirenberg for not focusing on the importance of public health. He said, "If a city council agrees that racism is a public health crisis, then they have to make tangible moves to address the epidemic of police violence here—and that starts with the budget."
Newsweek reached out to the Defund SAPD Coalition and the San Antonio Police Department for comments but did not receive replies in time for publication.