Activist Group 'Moms for Housing' Occupies Vacant Home in Oakland to Protest City's Homeless Crisis
Two homeless mothers in Oakland, California on Monday moved into a vacant house and proclaimed their intentions to stay there until the premise is either sold to their organization, "Moms for Housing," at a fraction of the cost or given back to the community. Supporters of the group have also surrounded the home.
"There are four times as many empty homes in Oakland as there are homeless people," said Sameerah Karim, one of the Moms for Housing. "Why should anyone—especially children—sleep on the street while perfectly good homes sit empty?"
"It's a billion-dollar real estate operation," Karim told Newsweek by phone. "Corporations basically bought up space on foreclosed properties and are holding these spaces for ransom. You can't even pay rent on these properties. $2500 to $3800 per month? I can't afford that."
"This home was stolen from the Black community in the subprime mortgage crisis, and it's been sitting vacant for nearly years," said Mom for Housing's Dominique Walker. "We tried working through the system to find affordable housing. We both hold down multiple jobs and take care of our families. But this system doesn't work for people; it only works for banks and corporations."
Karim said there is a difference between what Moms for Housing are attempting to do with their occupation of the house, and squatting.
"This is coming out of a necessity between life or death," Karim said. "This occupy is born out of the human right to housing."
"The Moms for Housing are taking this house back on behalf of the Oakland community," said civil rights attorney Walter Riley. "Together we can take Oakland back from the big banks and real estate speculators. We need a new paradigm in thinking about private property. The financial system doesn't work for working-class people. Our whole outlet has to change, and this is the first step."
Karim hopes that other homeless mothers follow her group's example "until the shelters are not filled to capacity for moms that have been displaced out of Oakland and the Bay Area."
One of the group's goals is to create a "fair playing ground between high economic status and lower socioeconomic status."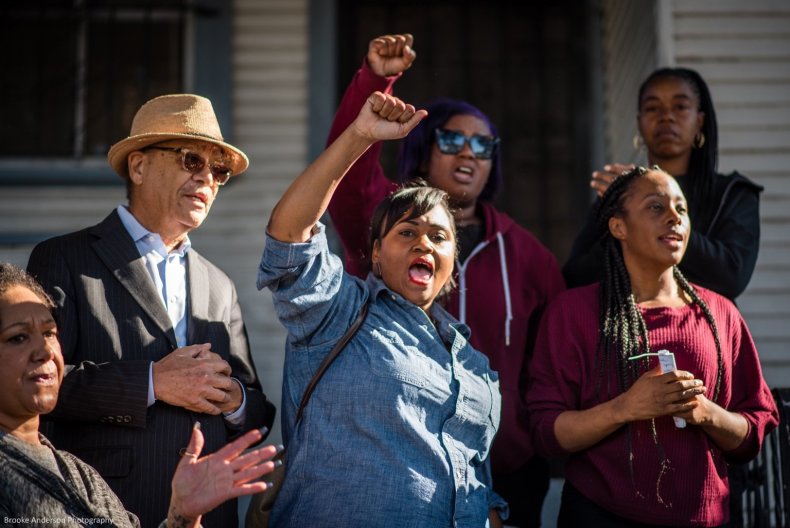 Another one of the group's goals is that displaced mothers in Oakland will be able to stay in Oakland, even though Karim attempted to live in other cities.
"The culture of those cities are so different from the melting pot that is Oakland and the Bay Area," Karim said. "We don't thrive when we go to different cities. I've never been called a n***** more in my life than when I was displaced in Sacramento."
While Moms for Housing expects to occupy the home until their requests met, Karim says they are not criminals.
"We are riding it until the wheels fall off," Karim said. "Law enforcement would have to come remove me and I would not resist. I am not a criminal. The crime is that people cannot afford to live in the Bay Area. They are trying to take refuge in inhumane places and not be exposed to the violence that is homelessness."
The home in question was purchased out of foreclosure by Wedgewood Properties, according to a press release from Moms for Housing. Wedgewood describes itself as "a leading acquirer of distressed residential real estate."
On Twitter, house-hunter Eric Bender said he put down a $3,500 deposit and the last month's rent on the same house that Moms for Housing have occupied. After signing the lease, Bender found out that friends of friends did the same thing. He wondered if there were a deposit scam centered around the property.
Karim says she hopes to alleviate the homeless crisis she sees in Oakland.
"You can't even ride through Oakland without seeing the effect," she said. "You literally get sick to your stomach seeing the conditions, the squalor, the way that it is. The predicament of it."
Children make up 17 percent of the homeless population in Oakland, Karim added.