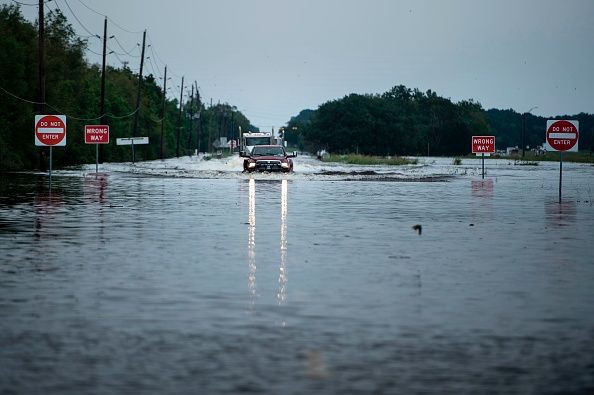 Even by the hair-trigger standards of what's considered offensive on social media, the tweet sent by activist Linda Sarsour on Monday evening was benign, a plea for her 231,000 followers to donate to Hurricane Harvey relief efforts. The tweet included a link to a web page for the Hurricane Harvey Community Relief Fund.
Almost immediately, however, Sarsour became the target of attacks by political opponents who accused her of funneling relief money to a leftist political organization. The outrage spread from Twitter to conservative outlets like The Daily Caller and National Review, whose Alexandra DeSanctis branded Sarsour a heartless dissembler "unable to pass up any opportunity to make a quick buck."
The criticism stems from the fact that the Hurricane Harvey Community Relief Fund is being administered by the Texas Organizing Project Education Fund, which is part of the Texas Organizing Project, a grassroots organization with a progressive mission. TOP was profiled in a recent Harper's article about the growing liberal constituency in Texas, with Andrew Cockburn describing the group as engaging in "doorstep canvassing, intense research on policy and strategy, and mobilizing voter turnout among people customarily neglected by the powers that be." Cockburn also noted that in the wake of Hurricane Ike, TOP helped rebuild housing in poorer parts of Houston.
The near-instant criticism of Sarsour is evidence of her growing status as a favorite target of the right. One of the co-organizers of the Women's March on Washington, D.C., that followed the inauguration of President Trump, she is also a vociferous Arab-American activist who wears the hijab. Yet much like the president she so regularly criticizes, Sarsour can engender controversies of her own, as when she branded CNN's Jake Tapper an ally of the "alt-right."
When I spoke to Sarsour on Thursday, she seemed stunned that her call for philanthropy was being misconstrued. Months of right-wing attacks have exasperated her. "I have highlighted numerous relief organizations to support during this devastation in Texas and all can be found on my various social media platforms," Sarsour told me in a subsequent email. "To be clear, I am not affiliated with TOP in any capacity."
Some of the coverage of Sarsour and TOP has focused on her criticism of the Red Cross on social media. But that criticism is not unusual, or new. Earlier this week, Richard Gonzales of NPR pointed out that "the Red Cross doesn't make clear what percentage of their dollars will go directly to helping the victims of the storm," making some wary of giving donations to that organization.
Melanie Ulle, the founder and chief executive of Philanthropy Expert, a Denver-based consultancy, told me she doesn't think that "Sarsour is being deceptive," calling her a "real community leader [who] has been in sync with the pulse of our nation in many ways." However, Ulle added that in philanthropy, "timing is everything," and that Sarsour may have "missed the mark" by directing people to an organization whose motives could be interpreted as political. "This week, the donors I advise are more likely to invest in the acute needs of those affected by Hurricane Harvey, such as food water and shelter, than community organizing or political activism," Ulle said.
Ginny Goldman, one of the founders of TOP, strongly disputed the accusation that the Hurricane Harvey Community Relief Fund is engaging in political work. She noted that while the fund is being housed by the TOP Education Fund, it is disbursing money to many local organizations that know Houston and its communities better than national groups.
"The money is being spent on immediate needs," Goldman said, including groceries, cleaning supplies and rebuilding materials. She lambasted critics on the right for what she called "un-American" attacks on her organization. "I don't think they care about the people most in need—the people we care about."
I asked Goldman if she would, for example, use any of the funds donated through the Hurricane Harvey Community Relief Fund to fund an opponent to Texas Governor Greg Abbott, an ally of President Trump.
Goldman paused for a long while. "Is this," she wondered, "a serious question?"