Activists Remove South Carolina Statehouse Confederate Flag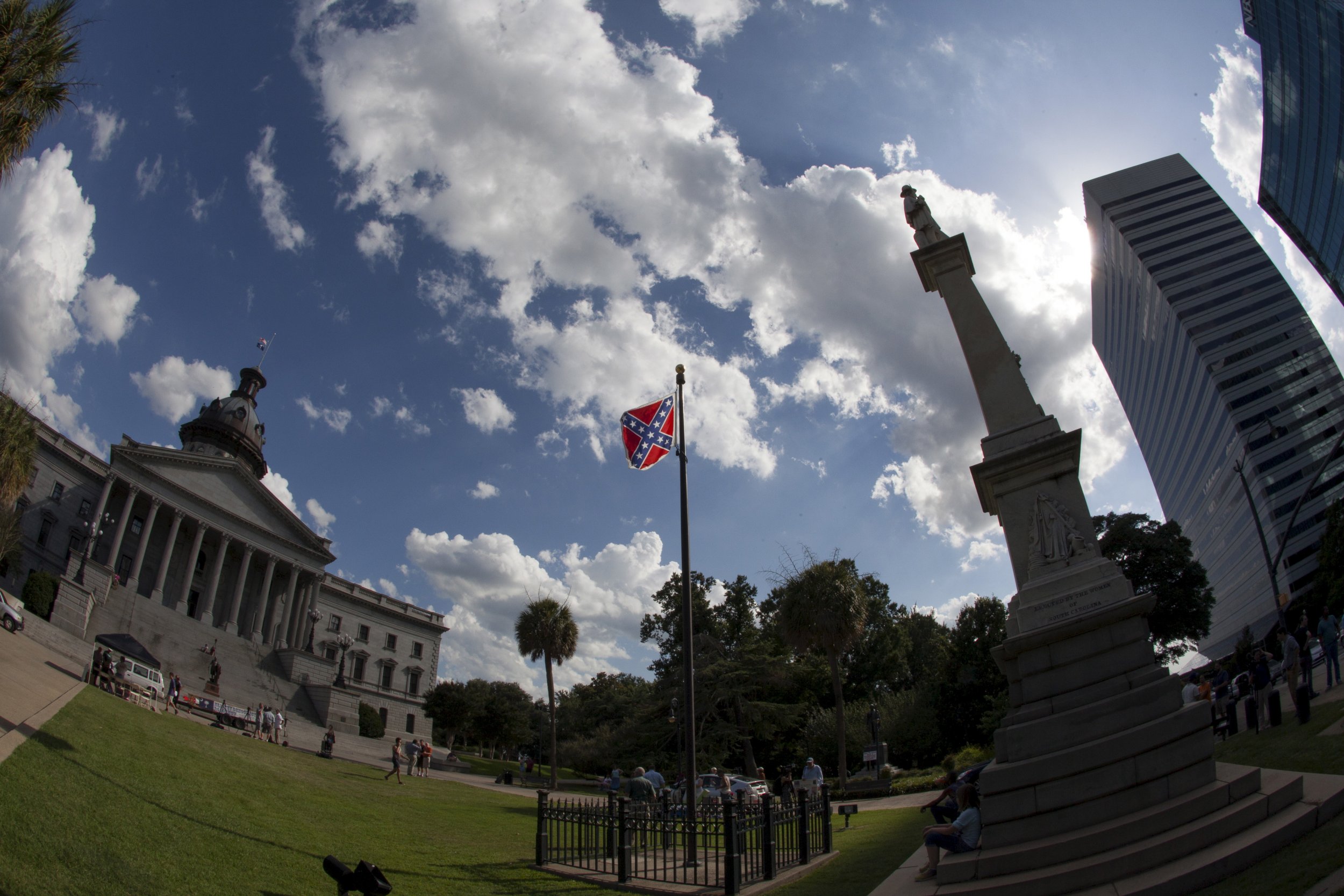 At dawn on Saturday morning, activist Bree Newsome climbed a 30-foot flag pole outside South Carolina's statehouse and removed the Confederate flag that flew atop it.
Authorities became aware of Newsome as she worked to remove the flag, screaming at her: "Get off the pole." Regardless, she was able to remove the flag from the pole, taking it down with her as authorities looked on.
About an hour after Newsome began climbing the flag pole, she came down and was arrested. Officials ordered the flag be put up once again. It took authorities just over an hour to put the flag back on the pole and raise it. For that hour, the the widely debated Confederate flag did not fly above the statehouse grounds.
The fate of the Confederate flag on South Carolina's statehouse grounds made international headlines in the time since nine African-American worshippers were shot to death at a Charleston church. A racist manifesto apparently written by the suspect, Dylann Roof, was discovered online after the heinous crime was committed. The manifesto contained a file of photographs in which Roof is shown holding the Confederate flag and visiting Confederate cemeteries and a Confederate museum. The crime became immediately linked to the Confederate flag.
South Carolina's embrace of the Confederate flag has long been debated—in 2000, it was removed from the statehouse dome and put on the Confederate memorial in front of the government building after activists protested. Today, a two-thirds majority vote in the General Assembly would be required to remove it from the memorial.
Though Governor Nikki Haley has called for its removal, she cannot make the decision on her own. A number of other politicians, including the president, have also called for the flag's removal in the wake of the shooting.
Over the last week, politicians have also called for removing Confederate flags throughout other Southern states. In Alabama, the flag was quietly removed by order of the governor.
Immediately following the massacre, the South Carolina activists said they began organizing the Confederate flag's removal for Saturday morning, ahead of a white supremacist rally at 11 a.m. A second, unidentified person was reportedly arrested in connection with the flag's removal.