Activist Wants Federal Ban of Facial Recognition Technology in Russia After Moscow Protests
The widespread usage of facial recognition cameras in Moscow has inspired a lawsuit filed by an activist who was recognized by the technology during a public gathering, according to Radio Free Europe.
Alyona Popova was involved in a protest against Russian lawmaker Leonid Slutsky, who had been accused of sexual misconduct. Facial recognition cameras identified Popova as part of the crowd. Later she was fined $310 after a court found she violated Russia's public gathering laws.
Announcing the lawsuit on her Facebook page, Popova wrote, "In the summer, Sobyanin announced that Moscow would become the largest city in the world with such technology. Simply put, they will follow us 24/7. Breaking the Constitution. Well and again: no one has the right to collect our biometric data without our consent."
Popova is represented by attorney Sarkis Darbinyan of Roskomsvoboda, a free-speech group.
Meduza reports that the lawsuit argues that processing biometric data without the written permission of the people scanned violates both Russia's personal information laws and the Russian Constitutions guarantees of privacy.
The Information Technology Department of Moscow City Hall says facial recognition technology "is essential to ensuring the safety of [Moscow's] citizens." Reportedly, security camera footage is used in 70 percent of investigations by law enforcement.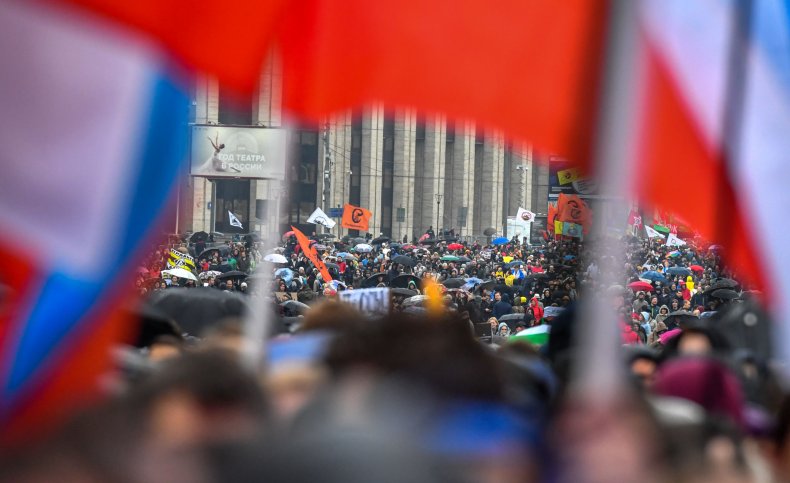 Moscow began using facial technology surveillance in 2017. The city employs 162,000 cameras, 40 percent of which will be upgraded to facial recognition software by the end of 2019. The Moscow Times reports the facial recognition cameras will be used to monitor rallies and protests.
This has become an important point since Moscow has recently been wracked by protests where thousands took to the streets and police wore balaclavas over their heads to avoid being picked up by facial recognition.
The assertion from human rights activists is that facial recognition technology, despite its usefulness for law enforcement, can also be used as a threat to anyone who takes part in a protest. It could also misidentify people in the area of a protest as actual protestors.
A statement from Roskomsvoboda says facial recognition cameras in Moscow should be "banned until full transparency about their use and their safety for citizens is ensured."
Popova is also starting a public awareness campaign about facial recognition technology and an online petition. Started October 7, the petition has already garnered over 700 signatures as of this writing.
"Even if, with our legal system, we lose the lawsuit to Moscow, we will go further," Popova wrote. "We demand a federal ban on the use of this technology."