Activist Who Shut Down ICE Arrest Says All Undocumented Immigrants Should Have 'Know Your Rights' Training
The immigration rights activist who shut down an attempted arrest by U.S. Immigration and Customs Enforcement agents says video of the incident shows how much of a role "knowing your rights" can play in determining how an encounter with ICE ends.
Bryan MacCormack, executive director of the Columbia County Sanctuary Movement in New York, told Newsweek he had been driving with two undocumented immigrants, whom he had accompanied to a courthouse to deal with minor traffic citations, when his vehicle was pulled over by ICE agents.
In video of the incident, which took place on March 5 in Hudson, New York, MacCormack, 30, can be seen refusing to cooperate with one of the ICE agents, who presents what he asserts is a "warrant of arrest."
MacCormack was quick to determine, however, that the warrant of arrest presented was an administrative warrant from the immigration agency, which does not require compliance, as opposed to a judicial warrant signed by a judge, which does.
In the video, MacCormack can be seen telling the ICE agent that the warrant of arrest he has is "not signed by a judge. It's not a judicial warrant. I have no obligation to oblige by that warrant."
In a statement, the Columbia County Sanctuary Movement asserted that the officers "implicitly threatened" MacCormack "by asking if he knew section 8 U.S.C. § 1324(a) of the Immigration and Nationality Act pertaining to the harboring, transporting and smuggling of non-citizens."
The organization said the ICE agents also called the Hudson Police Department (HPD), who it said dispatched two patrol cars to the scene.
However, MacCormack said that he and his passengers stood their ground, maintaining that they were not required to comply with ICE's warrant.
In the video, the ICE agent speaking to the rights advocate eventually walks away, and MacCormack said he and the community members in his vehicle were able to safely exit the situation.
In a statement to Newsweek, ICE spokesperson Khaalid Walls said deportation officers had "specifically sought two unlawfully present foreign nationals" in the March 5 incident, but said "an individual [MacCormack] interfered with the enforcement action, causing officers to instead depart the scene to avoid further disruption."
Walls said ICE believes that "individuals who intervene in or seek to impede ICE officers while they are carrying out their mission recklessly endanger not only the enforcement personnel, but also the individuals targeted for arrest and potentially innocent bystanders."
"Those who engage in such actions expose themselves to potential criminal violations, and run the risk of harming the very people they purport to support," Walls said, adding: "Despite these attempts to obstruct ICE's lawful efforts to apprehend criminal aliens and immigration violators, the agency remains committed to its efforts to uphold public safety."
MacCormack said that he believes what the incident really shows is how undocumented immigrants knowing their rights can make "the difference between a community member being detained or deported or going home to their family. That's how serious knowing your rights is."
That is why, he said, the Columbia County Sanctuary Movement works with local community members to build awareness of their rights, especially when it comes to ICE's administrative warrants. MacCormack says they are "one of the most popular" tools that ICE uses "to get people to open their doors."
"We've done 'know your rights' training to tell undocumented immigrants they do not need to listen to or cooperate with those documents," he said.
The immigration rights advocate said that while he acknowledges "there's a lot of privilege in my own identity and how this situation went down," it should be noted that "the individuals in the car with had done 'Know Your Rights' training."
"It wasn't just me exercising my rights. The community members remained silent, they didn't answer any questions ICE tried to ask them and they also recorded the incident."
"So, I really want to emphasize the fact that the community members with me were fully aware of what was happening and they were exercising their rights," MacCormack said.
For the immigration rights advocate, the main takeaway from the incident "is that we have rights."
"It really is a Fourth Amendment issue," he said. "We all need to be upholding the Fourth Amendment and the Constitution to protect our rights and the rights of our community members."
"It doesn't matter who you are, living in this country, you have rights that are guaranteed under the Constitution," MacCormack said. "The more people know what those rights are, the more comfortable they are going to feel exercising them."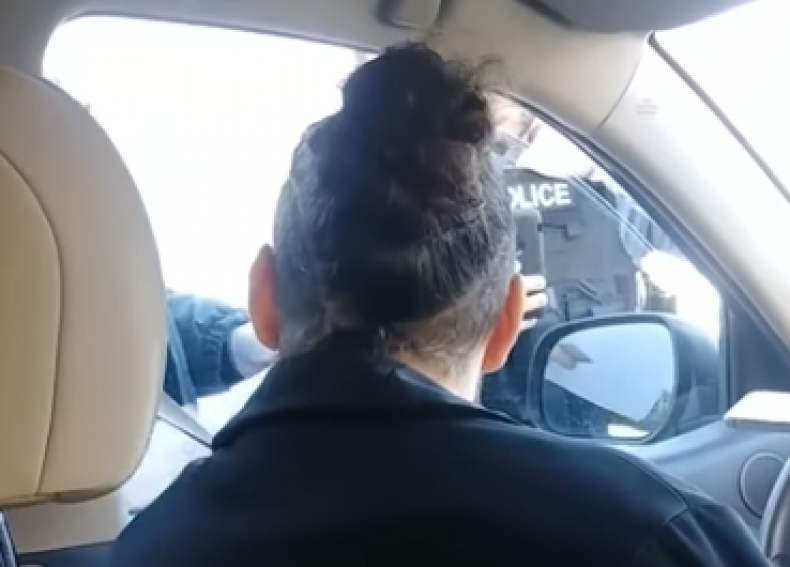 This article has been updated with a statement from the U.S. Immigration and Customs Enforcement agency.