Activists Champion Release of Happy The Elephant from Bronx Zoo, Claim 'Her Spirit Is Broken'
Dozens of activists gathered at the Bronx Zoo on Saturday to fight for the release of Happy the elephant, two days before World Elephant Day. Animal rights groups have been fighting to send Happy, a 48-year-old Asian elephant, to a sanctuary, though representatives for the Bronx Zoo and Wildlife Conservation Society maintain that Happy is content at the zoo.
Activists, however, allege Happy is lonely. "Dozens of activists with@NonhumanRights staged a protest at@BronxZoo to demand that @TheWCS release Happy the elephant to a sanctuary after holding her captive in a small enclosure since 1977," they tweeted Monday. "Her spirit is broken."
Happy's story has garnered attention from Rep. Alexandria Ocasio-Cortez, who tweeted in June that she would look into the elephant's history, though she didn't mention Happy on Twitter on World Elephant Day.
Courtney Fern of Nonhuman Rights Project further reiterated that the elephant was suffering. "There is no scientific expert who has come out in support of Bronx Zoo. They are kept in alone in pens and that can cause a lot of suffering. There are elephant sanctuaries that have agreed to keep Happy and she should be released immediately," she told Newsweek on Monday.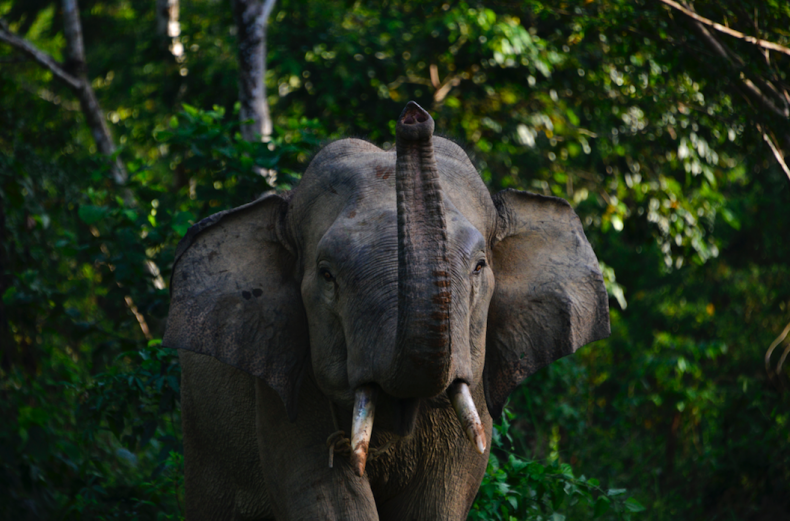 Happy and Patty are the two remaining elephants who reside at the Bronx Zoo. They are kept separate from one another but are allowed to venture into an acre-long plot of land on a rotational basis. Wildlife Conservation Society said they are kept apart for their own safety but are accessible to one another.
Happy is receiving expert care and is constantly evaluated by veterinarians and provided "enrichment elements," Wildlife Conservation Society said.
Despite the backlash over Happy being kept away from Patty, Bronx Zoo Director Jim Breheny has maintained the elephant is thriving. "Happy is not languishing. She is quite content. Many of the features you attribute to sanctuaries – water to swim, mud to wallow in – are all features of our elephant exhibit," he said in a May 2019 press release.
The zoo added Happy is comfortable in her present environment with familiar surroundings and the people she knows best. According to them, she is happier with her keepers than with other elephants. More, while activists maintain that Happy is being kept isolated, Breheny wrote in a 2015 op-ed for the New York Daily News that Happy was not secluded.
"Happy is not isolated. Happy is not in solitary confinement. Happy has equal access to outside areas as our other elephants," he wrote in 2015.
"According to our animal care professionals, Happy is healthy and exhibits no signs of physiological or psychological stress. While Happy does not share the same physical space with our two other elephants because they do not get along, she is in tactile and auditory contact with them. Our elephants touch and 'talk' with one another. And Happy spends several hours a day interacting with the people who care for her."
Further, a media statement from June added that contrary reports were false.
Activists have dismissed claims that Happy doesn't form healthy relationships with other elephants, saying she formed has had long and healthy bonds with elephants in the past. According to them, she did not bond with two of the elephants because they had attacked her companion, Grumpy, in 2002.
The fight for Happy continues, with a petition on Change.org amassing more than 1 million supporters.
Correction Tuesday, August 13 at 11:57 a.m. ET: This story has been corrected to take Rep. Alexandria Ocasio-Cortez's name out of the headline since she had not tweeted about Happy since June. The spelling of Bronx Zoo Director Jim Breheny's name was corrected and a photo with proper attribution has been added.