Activists Armed With Axes Attack Disputed Canadian Pipeline Site, Workers
Masked activists with axes and flare guns attacked the Canadian Coastal GasLink pipeline site, causing millions of dollars in damage as workers fled for their safety.
About 20 people participated in the attack on Thursday in northern British Columbia, as they swung axes at vehicles and through truck windows. In one instance, the individuals tried to set a vehicle on fire while workers were still inside. No injuries from the workers have been reported, Coastal GasLink said in a statement.
The attack comes as tension are high in Canada from so-called "Freedom Convoy" protests, for which Prime Minister Justin Trudeau invoked emergency powers for the first time in 50 years. The incident at Coastal GasLink is just the most recent demonstration they've seen regarding its 420-mile pipeline to the west coast of British Columbia as part of the LNG liquified natural gas project, Reuters reported.
"This is truly disturbing," federal Industry Minister Francois-Philippe Champagne posted on Twitter. "Violence and illegal acts are not the way forward on any matter. We are a rule of law country and we cannot tolerate this type of violence and intimidation."
Coastal GasLink alleged that attackers wearing camouflage surrounded the workers in a "highly planned and dangerous unprovoked assault." They entered the site by using grinders to cut the locks on the gate and then cut fuel lines and equipment hydraulics, causing dangerous leaks. The company said it's assessing the damage and environmental impact while working to contain and clean the mess.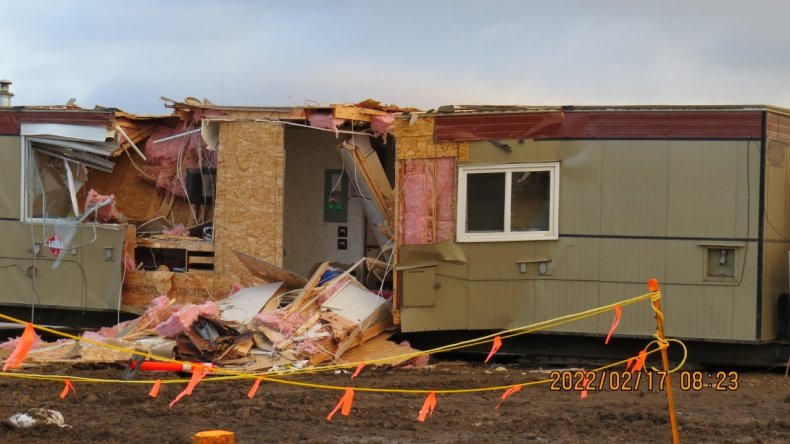 Police couldn't initially reach the site due to a downed tree, tar-covered stumps, boards with spikes sticking out of them and fires started on the road, according to the statement.
When officers attempted to bypass the obstacles, police said several individuals were throwing "smoke bombs" and flaming sticks. One officer was injured in the incident. When police made it to the site, they said there was "significant damage" to equipment and buildings, Canadian news outlet The Star reported.
Photos of the attack showed equipment smashed with debris scattered on the ground. Machines were toppled over while the sides of portable buildings were severely damaged. An axe was left behind and pictures showed holes and broken taillights on trucks.
"We respect people's right to conduct peaceful protest and understand that not everyone will support our projects, but intimidation of workers, impacts to the environment, and destruction of property and equipment goes far beyond protest and disagreement," LNG Canada said in a statement.
A criminal investigation has begun. Coastal GasLink said anyone with information regarding the attack should contact the Royal Canadian Mounted Police.
Update 2/18/22, 12:20 p.m. ET: This article was updated with additional information.