Activists Detained and Tortured in Egyptian Crackdown on Protests Against President
Two prominent activists have been detained and tortured by Egyptian National Security Agency (NSA) officers as part of a wave of arrests following protests against Egyptian President Abdel Fatteh el-Sissi in September 2019. Sissi has been widely accused of corruption and alleged human rights abuses, reports France24.
According to Amnesty International, Esraa Abdel Fattah, a journalist who helped organize the uprising that ousted former Egyptian president Hosni Mubarak from office in 2011, was detained October 12. Plainclothes NSA officers took Fattah to an undisclosed location and prevented her from contacting her legal counsel or family members.
Fattah told the Supreme State Security Prosecution that men began to beat her after she refused to give an NSA officer access to her phone. After that, the NSA officer strangled Fattah with her own sweatshirt, telling her, "Your life in exchange for the phone." Fattah's hands and legs were then handcuffed to prevent her from sitting down for eight hours.
Najia Bounaim, North Africa Campaigns Director at Amnesty International, said the abduction of Fattah was "an alarming indication that Egypt's authorities are stepping up their use of brutal tactics to crack down on human rights defenders."
"The manner of her arrest—being abducted by plainclothes officers and taken away in a van in public—marks an alarming new trend in the way Egyptian authorities target human rights defenders," Bounaim added.
The prosecutor ordered Fattah detained for another 15 days while investigations proceed. No evidence was produced against Fattah with the exception of an NSA file. Neither Fattah nor her lawyers are allowed to examine the prosecution's case file.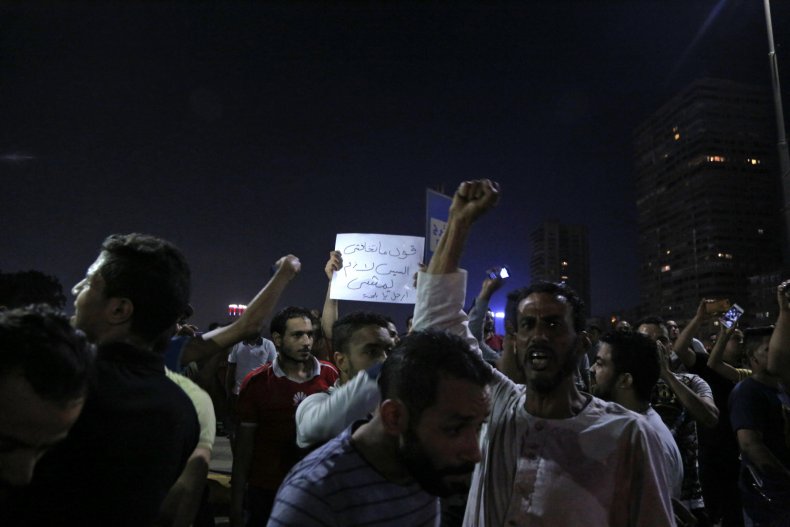 Another Egyptian activist, Alaa Abdel Fattah, was arrested September 29 after fulfilling one of the conditions of his probation. As he was leaving a police station, he was taken back into custody for allegedly publishing false news and inciting people to protest, according to BBC.
Al Jazeera reported that Fattah was moved to a maximum security prison, where he was stripped to his underwear and walked down a corridor filled with people.
"This is known as the 'welcome parade' and is routine abuse in Egypt's prisons," said Fattah's family in a statement. "It lasted 15 minutes."
September's protests followed a spate of videos by former military contractor, Mohamed Ali. Among Ali's claims, according to The Guardian, were that the military was wasting public money and Sissi's wife ordered renovations to presidential palaces. Ali is currently in self-imposed exile in Spain.
Amnesty International says Egyptian authorities have rounded up more than 2,800 people in connection with the protests.
Sissi became president of Egypt after a coup deposed Mohamed Morsi in 2014.
"We will solve the problems of the past and build an Egypt of the future," Sissi said during his inauguration ceremony. "Let our differences be the source of enrichment, diversity and giving that add the spirit of cooperation and love to our work."