Liberal activists plan to follow and confront Senator Kyrsten Sinema of Arizona over her refusal to support President Joe Biden's $3.5 trillion spending bill as she runs in the Boston Marathon on Monday.
Activists from the Green New Deal Network, a coalition of 15 national organizations, said Saturday that their members will "bird-dog" Sinema while holding signs as she participates in the marathon in an effort to persuade her to support the multi-trillion dollar Democratic spending bill.
The group, which will include members of the network from Arizona and Massachusetts, intend to hold up placards that read: "Senator Sinema: Pass the Full Deal," "Senator Sinema: Stop Running. Start Listening" and "Senator Sinema: Stop Running From Us," according to the Boston Globe.
House Speaker Nancy Pelosi delayed a vote on the $1.2 trillion bipartisan infrastructure bill earlier this month amid a fierce stalemate between the moderate and progressive wings of the Democratic Party on the larger spending bill, a crucial element of Biden's domestic agenda known as the Build Back Better Act.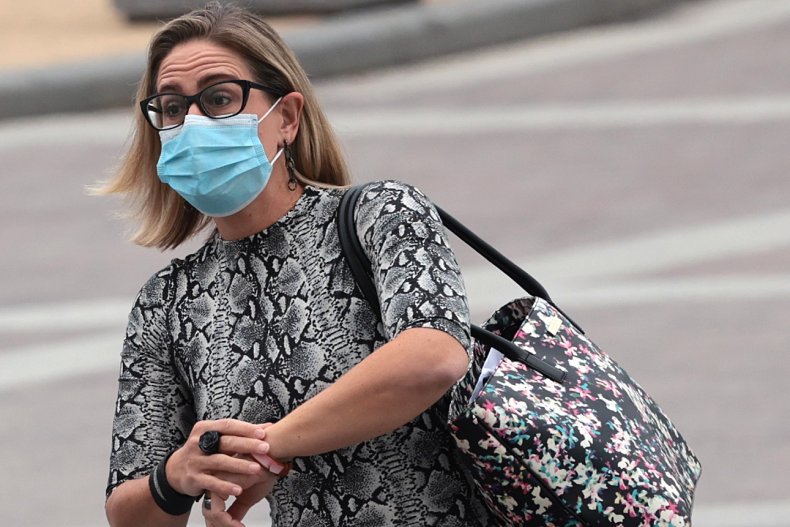 Among the major investments, the "hard infrastructure" bill includes funding for roads and highways, bridges, broadband development, water support and airport projects. The "human" spending bill provides funding to fight climate change, expand health care and deliver free two-year community college.
Sinema and fellow moderate Senator Joe Manchin of West Virginia refused to support the size, scope and priorities of the larger package, and progressives rebelled, saying they would not vote for the infrastructure bill unless it's passed in tandem with the spending package.
Frustrations over Sinema's refusal to fall in line with Senate Democrats to advance Biden's agenda boiled over last Sunday. As Sinema left a classroom at Arizona State University, where she lectures, a group of immigration activists followed her into a bathroom and attempted to harass her into taking action on a "pathway to citizenship" and supporting the spending package.
Sinema called the incident "wholly inappropriate" and "unacceptable" in a statement on Monday.
"Yesterday's behavior was not [a] legitimate protest. It is unacceptable for activist organizations to instruct their members to jeopardize themselves by engaging in unlawful activities such as gaining entry to closed university buildings, disrupting learning environments, and filming students in a restroom," she said.
White House Press Secretary Jen Psaki also criticized the so-called bathroom protest. Biden believes "what happened to her crossed the line and was absolutely unacceptable—and flat out wrong—to violate someone's personal space in a bathroom," she said.
Newsweek reached out to Sinema's office and the Green New Deal Network for comment.