Activists Frustrated as Biden Shows Priority Shift Away From Voting Rights
Voting rights activists are disappointed after President Joe Biden only made a short plea for reform during his first-ever State of the Union.
Just six weeks ago, Biden went all-in on the issue as he delivered a fiery speech in Georgia pushing for the passage of the John Lewis Voting Rights Act and the Freedom to Vote Act. He even scrapped his view of the 60-vote filibuster to hurry the process along because the "threat to democracy is so grave."
But activists told Newsweek that's not what they heard Tuesday as Biden devoted little of his 62-minute, 6,500-word address to voting rights.
"The State of the Union address is where a president has the full attention of the nation to lay out his priorities," said David Daley, a senior fellow at FairVote and author of Unrigged: How Americans Are Battling Back to Save Democracy. "President Biden last night gave voting rights and the future of our democracy about 85 words, and maybe 30 seconds. That's not enough."
"He actually took a step backward from where he was just a month and a half ago in Georgia," said Cliff Albright, a co-founder of Black Voters Matter. "It's a retreat, it's a backtracking and we're very concerned about that."
"He's consistently not giving it the priority that it's that it needs to be given," Albright added.
Biden on Tuesday again urged Congress to pass the two major voting rights bills. But he didn't mention what those laws would do—such as expand voting access and make Election Day a national holiday—or repeat his call to alter the Senate filibuster to get them to his desk.
Though the president did also call for the passage of the Disclose Act so the public can know "who is funding our elections." The bill would require organizations spending money in federal elections to disclose donors who have given $10,000 or more in any one cycle.
"The most fundamental right in America is the right to vote—and to have it counted. And it's under assault," Biden said during the State of the Union. "In state after state, new laws have been passed, not only to suppress the vote but to subvert entire elections. We cannot let this happen."
According to the Brennan Center for Justice, at least 19 states passed 34 laws restricting access to voting last year. As of mid-January, the center calculated that at least 27 states had introduced or carried over from previous legislative sessions 250 bills with restrictive provisions as it relates to voting and elections.
Biden previously blamed Republicans for trying to pass laws to limit voting access at the state level, but he didn't make any such accusation during his State of the Union address.
"It would have been a good time for him to take a look to his left and call out the Republicans who are attacking voting rights," Albright noted.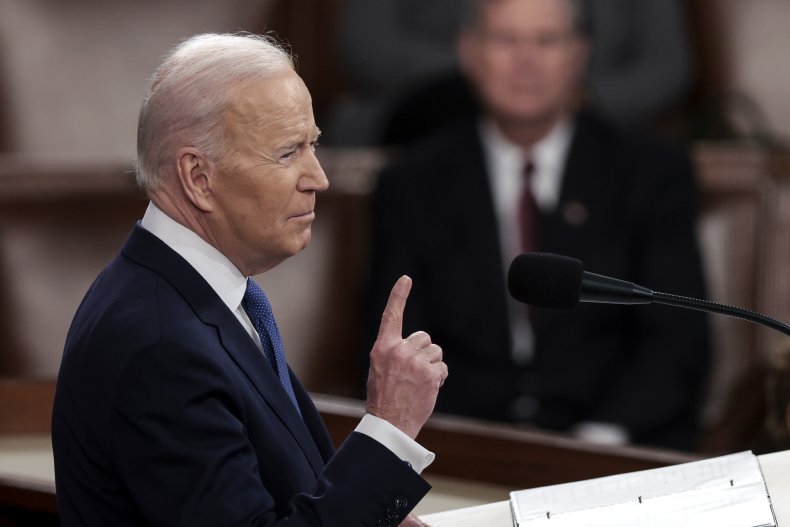 Aklima Khondoker, the chief legal officer at the New Georgia Project, also described Biden's remarks as "insufficient."
"It looks like the work of the activists, the work of the organizers is going unnoticed and it looks like voters don't have a chance," Khondoker said. "People are concerned about their voting rights."
Khondoker said she was happy to see Biden legitimize widespread voter suppression, but said he needs to do more to clarify what modern-day voter suppression looks like. She also said the administration needs to make fighting disinformation about alleged election fraud a priority.
Daley said Biden missed an opportunity to talk about an election reform measure that has rare bipartisan support on Capitol Hill: repairing the Electoral Count Act. The 1887 law was cited by former President Donald Trump as he tried to subvert the outcome of the 2020 presidential election.
"It was staggering to me—astonishing—that given the magnitude of this moment, the president whiffed," Daley said.
Newsweek reached out to the White House for comment.